How to create a color palette that brings out feelings that attract your best customers?
Colors can give us a certain feeling. Happy, energetic, flourishing, and creative; calm, balanced, and controlled; passionate, efficient, and self-confident; successful, determined, and grounded.
While color can be a very personal, emotional choice, the principles of our color theory will help you make smarter and more objective choices that deliver your message precisely in the way you want it to happen.
As stated before, each of the above groups includes almost all colors – you can use blue, yellow, green, and almost any other color; they are just in different tonalities. Exceptions are black, snow-white, and fluorescent colors, which do not harmonize with any other group's values but the fourth.
Learn all about all four color psychology personalities:
Tints (base hue + white ), tones (base hue + grey), and shades (base hue + black ) of one color, plus a neutral. 
Using color as a communication tool is much more intuitive than it may seem. Colors make us feel certain types of ways that we may find hard to explain but easy to understand. Have fun while creating a color scheme that aligns with your design. Allow yourself room to play around with your palette, get creative, and feel inspired by what your design is communicating. 
The right color palette for your business
Turn back to your big goal and message and look through what's right for your business and its products-services. Do you remember those 3-5 power keywords you chose for your branding? When choosing your brand colors, it is time to take those words into practice again,
If you have any shade cards available, then it will help. Start picking out the colors you are having in your mind.
Remember that you need to find the correct tonalities and avoid mixing tonalities that belong to various personality groups.
Perhaps you have decided to use only one color, such as is done by bensasso.com? Or maybe you want to create a broad color selection of 10-20 – in any case, take your time, and have a good reason for every chosen color.
If your business does not belong to a group 4 personality but desires to use black, then find another color with a very dark tonality as a suitable alternative to coal black. These can be, for example, dark blue, dark gray, dark green, brown, and dark purple. When you have made your choices, test them – as your first step, try a black color card beside the other chosen colors for your palette. Now swap the black card with the dark alternatives – which one looks best?
Create your own color palettes
As you start a design, think about what colors might be necessary. Are you creating a design for a brand with a selected color scheme? Are you creating something seasonal, celebratory, or sophisticated?
Get inspired with these tools that work as color palette generators – these apps automatically generate color schemes for you to browse:
Coolors is a super fast color schemes generator! Create the perfect palette or get inspired by thousands of beautiful color schemes.
Colormind is a color scheme generator that uses deep learning. It can learn color styles from photos, movies, and popular art.
Pantone Connect is a tool where you can look for the best Pantone colors to match your CMYK or RGB.
How to create a color palette from a photo
Want a color scheme that perfectly matches your favorite images? With Canva's color palette generator, you can create color combinations in seconds. Simply upload a photo, and we'll use the hues in the photo to create your palette. Upload an image and pick the colors you like: Canva Color Palette Generator.
Here I have used an image to make a cohesive color palette: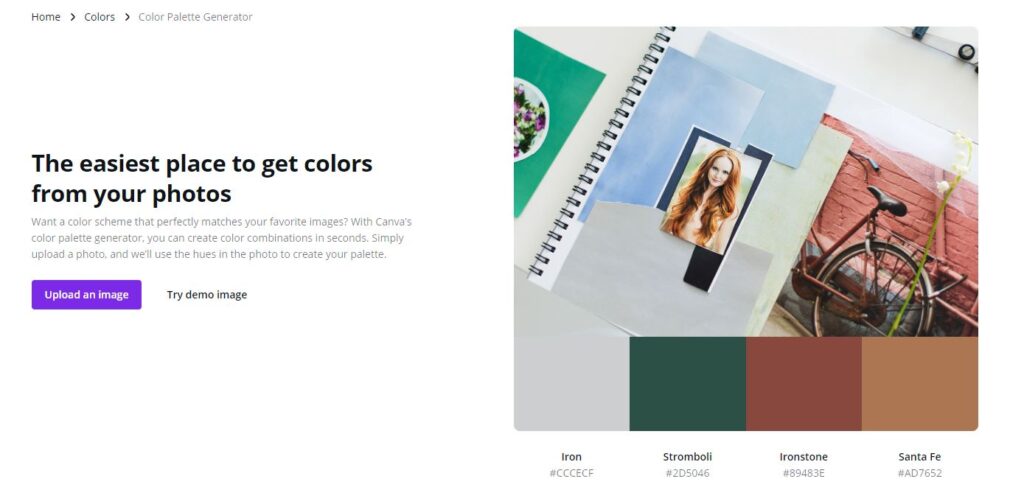 Or you can use Adobe Color: extract color from an image and save them as a color palette: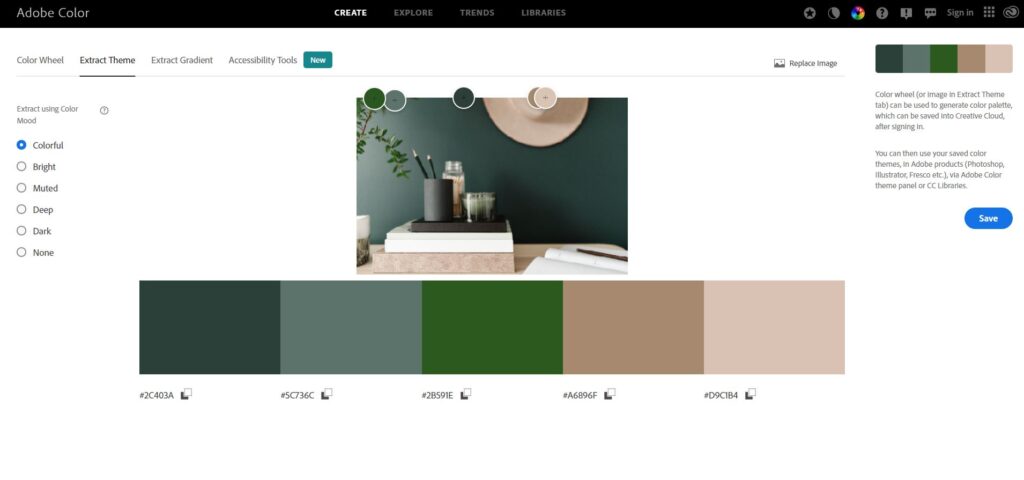 Step 1 – Pick the colors that look right for you
Choose as many colors as you want, and keep in mind the totality of your chosen personality group:
Group 1 – tints: bright, warm, and light.
Group 2 – tones: soft, pastel, and cool.
Group 3 – shades: intense, subtle, and warm.
Group 4 – hues: clear, crisp, and cool.
Use Pinterest for inspiration and research – enter one of your power keywords + color + palette and see what shows up. Maybe you pin a few favorite images to a dedicated board for later use. Repeat this process for all your keywords.
How to create a color palette – tints, tones, shades, and pure colors: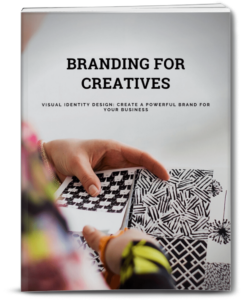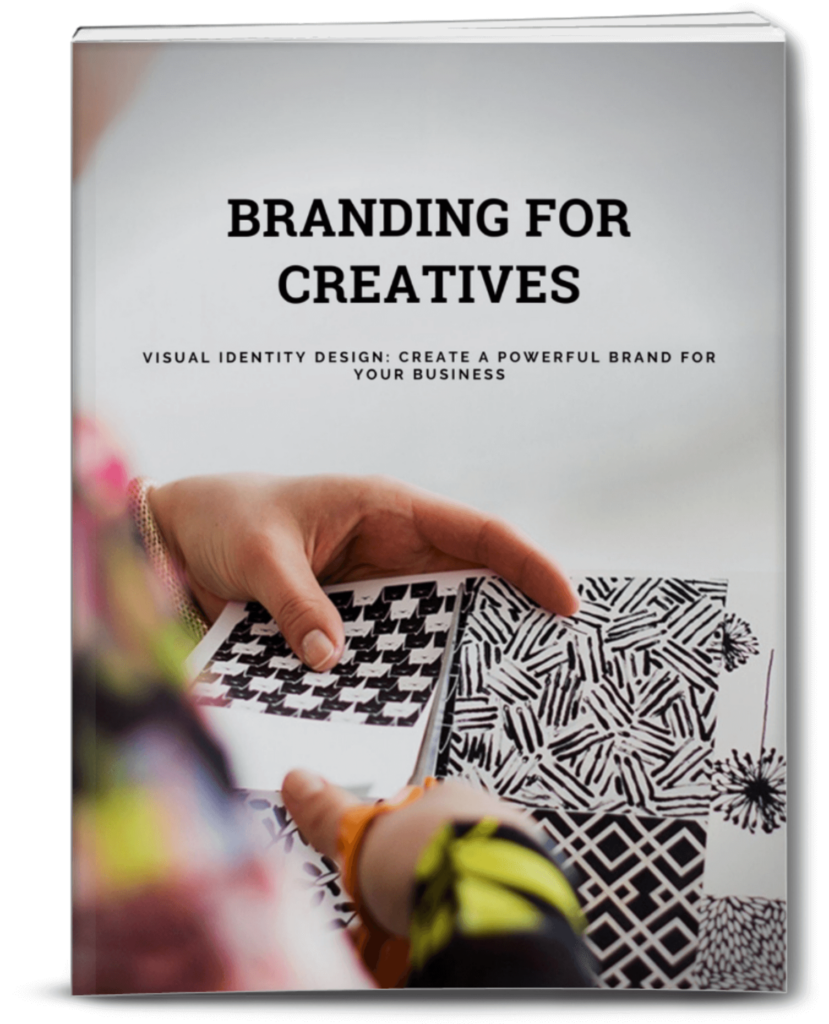 Step 2 – Select the colors that do not seem to fit together with the rest of the chosen colors
Use the exclusion technique until you have reached a harmonious color palette. Fasten the final selection of color cards on a sheet of paper or enter them into your digital color palette.
Step 3 – Create your digital color palette.
If you used Pantone cards as a method to create your original palette, you can quickly enter the Pantone system's corresponding color number and find it on your computer.
If you have used color cards from some paint brand, find the selected colors from the manufacturer's website and their color codes using a color picker tool in Adobe Photoshop or other similar programs.
Then, create a color palette template with Canva, Adobe Photoshop, or Illustrator (or in some alternative software such as Blogstomp). Shape and size the template, so it is suitable for color palettes, and place the desired colors in it with the color codes you have.
Step 4
Within your color palette, you will need the following:
Two core colors,
Two action colors
Two grounding colors.
The core colors can be your brand colors, the darker colors in your palette, or the colors from your logo, photos, etc.
The action colors will provide a little "pop" to highlight essential items and can be used for buttons and CTAs. These colors can be brighter or bolder, so they command a little more attention across all the colors when grouped together.
The grounding colors are less prominent and could vary from the two core colors you selected. These colors will provide excellent background solutions and offer some color to balance your design.

Create a cohesive color scheme
Picking the right colors for your brand's color scheme is difficult and can seem overwhelming. You may feel that you have to take into consideration too many theories all at once:
Psychology of color
Why do different colors work better for different topics
Evoke specific feelings – the meaning of color
Most designers focus on the color wheel and consider what colors should go together – using complementary, primary, secondary, and tertiary colors. And here, we are focusing on the values of the colors – tints, tones, and shades. That's a lot to handle.
But you should know that to connect with your brand truly and to attract the right kind of customers, you'll need to consider your brand's voice and your own personal style and preferences.
All of the above play a vital part in how color impacts a brand. Just to make things less complicated, we are focusing most on how hues, tints, tones, and shades work with our four personalities and take it as a starting point. This book is helping you put together your color palette with confidence in knowing that you are selecting a great set of colors that can be adjusted as you continue to define your brand identity.
You can purchase a ready-made color palette template from the Creative Market brand board selection.
Your Ultimate Guide To Color Palettes That Work
Ebook: Branding For Creatives
Everything about color psychology in branding and how to build a successful brand identity for your business.
Format: Ebook (Printable PDF file).
This instantly downloadable ebook is both a practical guide and an inspirational book that proposes a reflection on the universe of color combinations and the moods and atmospheres they evoke.
This colorful e-book explains the following:
How to create harmonious color palettes
How to make a brand board.
Create an inspiration board.
Which photo style is suitable for your business field and target group?
Which font is best for your website and banners?
And, of course, there are plenty of other practical tips to help you generate a fantastic design EVERY DAY, both at work and at home.