What Is a Brand Archetype
Brand archetypes are essentially the personification of a brand that resonates with timeless and universal symbols deeply ingrained in our collective unconscious.
Inspired by Swiss psychiatrist Carl Jung's theory of archetypes, marketers and brand strategists use these universal characters to evoke specific emotions and perceptions in their audience, helping them connect with the brand on a deeper level.
There are twelve primary brand archetypes—The Innocent, The Regular Guy/Gal, The Hero, The Outlaw/Rebel, The Explorer, The Creator, The Ruler, The Magician, The Lover, The Caregiver, The Jester, and The Sage—each representing a unique set of human personality, desires, fears, and values.
Why do brand archetypes hold such potent influence?
As brand strategists, akin to psychologists and storytellers, we delve into the essence of human nature, exploring fundamental inquiries such as:
What kind of messages will connect with them?
How does their thought process work?
What strikes a chord?
What motivates them to act?
While impactful branding is often visible through elements like advertising text, logos, and catchy tunes, the true charm lies in a meticulously devised plan that leads to clear, impactful, and consistent messaging. Brand archetypes act as a sturdy scaffold that allows for the infusion of significant concepts that resonate universally.

Brand Archetypes Definition Via Psychology and Visual Design
The intersection between psychology and visual design is a fascinating and critical realm in brand strategy, one that involves the application of psychological principles to shape the viewer's perception and response to visual elements.
Colors, shapes, typography, and spacing—all these design elements can carry psychological implications.
For instance, color psychology suggests that different hues can arouse distinct emotions—red often signifies urgency or passion, while blue tends to evoke feelings of calm and trust. Likewise, the choice of typeface can subtly imply a brand's dominant personality side—whether it's professional, creative, or playful.
Furthermore, principles of cognitive psychology such as Gestalt theory and the psychology of perception guide designers in crafting layouts that are intuitive and pleasing to the eye. They help to create visual hierarchy, unity, and balance in a design, improving the user's overall experience and interaction.
Brand Archetypes In Marketing
Archetypes in marketing refer to universally familiar characters or narratives that brands use to connect with their audience on a deep emotional level.
Emotional Connection
Archetypes tap into fundamental human experiences and emotions, enabling brands to connect with their audience on an emotional level. For example, a brand that adopts The Hero archetype might resonate with consumers who value strength, courage, and achievement.
Differentiation
In a crowded marketplace, adopting a specific archetype can help brands stand out from their competitors by providing a unique perspective or narrative. For example, two coffee brands could differentiate themselves by aligning only brands with different archetypes – one as an "Explorer" brand for adventurous spirits, and the other as a "Regular Guy/Gal" brand for those who seek comfort and familiarity.
Consistency
Archetypes provide a framework for consistency in branding and marketing efforts. By using multiple archetypes and aligning all communications, visuals, and interactions with the chosen archetype, brands can create a cohesive and consistent brand image.
Brand Identity and Strategy
Brand archetypes serve as a blueprint for building a strong brand identity and guiding brand strategy. They define the brand's personality, values, and mission, helping to inform decisions about product development, pricing, distribution, and promotion.
Theoretical Foundation: Carl Jung and Archetypal Branding
Carl Jung, a Swiss psychiatrist, and influential thinker, introduced the concept of archetypal branding as a central element in his analytical psychology.
Archetypes, according to Jung, are universal, primal symbols and images that reside in what he called the "collective unconscious," a level of unconscious shared by all members of a particular species.
Jung identified a multitude of archetypes but focused on a few in particular that he considered fundamental to the human psyche. These included the Persona, the Shadow, the Anima/Animus, and the Self. They represented respectively the social mask, the hidden 'dark side', the opposite gender in each of us, and the unified consciousness and unconsciousness of an individual.
However, Jung's concept of archetypes extends beyond these, encapsulating universally recognized roles or characters like The Hero, The Caregiver, The Trickster, and others.
These archetypes, present in myths, stories, and dreams across cultures, help individuals make sense of the world and their place in it. Today, Jung's archetype theory is leveraged in areas like branding, storytelling, and art for its profound psychological resonance.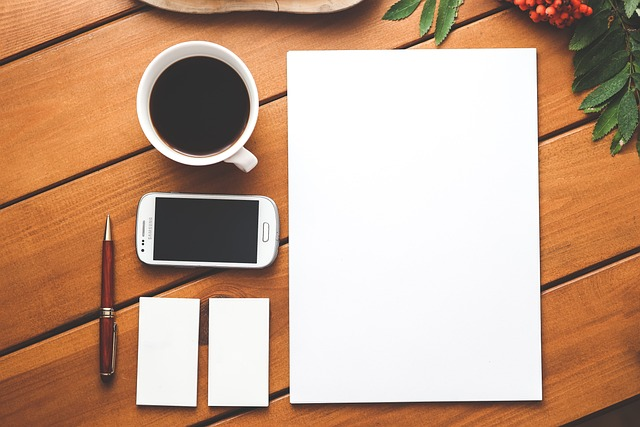 The 12 Brand Archetypes With Examples
Serving as a roadmap to understanding consumer behavior, these fundamental frameworks tap into the human psyche, resonating with timeless stories that inform our world.
By leveraging these conceptual categories, businesses can create compelling narratives, fostering deeper connections with their audience.
1. The Innocent Archetype
The Innocent brand archetype embodies purity, goodness, and optimism.
Innocent brands aim to evoke feelings of happiness and nostalgia, focusing on simplicity and the promise of better days.
The Innocent Brand Strategy:
The Innocent brand strategy revolves around projecting an image of simplicity, purity, and optimism.
Such brands typically market themselves as trustworthy and reliable, often emphasizing their commitment to quality and honesty. Their messaging tends to evoke feelings of nostalgia and comfort, appealing to consumers who value peace, happiness, and goodness.
The Innocent Archetype Example:
Coca-Cola embodies The Innocent archetype with its focus on happiness and togetherness.
This is evident in the brand's cheerful, vibrant red color palette and its vintage, hand-lettered logo, which together evoke a sense of nostalgia and simplicity.
Learn much more about The Innocent – the Pure, Youthful, and Optimistic Branding
2. The Regular Guy/Gal Archetype
The Regular Guy/Gal brand archetype represents authenticity, reliability, and the comfort of being oneself.
Brands that embrace this archetype prioritize connection, understanding, and a commitment to the everyday person.
The Regular Guy/Gal Brand Strategy:
The Regular Guy/Gal strategy involves embodying relatability and authenticity, appealing to everyday people.
These brands promote inclusivity, trust, and comfort, often using straightforward and friendly language. They aim to connect with their audience on a personal level, emphasizing common values and shared experiences.
The Regular Guy/Gal Archetype Example:
Levi's represents The Regular Guy/Gal archetype through its straightforward, sturdy denim wear.
The brand's visual design – a simple, no-frills logo and product-focused imagery – reflects its unpretentious, dependable image.
3. The Hero Archetype
The Hero brand archetype stands for courage, ambition, and triumph.
Hero brands motivate their customers, providing tools or services that help them overcome challenges and reach their goals.
The Hero Brand Strategy:
The Hero strategy centers around portraying strength, courage, and determination.
Hero brands aim to inspire, motivate, and empower their audience. Their messaging often revolves around overcoming obstacles, striving for excellence, and making a significant impact. This appeals to consumers who appreciate ambition, triumph, and the pursuit of grand visions.
The Hero Archetype Example:
Nike encapsulates The Hero archetype perfectly, celebrating individual accomplishment and the overcoming of obstacles.
Its iconic swoosh logo, designed to convey motion and speed, alongside its "Just Do It" tagline, visually underscore the brand's motivational and aspirational messaging.
4. The Outlaw/Rebel Archetype
The Outlaw or Rebel brand archetype embodies the spirit of revolution and defiance.
Brands targeting and identifying with this brand archetype examples disrupt norms, challenge conventions, and appeal to those who value independence and nonconformity.
The Outlaw/Rebel Brand Strategy:
The Outlaw/Rebel strategy embraces disruption, rebellion, and rule-breaking.
These brands position themselves as non-conformists, challenging the status quo and advocating for radical change. Their messaging tends to be bold, provocative, and unconventional, resonating with consumers who value individuality, freedom, and daring to be different.
The Outlaw/Rebel Archetype Example:
Harley-Davidson aligns with The Outlaw/Rebel archetype, symbolizing freedom and rebellion.
Its dark color palette, strong typography, and the emblematic eagle in its logo visually reinforce the brand's rebellious spirit.
5. The Explorer Brand Archetype
The Explorer brand archetype represents the thrill of discovery and the freedom of the open road.
Brands associated with this archetype encourage their customers to break boundaries, seek out new experiences, and embrace the unknown.
The Explorer Brand Strategy:
The Explorer is about fostering a sense of adventure, freedom, and discovery.
Explorer brands encourage their audience to break free from the ordinary, embrace the unknown, and seek out new experiences. Their messaging often evokes the thrill of the journey, appealing to consumers who value independence and self-discovery.
The Explorer Archetype Example:
The North Face, embodying The Explorer archetype, promotes outdoor adventure.
Its logo – a quarter-circle evoking the iconic Half Dome rock formation in Yosemite National Park – along with action-packed, outdoor imagery in its marketing, reinforces the spirit of exploration.
6. The Creator Brand Archetype
The Creator brand archetype celebrates innovation, vision, and the power of imagination.
Brands that align with this archetype inspire their customers to express their individuality and push the boundaries of what is possible.
The Creator Brand Strategy:
The Creator brand archetype celebrates innovation, vision, and the power of imagination.
Brands that align with this archetype inspire their customers to express their individuality and push the boundaries of what is possible.
The Creator Archetype Example:
Apple aligns with The Creator archetype through its focus on innovation and design.
Its minimalist aesthetic, clean lines, use of white space, and the iconic apple logo with a bite taken out reflect the brand's commitment to creativity and thinking differently.
7. The Ruler Brand Archetype
The Ruler brands convey authority, control, and dominance.
Brands that embody this archetype position themselves as leaders, offering stability, the status quo, and premium quality.
The Ruler Brand Strategy:
The Ruler strategy is about exuding authority, control, and leadership.
Rulers position themselves as industry leaders or luxury brands, offering premium products or services. Their messaging typically projects an image of success, stability, and exclusivity, appealing to consumers who value power, sophistication, and high status.
The Ruler Archetype Example:
Rolex, epitomizing The Ruler archetype, represents luxury and superiority.
Its iconic crown logo and the use of gold and green in its branding reinforce its status as a premium, authoritative brand.
8. The Magician Brand Archetype
The Magician brand archetype signifies transformation, dreams, and the power of belief.
Brands that adopt this archetype offer transformative experiences, making dreams a reality and bringing the extraordinary into the everyday.
The Magician Brand Strategy:
The Magician's strategy revolves around creating a sense of wonder, transformation, and possibility.
Magicians offer transformative solutions, promising to turn dreams into reality. Their messaging often involves a sense of mystery or enchantment, appealing to consumers who value imagination, innovation, and the power of change.
The Magician Archetype Example:
Disney captures The Magician archetype by making dreams come true.
Its magical castle logo, accompanied by the whimsical, flowing signature of Walt Disney, communicates the enchanting experiences the brand promises.
9. The Lover Brand Archetype
The Lover brand archetype focuses on passion, sensuality, and relationships.
Brands that personify this brand archetype examples seek to establish deep connections with their customers, emphasizing beauty, indulgence, and romantic or sensual experiences.
The Lover Brand Strategy:
The Lover strategy aims to evoke emotions of passion, pleasure, and intimacy.
Lover brands position themselves as desirable, often associated with beauty, luxury, or indulgence. Their messaging tends to emphasize sensual experiences, relationships, or personal fulfillment, resonating with consumers who value connection, enjoyment, and the finer things in life.
The Lover Archetype Example:
Victoria's Secret represents The Lover archetype with its emphasis on sensuality and allure.
The brand's use of rich, dark colors, elegant typography, and intimate imagery in its visual design highlight its romantic and seductive persona.
10. The Caregiver Brand Archetype
The Caregiver brand archetype is nurturing, protective, and compassionate.
Caregiver brands position themselves as helpers and healers not only others, providing support, care, and reassurance to their customers.
The Caregiver Brand Strategy:
The Caregiver strategy focuses on providing care, protection, and support.
Caregiver brands present themselves as helpful, nurturing, and empathetic. Their messaging typically revolves around service, compassion, and selflessness. This strategy appeals to consumers who value altruism, reliability, and a sense of security. Caregiver brands often cater to families, health, and educational sectors.
The Caregiver Archetype Example:
Johnson & Johnson, as The Caregiver archetype, emphasizes nurturing and caring.
Its red and white color scheme, along with its simple, comforting logo featuring a motherly figure and child, underscore its image as a caring, family-focused brand.
11. The Jester Brand Archetype
The Jester brand archetype lives in the moment, bringing joy, humor, and light-heartedness to life.
Jester brands aim to make their customers' lives more enjoyable, playful, and entertaining spirit often through humor and playfulness.
The Jester Brand Strategy:
The Jester strategy utilizes humor, joy, and entertainment to engage audiences.
Jester brands aim to bring fun and light-heartedness into consumers' lives, often using playful and irreverent messaging. This approach resonates with consumers who appreciate humor, spontaneity, and a break from the seriousness of life.
The Jester Archetype Example:
Ben & Jerry's embodies The Jester archetype through its fun, light-hearted approach.
The brand's bright, bold color palette, playful fonts, and whimsical ice cream names showcased on its packaging reflect its commitment to joy and humor.
Learn much more about The Jester – Lighthearted and Playful Branding
12. The Sage Brand Archetype
The Sage brand archetype is all about wisdom, knowledge, and the pursuit of truth.
Brands aligned with this archetype position themselves as experts, offering guidance, expertise, and valuable insights.
The Sage Brand Strategy:
The Sage strategy emphasizes wisdom, knowledge, and insight.
Sage brands position themselves as thought leaders or experts in their field, offering trusted advice or enlightening information. Their messaging often revolves around learning, understanding, and the pursuit of truth, appealing to consumers who value intellect, clarity and informed decision-making.
The Sage Archetype Example:
Google, representing The Sage archetype, is a source of knowledge and information.
Its simple, colorful logo and minimalist design, combined with its ever-changing Doodles that educate about various subjects, visually convey the brand's focus on wisdom and learning.
Brand Archetypes Wheel
The brand archetypes wheel provides a useful visual reference for understanding the relationships and differences between these archetypes.
For instance, those near each other on the wheel share certain characteristics but also have unique distinguishing traits.
Using the brand archetypes wheel can help businesses better understand their own brand's personality, define its identity more precisely, and communicate more effectively with their target audience.
A brand archetypes wheel should contain the 12 common brand archetypes divided into four quadrants based on their underlying motivational drivers.
Ego (top left): This quadrant includes The Ruler, The Magician, and The Hero. It's characterized by brands that exude control, power, and transformation.
Social (top right): This includes The Lover, The Jester, and The Everyman. Brands in this quadrant connect on a personal, emotional, or societal level.
Order (bottom left): This contains The Caregiver, The Innocent, and The Sage. Brands here provide structure, care, and knowledge.
Freedom (bottom right): This includes The Explorer, The Rebel, and The Creator. Brands in this quadrant value freedom, innovation, and individualism.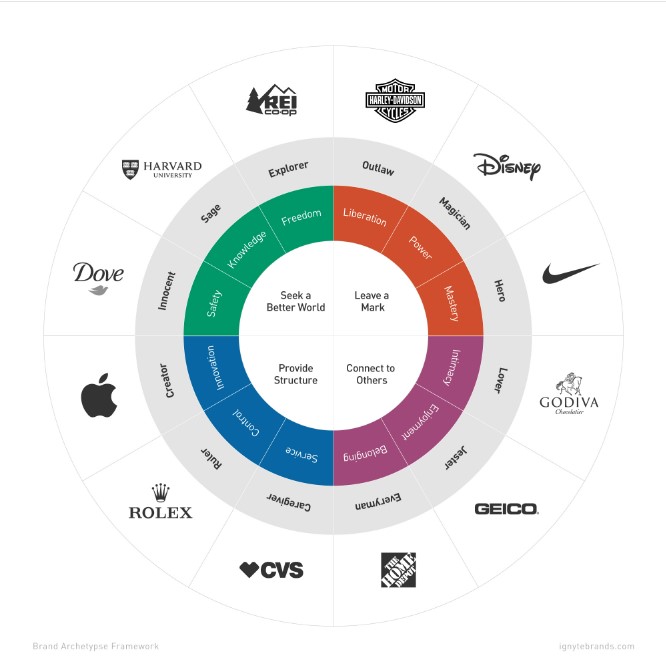 The Psychology Behind Brand Archetypes
The underlying psychology that informs brand personas taps into our instinctual love for storytelling and our inclination to perceive the world through shared narratives.
These narratives, based on universally recognized characters and themes, connect with consumers on an instinctual and emotional level.
When a brand embodies a well-defined persona such as 'The Caregiver' or 'The Hero', it personifies itself into a relatable character with a compelling story. This narrative approach allows consumers to understand, empathize, and form a trusted relationship with the brand.
For example, a brand that personifies 'The Caregiver', like Johnson & Johnson, appeals to audiences by resonating with values of nurturing, protection, and compassion.
Furthermore, maintaining a consistent brand persona builds familiarity and trust.
Consumers anticipate certain behavior patterns from brands based on the personality they represent. This familiarity creator brands is comforting and fosters a sense of belonging, enhancing customer loyalty and satisfaction.
The Impact of Archetypes on Brand Loyalty and Perception
When a brand embodies an archetype, it invokes deep-seated emotions and expectations in consumers, fostering a unique connection.
This not only shapes initial brand perception but also plays a crucial role in establishing and maintaining brand loyalty.
For instance, a brand personifying 'The Hero' that consistently exhibits courage and resolve will naturally attract and retain consumers who identify with these values. Likewise, a 'Jester' brand, through consistent humor and playfulness, can build a loyal customer base that appreciates these qualities.
Thus, twelve brand archetypes, acting as a guiding light, can have a profound impact on how consumers perceive and engage with a brand over time.
Case Studies of Successful Archetype Brand Designs
1. Nike – The Hero:
Nike has successfully positioned itself as 'The Hero' archetypal brand. Its mission to bring inspiration and innovation to every athlete in the world coupled with its "Just Do It" slogan portrays the brand as an entity helping customers conquer their challenges. Nike's advertisements often depict the triumph of athletes, reinforcing the hero archetype and creating an emotional bond with sports brands and their consumers.
2. Apple – The Creator:
Apple's brand personality strongly resonates with the 'The Creator' archetype. With its tagline "Think Different" and a history of innovative products, Apple encourages consumers to unleash their creativity and challenge the status quo. The brand's sleek and minimalist design aesthetic further reinforces this archetype.
3. Harley Davidson – The Outlaw/Rebel:
Harley Davidson successfully represents 'The Outlaw' archetype. The brand appeals to those who value freedom and nonconformity. Its marketing and branding often depict open roads, freedom, and rebellion, resonating with customers who wish to break free from the ordinary.
4. Dove – The Caregiver:
Dove, with its mission to ensure beauty is a source of confidence, not anxiety, aligns with 'The Caregiver' archetype. Their "Real Beauty" campaign focuses on nurturing and protecting self-esteem, emphasizing compassion and care, qualities that have fostered deep emotional connections with their audience.
These case studies demonstrate how effectively applying brand archetypes can create distinct and emotionally resonant brand identities for extraordinary brands.
How to Choose the Right Brand Archetype
Choosing the right persona for your brand is a crucial aspect of branding that entails a deep understanding of your brand's essence and the audience it serves. This character should encapsulate your brand's core values, mission, and vision, serving as a beacon for all brand communications and engagements.
Begin by assessing your brand's values. What are the fundamental principles that guide your brand? If innovation and creativity are your guiding lights, 'The Creator' might be your fit. If your brand stands for nurturing and care, 'The Caregiver' might be more suitable. It's about identifying the character that best represents what your brand stands for.
Next, consider your brand's mission. What is your raison d'être?What change do you wish to bring to your consumers' lives or to the world at large? If your mission is to empower consumers to overcome challenges, 'The Hero' could be a suitable match. If your brand aims to spread joy and fun, 'The Jester' might be the way to go. Aligning your brand's mission with the right persona can enhance your brand's resonance with your audience.
Lastly, a deep understanding of your audience is pivotal. Who are they? What are their values, needs, and aspirations? What kind of character would they relate to and trust? Do they need a 'Ruler' to represent aspirational luxury, or a 'Regular Guy/Gal' to connect on a grounded, relatable level? Conducting market research, using data analytics, and creating customer personas can provide insights into your audience's preferences.
Remember, consistency is key in branding.
Once a full brand voice or everyman archetype persona is chosen, all elements—from visual design to tone of voice, from customer service to marketing campaigns—should reflect this character.
This cohesive strategy, driven by the chosen Everyman archetype brand persona, will help build a compelling, authentic, and resonant brand personality that connects with and leaves a lasting impression on your audience.
How Do You Understand How Your Product or Service Aligns With a Specific Archetype?
Understanding how your product or service aligns with a specific archetype is a process that involves deep introspection into the essence of your brand and a solid understanding of the consumer you're trying to reach.
Here are some steps to guide you in this process:
1. Brand Identity:
Start by examining your brand's identity.
What are your core values, mission, and vision? What does your brand stand for? What emotions or feelings does your brand evoke?
For instance, if your product or service is all about delivering joy and fun, you might align with the 'Jester' archetype. If your brand empowers people or aids them in overcoming challenges, 'The Hero' might be a better fit.
2. Product/Service Analysis:
Assess the characteristics and benefits of your product or service.
What problems does it solve? How does it enhance the lives of your customers?
A product that fosters innovation or creativity might lean towards 'The Creator', while one that offers protection or care could align with 'The Caregiver'.
3. Consumer Insights:
Understanding your target audience and the audience is pivotal.
Conduct market research to grasp their preferences, needs, and values. Who are they? What kind of narrative or character would they relate to and trust?
This will help you identify the archetypes that your target audience fears rejection is most likely to resonate with.
4. Competitor Analysis:
Look at how competitors in your niche are positioning themselves.
What archetypes are they embodying? T
his analysis isn't for imitation, but rather to identify gaps and opportunities to differentiate your brand.
5. Consistency:
Ensure that the archetype is reflected consistently across all brand touchpoints, from visual identity to communication style.
This includes logos, color schemes, website design, advertising, social media presence, and customer service.
Translating Brand Archetypes into Visual Design
Importance of consistency between the brand's archetype and its visual elements
When it comes to visual branding, consistency between a brand's identified archetype and its visual elements is paramount.
A brand's identity goes far beyond its logo or color scheme. It encapsulates the very soul of the company, reflecting its mission, values, and purpose. That's where brand archetypes play a pivotal role, grounding the brand in relatable and recognizable human character traits that resonate with consumers on a deep, subconscious level.
But a brand archetype isn't just about storytelling or messaging; it's also about aesthetics.
The visual elements of a brand – color, typography, imagery, logo design, and overall style – should all work in harmony to visually communicate the archetype.
For instance, a Hero brand might opt for bold, dynamic colors and strong typography to visually convey its empowering and ambitious nature, while an Innocent brand might choose soft, pastel hues and gentle, rounded fonts to reflect its essence of simplicity and purity.
This consistency between the brand's archetype and its visual elements not only helps create a cohesive brand image, but it also fosters trust and familiarity among consumers.
When the visual design aligns seamlessly with the brand's identity and messaging, it becomes easier for consumers to understand and connect with the brand on an emotional level. Moreover, this consistent visual representation makes the brand easily identifiable in the marketplace, helping it stand out among competitors.
How to Design Logos, Color Schemes, Typography, and Imagery Based on the Chosen Archetype
Designing a brand's visual elements based on its chosen archetype requires a deep understanding of what that archetype represents and how it can be expressed visually.
Here's a guide to approach this:
1. Logo Design: A logo is a crucial part of a brand's visual identity and must be representative of the brand archetype.
For example, a Creator brand might consider a logo that hints at creativity or craftsmanship. On the other hand, a Ruler archetype brand might incorporate regal or authoritative symbols such brands have in its logo.
2. Color Schemes: Colors play a crucial role in conveying emotions and thus are an important part of expressing a brand's archetype.
The Lover archetype might choose romantic and sensual colors like reds and purples. The Innocent archetype, on the other hand, might go for light, pastel shades, expressing purity and simplicity.
3. Typography: The typefaces used by a brand can also communicate a lot about its personality.
For example, a Hero brand might use strong, bold fonts to convey courage and ambition, while a Jester brand might opt for quirky and fun fonts to reflect its playful nature.
4. Imagery: The type of images a brand uses in its communications also plays a key role in conveying its archetype.
The Explorer brand might use imagery of landscapes and adventures, while a Caregiver archetype might use images showcasing nurturing and supportive situations.
The design process should be iterative, involving testing and getting feedback to ensure that your audience perceives your brand the way you intend.
It's essential to keep in mind that all these elements should work together cohesively to reflect the chosen brand archetype, creating a consistent and strong brand image.
The Role of Brand Archetypes in Brand Strategy
The importance of brand archetypes in building a strong brand identity
The importance of brand archetypes in constructing robust branding cannot be overstated.
Brand archetypes serve as the underlying framework for crafting an authentic, consistent, and emotionally resonant brand persona. They help humanize your brand, making it more relatable and engaging to your audience.
When a brand aligns with a specific archetype, it essentially adopts a consistent set of personality traits, behaviors, and values.
This consistency is crucial in establishing a strong brand design. It forms the core of all your brand's expressions – from your messaging and visual identity to your customer interactions and product offerings.
Moreover, brand archetypes tap into universal narratives and deeply rooted psychological responses, enabling your brand to resonate on a subconscious level with your audience.
This leads to stronger emotional connections and increased brand loyalty. For instance, a "Hero" brand elicits feelings of empowerment and triumph, while a "Caregiver" brand evokes feelings of safety and nurture.
Furthermore, a well-defined brand archetype can differentiate your brand in a crowded marketplace.
It provides a unique perspective that influences your brand's story, setting you apart from competitors. For example, two coffee brands could differentiate themselves by aligning with different archetypes: one as an "Explorer" brand for adventurous spirits, and the other as a "Regular Guy/Gal" brand for comfort-seekers.
Long-term implications of sticking to an archetype
Sticking to a particular archetype has several long-term implications that can strongly influence a brand's trajectory and reputation in the target market.
1. Consistent Visual Branding:
Commitment to a chosen archetype over the long term helps establish consistent branding.
The continued projection of a uniform brand personality and value system helps in carving out a unique space in the consumer's mind, making the brand easily recognizable and memorable.
2. Enhanced Customer Loyalty:
Consumers tend to develop a strong emotional connection with brands that consistently embody a certain archetype.
By consistently meeting the expectations set by the archetype, brands can deepen this emotional connection and foster increased customer loyalty and retention over time.
3. Greater Trust and Credibility:
Consistency in adhering to an archetype model also builds trust and credibility.
When consumers see that a brand's actions align with its declared identity and values over time, it reinforces their belief in the brand's authenticity.
4. Facilitated Brand Expansion:
A well-established archetype can make it easier to expand or diversify the brand in the future.
It provides a guiding framework that can help ensure new products, services, or brand extensions are congruent with the existing brand look, thereby reducing the risk of customer confusion or dilution of the brand.
5. Potential Limitations:
While sticking to an archetype model has many benefits, it can also potentially limit a brand's flexibility to adapt to changing market conditions or consumer expectations.
If a significant shift in strategy or positioning becomes necessary, it can be challenging to do so without disrupting the established brand look.
Conclusion
In conclusion, understanding and leveraging brand archetypes is a powerful strategy to carve out a unique brand identity, connect deeply with your audience, and guide your marketing efforts.
As we've explored, the right archetype can not only create a strong emotional resonance with consumers, but also fosters trust, enhances loyalty, and facilitates a consistent brand experience. The key is to choose the archetype that aligns most authentically with your brand's core values and mission.
A well-chosen and well-executed archetype can be the foundation of a successful and enduring brand story.