Description
Helps To Brand Your Etsy Shop
"Brand Your Etsy Shop Like A Pro" is a comprehensive and insightful ebook designed to guide Etsy sellers on the journey of building a successful and influential brand.
Whether you're a seasoned seller looking to refresh your shop's image or a new entrepreneur eager to establish a strong brand presence, this book is your ultimate companion.
Gain expert advice and practical tips to create a powerful brand identity for your Etsy shop.
Learn how to optimize your product listings and stand out in the competitive marketplace.
Craft a cohesive and compelling brand story that resonates with your target audience.
Design a captivating logo that represents your brand's personality and values.
Explore the importance of colors and fonts in conveying your brand's identity.
Create visually stunning product listings that engage and entice shoppers.
Discover the secrets to effective product photography and writing compelling product descriptions.
Understand the significance of customer experience and learn strategies to provide exceptional service.
Build trust and cultivate a loyal customer base for long-term success.
Leverage social media to amplify your brand's reach and connect with your audience.
Embrace the power of branding to elevate your shop's visibility and increase sales.
Embrace the power of branding, unlock your shop's true potential, and embark on a journey of success with "Brand Your Etsy Shop Like A Pro."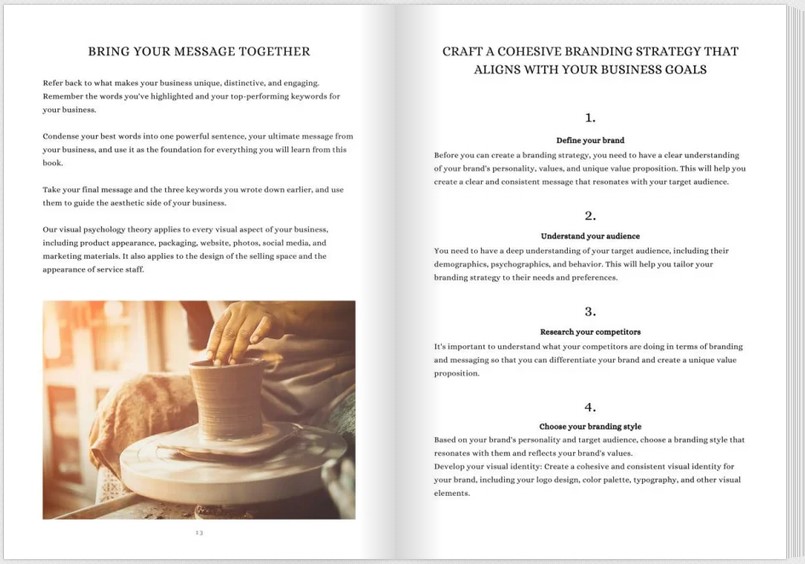 Contents Of This Etsy Branding Ebook
Clarity
Branding Personalities 
Big Message Analysis
Your Goals
Your Ideal Customer
Your Message
The Four Personalities Of Visual Psychology
Youthful, Playful Etsy Shops
Elegant, Feminine Etsy Shops
Organic, Earthy Etsy Shops
High-End, Luxury Etsy Shops
Brand Elements
Shapes
Illustrations
Patterns
Typefaces
How To Choose Typefaces For Your Projects
Brand Photography
Styling Photos
Styling Your Project 
How To Make A Mood Board
How To Create A Color Palette
The Right Colors For Your Business
How To Create Your Brand Board
The Meaning Of Colors
Summary
Resources
Tools

My Other Branding Ebooks
The Ultimate Guide to Branding Styles
The Ultimate Beauty Branding Handbook
You can buy my products also on Gumroad: Branding ebooks