In today's visually-driven world, brand imagery is an essential aspect of branding. It includes all the visual elements that represent a brand, such as logos, typography, color palettes, and images. Effective brand imagery can create a lasting impression on consumers and differentiate a brand from its competitors. In this post, we'll explore the importance of brand imagery in branding and provide tips on how to create compelling brand imagery for your business.
What is brand imagery?
When you think of your favorite brands, what comes to mind? For many of us, it's the logos, colors, and overall design of the products or packaging. This is brand imagery, a vital part of any successful marketing campaign. In this blog post, we'll explore brand imagery and how you can use it to make your products more memorable and distinctive.
Brand imagery is the collection of visual elements associated with a particular brand. This includes things like logos, colors, fonts, and design elements. Together, these elements create a unique visual identity that helps customers easily recognize a product or company. 
Brand image and imagery are an integral part of any marketing strategy. By creating distinctive visuals that are easily recognizable and consistent across all platforms, you can help ensure that your products stand out from the competition and are remembered by customers long after making their purchases.
Is there a difference between brand imagery and brand image?
Though brand imagery and brand image are often used interchangeably, there is a significant distinction between the two concepts. 
Brand imagery includes all of the visual aspects of a brand, such as its logo, color scheme, and overall aesthetic. In contrast, brand image encompasses consumers' reputation and perception of a brand. It considers factors like customer service, product quality, and public opinion. 
Because the brand image is more intangible, it can be harder to control than brand imagery. Nevertheless, both are essential elements of any successful marketing campaign. 
By paying attention to brand imagery and image, businesses can create a solid and positive impression on potential customers.
The different types of brand imagery
Whether you're a budding entrepreneur with a great product or an established business looking to give your brand a facelift, understanding the different types of brand imagery and how to use them is essential to success. 
Your brand identity is more than just your logo; it's the totality of how customers perceive your business. And a big part of that perception is determined by the visuals you use to represent your company. From color schemes to fonts to the overall aesthetic, the imagery you choose for your brand says a lot about who you are and want to be. 
Businesses can use three main types of imagery as part of their branding: visual, auditory, and symbolic. 
1. Visual imagery
Visual imagery includes any picture or graphic that represents your brand. This could be your logo, photos used on your website or social media channels, infographics, illustrations, etc. When used correctly, visual imagery can be compelling in conveying messages about your brand and helping customers to remember your products or services. 
2. Auditory imagery
Auditory imagery includes any sound that is associated with your brand. This could be a jingle or tagline used in your advertising, the music that plays on hold when customers call your business, or even just how your employees greet customers when they enter your store. Like visual imagery, auditory imagery can be beneficial in building recognition for your brand and reinforcing messages about what your business stands for. 
3. Symbolic imagery
Symbolic imagery includes any icon or symbol that represents your brand. This could be something as simple as a color palette or font choice used consistently across your marketing materials or a more complex symbol like a mascot or character representing your business. Symbolic imagery is often used to convey the values and personality of a brand in an easy-to-understand way.
Here are the main visual imagery elements:
Logos 
A logo is probably the first thing that comes to mind when you think of "branding." And for a good reason—a logo is one of the most critical pieces of your visual identity. It should be unique, memorable, and reflective of your company's values. 
When designing a logo, less is almost always more. A simple, clean design will be easier for customers to remember and will age better over time than a busy, convoluted one. If you're unsure where to start, check out some logo design inspiration sites or hire a professional designer. 
Color Schemes 
Your color palette should be eye-catching but not overwhelming, and it should complement the feel of your brand. For example, if you want customers to associate your company with natural or organic products, using earth tones in your branding would be a good idea. 
If you want customers to think of your company as modern and cutting-edge, on the other hand, using brighter colors or a monochromatic scheme might make more sense. Not sure which colors represent your brand best? Check out this handy guide:
Fonts 
The fonts you use in your branding reveal your company's personality. For example, thin sans-serif fonts look more modern, while thicker serif fonts have a classic feel. Script fonts can convey playfulness or sophistication depending on how they're used. And Display fonts should be used sparingly, since they can be challenging to read—but they can significantly impact when used correctly. Not sure which font families represent your brand best? This guide from Adobe can help get you started. 
Photos, illustrations, graphics
The photos and graphics you use in your marketing materials are another vital part of your visual identity. When choosing images for your website or social media pages, ensure they are high-quality and reflect the overall feeling you want customers to associate with your company. 
For example, if you want customers to see your company as fun and approachable, using candid shots or illustrations instead of stock photos might make more sense. On the other hand, if you want customers to perceive your company as professional and trustworthy, using quality photography would probably be a better choice. 
But also:
Icons

Videos

Filters

Backgrounds

Animation

Composition rules

UI components
As you can see, there are many different types of brand imagery—and each one is essential in helping customers understand who you are as a business. When used correctly, visuals can be a potent tool for building customer relationships and driving conversions. Start brainstorming ways to incorporate these elements into your branding today!
The importance of business imagery
Your brand is your identity. It sets you apart from your competition and tells your customers who you are, what you stand for, and what they can expect from you. In today's crowded marketplace, it's more important than ever to have a strong brand that cuts through the noise and resonates with your target audience. And one of the essential elements of a strong brand is compelling imagery. 
Read also: How To Design Your Brand: Brand Photography
Our brains process images 60,000 times faster than they process words. So it should be no surprise that the right image can significantly impact how people perceive your brand. Good brand imagery will tell a story, evoke emotion, and leave a lasting impression. It will also help you build trust with potential customers and establish yourself as an authority in your industry. 
Whether you're just starting or you've been in business for years, it's never too late to invest in professional branding photography. Here are four reasons why fantastic imagery is essential to the success of your business:
1. First impressions matter
You never get a second chance to make a first impression, so you want to be sure that your first impression is good. Often, your website is the first interaction potential customers will have with your brand, so it's essential to ensure that everything—from the design to the copy to the images—is on point. 
If your website is stagnant and outdated, potential customers will think your brand is too. But if it's fresh and visually appealing, they'll be more likely to take you seriously as a business. Remember that first impressions aren't just limited to websites; they also extend to business cards, email signatures, and social media profiles. So make sure all your assets work together to tell a consistent story about who you are as a business. 
2. Seconds count
You have just a few seconds to make an impression on someone when they land on your website or social media profile, so you want to be sure that those seconds count. A high-quality image will immediately grab attention and convey the message you're trying to get across—showcasing your products or demonstrating what your company culture is all about. 
On the other hand, if someone lands on your site and is greeted by a poorly lit photo of you from 10 years ago or a space where an image should be, they're likely to click away before they even have a chance to learn more about what you do. 
Investing in quality imagery is an investment in the future of your business; it's one of the simplest ways to give yourself an edge over the competition and make sure that potential customers stick around long enough to become paying customers.
3. Less really is more
In today's information overload, people are bombarded with marketing messages from all sides; we're constantly inundated with ads and promotional material telling us what we should buy, where we should go, and what we should do.
As a result, we've developed favorite filters; our brains automatically tune out anything that looks like an ad or doesn't spark our interest. That's why intrusive pop-ups and banner ads are so annoying; we instantly tune them out without giving them a second thought. 
The solution? Quality imagery that doesn't look like an ad. Research shows that native advertising—or advertising that looks like regular content—is much more effective than traditional banner ads because people don't view it as disruptive. 
4. Great visuals tell great stories
A picture may be worth a thousand words, but only if those words tell a great story. An investment in quality imagery pays off by helping you capture attention, tell your brand story, build trust with potential customers, and establish yourself as an authority in your industry. 
With so many businesses competing for attention online, great visuals are essential to cut through the noise and make sure that people remember who you are and what you do. 
Branding photography isn't just about pretty pictures; it's about using those pictures to tell a compelling story that resonates with your target audience and ultimately helps you close deals. If you're not using high-quality visuals (images & videos), you're missing out on one of the most powerful branding tools at your disposal and leaving money on the table in the process.
How can I create compelling brand imagery? 
Your brand is the overall feeling your customers and clients get when they think of you. Are you friendly and approachable or aloof and unapproachable? Do you provide high-quality products or services or cut corners to save a few bucks?
Your brand image is vitally important to the success of your business. After all, if potential customers don't like what they see, they will not want to do business with you. So how can you create a brand image that people will remember and make them want to return for more? Keep reading to find out.
Your visuals should be distinctive and recognizable. This means choosing colors, shapes, and fonts that are unique to your brand and easy for customers to remember. 
You should also ensure that your visuals are consistent across all platforms, from your website to your social media accounts to your physical products (if applicable). 
Developing Your Brand Image
Before you can start working on developing your brand image, you need to take some time to think about what kind of image you want to portray. Do market research and determine what your target audience is searching for. Once you have a good idea of that, you can start thinking about how you can show them that you're the business they need.
Your brand image should be consistent across all your marketing materials, from your website and social media accounts to your business cards and email signature. Consistency is vital when it comes to building a solid brand image. Potential customers should be able to look at any of your marketing materials and instantly know that they came from you.
Creating a Memorable Image
Part of creating a solid brand image is making it memorable. You want potential customers to see your logo or hear your company name and immediately think of your business. To do this, you must ensure that your image is unique and recognizable. 
One way to do this is to use strong imagery in your marketing materials. If people can picture what your product looks like or conjure up an image of your target customer in their minds, they're much more likely to remember your brand when they need what you're selling. Another way to ensure people remember your brand is by having a catchy tagline or slogan encapsulating what you're all about. 
It doesn't have to be photography!
Brand illustrations are a powerful branding tool that can help businesses to communicate their message uniquely and memorably. You can create brand illustrations in any style, and you can use them on websites, in advertising, and on the packaging. 
While some companies choose to use generic illustrations that are not specific to their brand, others commission custom illustrations that better capture the essence of their company. Brand illustrations can be an effective way to communicate the personality of a company and to make a lasting impression on potential customers.
Unlike traditional marketing materials, brand illustrations are not limited by the constraints of photography or copywriting. Instead, they can be used to create dynamic and eye-catching visuals that capture the essence of a brand. 
As a result, brand illustrations can be an extremely effective way to reach potential customers and build long-term brand equity. Additionally, because professional artists often create brand illustrations, they can help businesses differentiate themselves from their competitors. 
For all these reasons, brand illustrations can be an invaluable asset for any business.
F

ollow your brand's personality
In the world of design, color psychology is a tool that can help bring more clarity to your creative process. It's vital for designers like us who have an idea in mind but lack direction or creativity due to their lack of understanding about what makes something unique and different from other brands out there – which results in not only frustration within ourselves as creatives but also negativity towards our craft if we are unable to get past this obstacle.
Just as each season has its own personality, so does your brand. The colors and imagery style you choose to represent it will be influenced by which one best suits the tone of voice for what kind of experience is desired from customers looking at this product (e-commerce website).
Group 1 for playful, informal, and welcoming businesses: 
Images are fun, colorful, light, and bright. They will have a certain warmth and softness about them. 
Read more about personality group 1- Brand Design 1: How To Brand a Youthful, Open, and Happy Business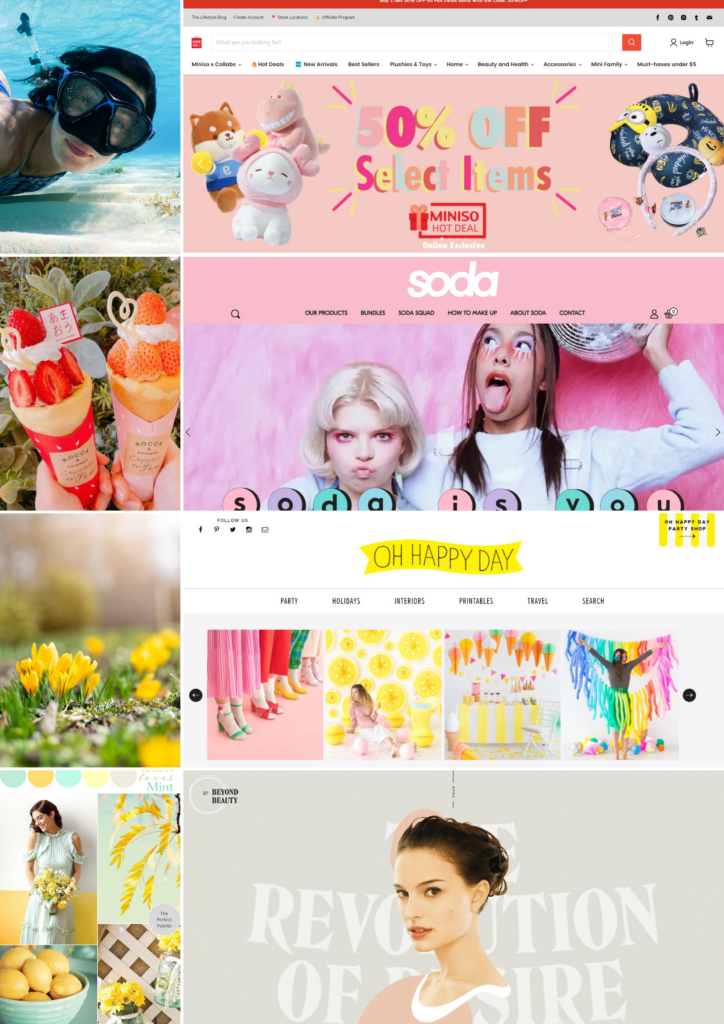 Group 2 for feminine, elegant businesses:
Photos or illustrations are cooler, more relaxed, and calmer. They have some softness, and some hazy light will do magic. 
Read more about personality group 2 – Brand Design 2: How To Brand an Elegant, Feminine Business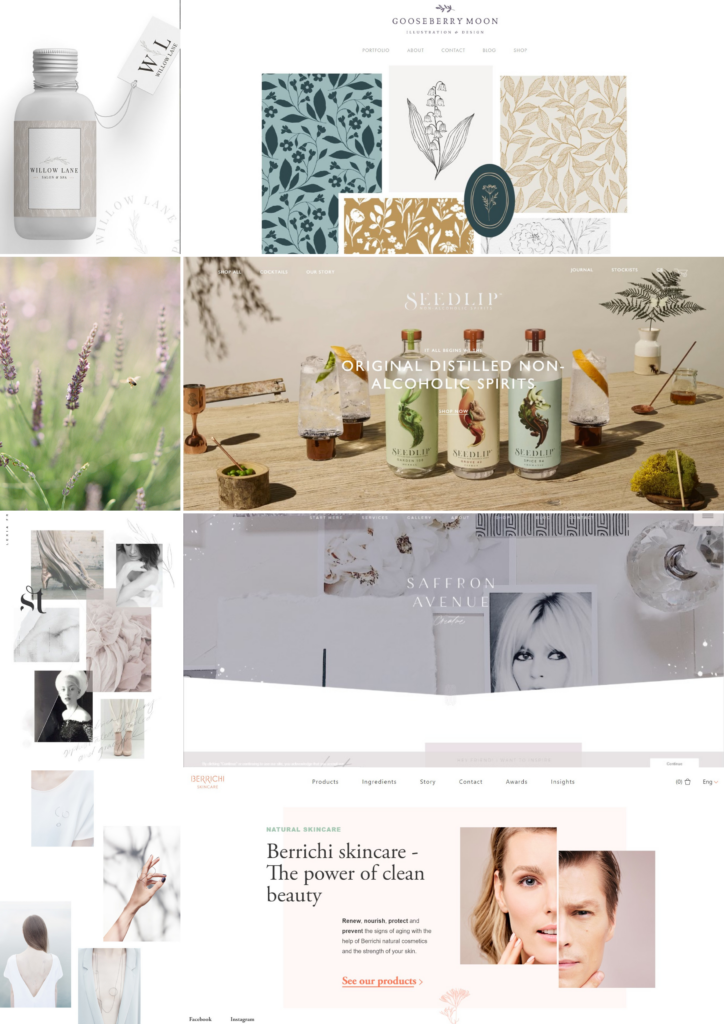 Group 3 for businesses that value sustainability, community, and earth:
Imagery is rich, abundant, and intense. They have motivating energy about them. 
Read more about personality group 3 – Brand Design 3: How To Style an Earthy, Community-Focused Business
Group 4 for high-end businesses: 
Images are crisp, clean, bright, intense, clear, or the opposite: understated, edgy, and grounded. They always bring up a solid emotive reaction.
Read more about personality group 4 – Brand Design 4: How To Brand a High-End, Luxury Business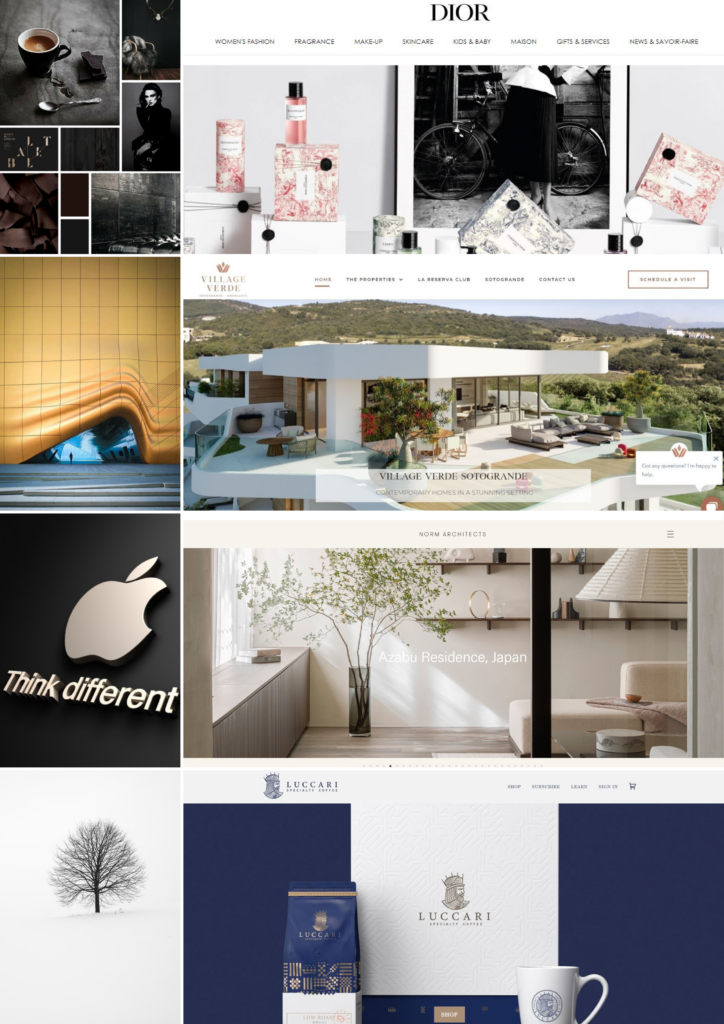 Brand imagery examples
But what makes for good brand imagery? Let's take a look at a few examples.
Example 1: McDonald's 
McDonald's is one of the most well-known brands in the world, and its use of images has played a significant role in that. The company's mascot, Ronald McDonald, is one of the most recognizable characters; even people who have never set foot in a McDonald's know who he is. In addition to Ronald, McDonald's also uses other playful visuals, like their iconic "Happy Meal" boxes, to create an overall feeling of fun and excitement—precisely the kind of feeling you want customers to associate with your brand.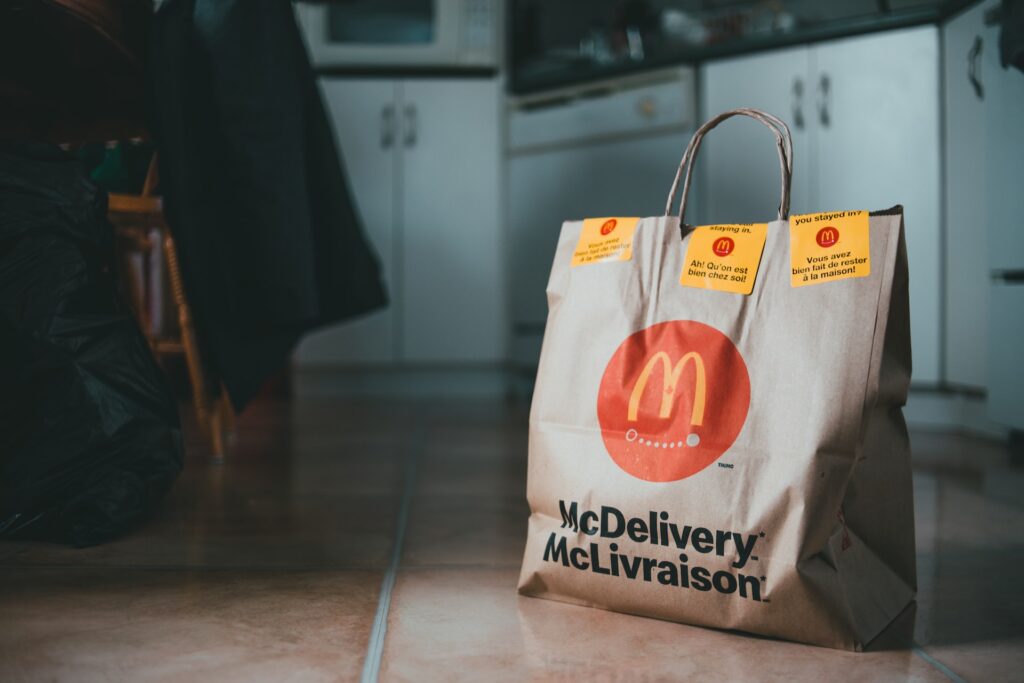 Example 2: Nike 
Nike is another excellent example of how images can be used to create a powerful brand identity. The company's trademark "swoosh" logo is recognized everywhere, becoming synonymous with quality and excellence. Nike also does an excellent job of using athletes as models in their advertisements; by featuring famous athletes like Michael Jordan and Serena Williams front and center, they convey the message that their products can help anyone achieve greatness.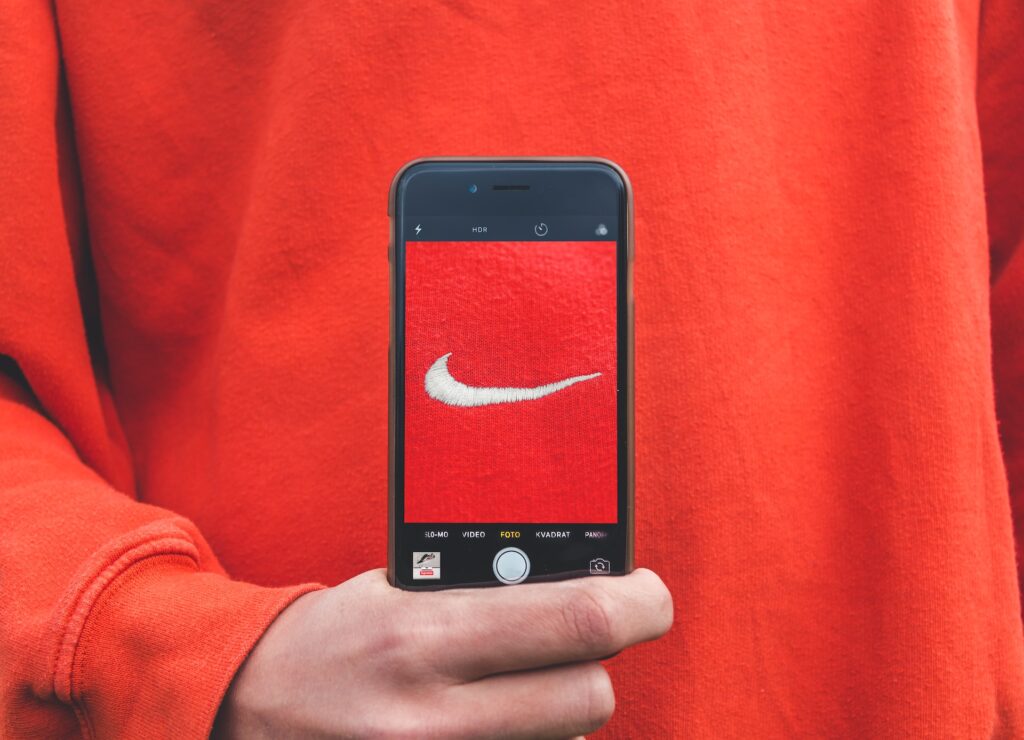 Example 3: Apple 
Last but not least, we have Apple—arguably the most successful tech company in history. One look at their sleek website and minimalistic product designs, and it clear that simplicity and sophistication are two giant pillars of their brand identity. And while Apple products are more expensive than their competitors, their use of high-end imagery makes customers feel like they're getting something luxurious and valuable for their money.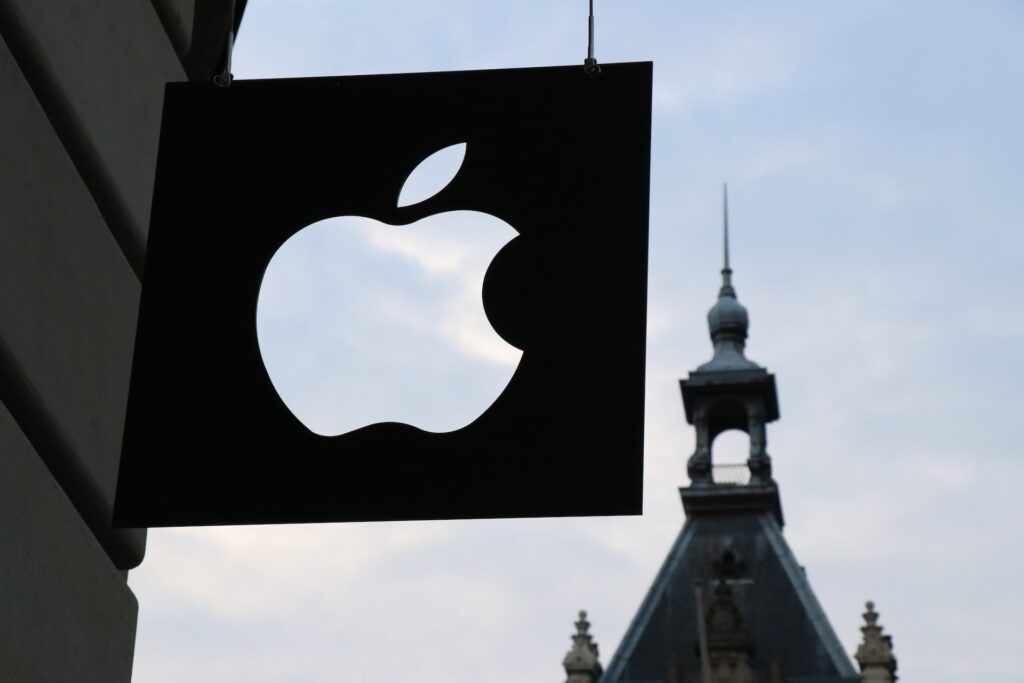 Some examples from different business' brand books and websites
Pay attention to the harmony between images, typography, color palettes, logos, and other visual branding elements.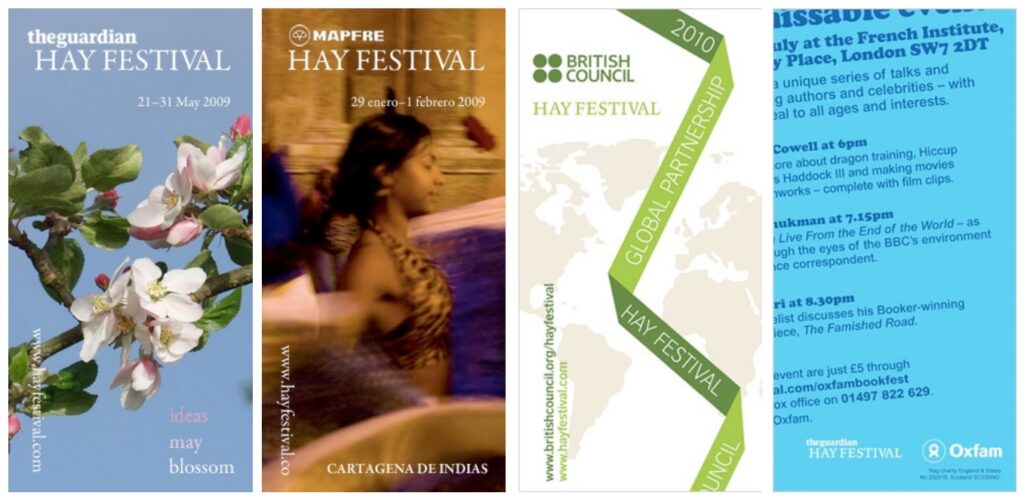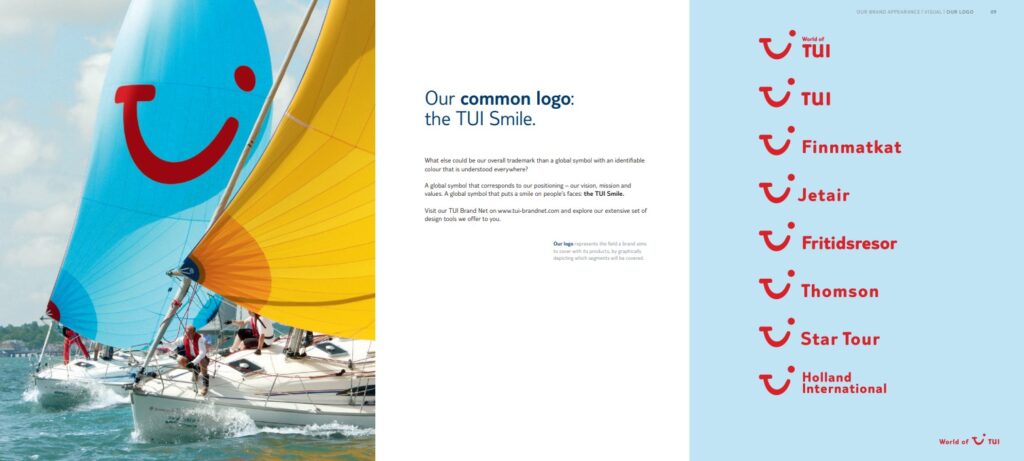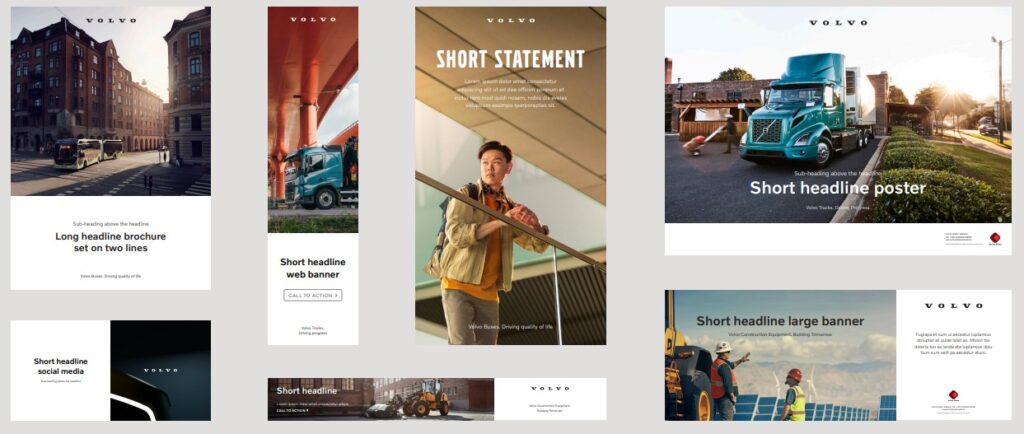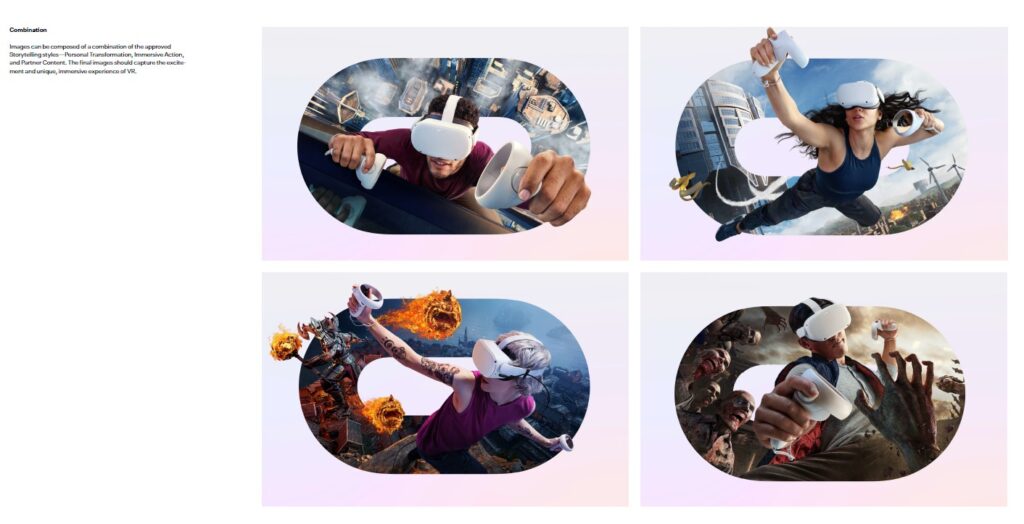 As these examples illustrate, imagery can be an extremely effective tool for building a solid brand identity. If your business is memorable and impactful, use high-quality visuals that accurately reflect your desired image. With careful planning and execution, you can ensure your brand stands out from the rest—and achieves long-term success.
Conclusion
A well-developed brand image is essential for any business that wants to succeed. Your brand image is the feeling people get when they think of your company, so it must be positive. 
Creating a strong, consistent, and memorable brand image will make people more likely to do business with you and continue doing business with you for years to come. 
Read more about visual branding here:
Brand Anatomy – What Is It, And What Are Its Key Elements?
Visual Brand Strategy – What Is It?
10 Best Brand Designers Of Elegant Branding
How To Create a Color Palette For Your Brand