Your brand identity—which includes everything from your logo to your typography to your color palette—makes you unique. Designing your brand identity is super important—and because it's so important, it's not a task you want to tackle on your own. It takes a certain talent (specifically, brand designers) to build a brand from the ground up.
Finding the right brand designer to work with is a challenge every small business owner faces. Here you'll find some of the best brand designers from different parts of the world – specifically the ones who produce elegant, understated work. Their style works best for businesses that target feminity and beauty – wedding businesses, photographers, fashion designers, jewelers, beauty businesses, and so much more.
Think of this guide as an introduction to a range of brilliant brand designers who've caught my eye. Look for the ones whose creative style reflects the needs of your target audience and the brand strategy you already have in mind.
What does a brand designer do?
A Brand Designer is someone who has a genuine passion for design and creative culture. They produce designs across a variety of formats, platforms and environments including logos, visual identities, apps and websites, out-of-home media, social media, magazines, games, physical environments and more. – The Team.
A great brand designer will enable you to see your brand in a new and exciting light. They will inspire you, fuel your eagerness to keep going and have the skill and creativity to create a vision that surpasses all your expectations.
Designers at a brand design agency can offer brand identity, book design, campaigns, data visualization, digital design, editorial design, environmental graphics, exhibition design, film and motion graphics, industrial/product design, naming, packaging, logo design, sound design, adaptation and implementation, brand architecture, brand engagement, brand identity, brand innovation, experiences and environments, interactive and new media, insights and analytics, naming and verbal identity, packaging, strategy and positioning, graphic design, and similar services.
They produce designs across various formats, platforms, and environments, including logos, visual identities, apps and websites, out-of-home media, social media, magazines, games, physical environments, and more. Brand designers work to a brief from the client, conceptualize ideas, and design solutions to satisfy the client's goals and objectives. They work with the client, other designers, copywriters, artists, and account managers.
How to find the best brand designer for your business?
When it comes to brand design, you have some different possibilities.
If you don't have any brand elements, go with a design contest.
If you're just getting started and don't have a logo, color palette, and overall style yet, and/or you're not exactly sure the direction you want to take your brand, a logo, and brand identity design contest is a great way to get input from a variety of skilled designers.
Create your design brief, and designers from all over the world can pitch you their ideas for your brand design. You narrow down your options to a top few choices, work with each to perfect the looks, then pick whichever designer you feel best brought your brand to life as the winner. Once the design contest is over, you'll have the framework you need to develop your brand over time and an excellent designer to help you.
You have got the basics: work one-on-one with a freelancer
If you already have the essential assets for your brand and you're just looking to supplement with additional designs—like a brand style guide to pull all your ideas together and get your team on the same page—or you're 100% clear on what you want for your brand design, then working with a freelancer one-on-one is a great option.
When working directly with a freelancer, you have control over the process. While they provide you with their professional input, you can tell them precisely what you're looking for and the ultimate vision you have for your brand—and then work with them on each element of your brand identity until it meets that vision.
The best brand designers who love the elegance
I have chosen the designers who stand out for their elegant, somewhat feminine approach.
Your package could include brand marks, illustrations, logo design, custom color palette, type guide, social media templates, packaging design, graphic design, website and e-commerce design, and more.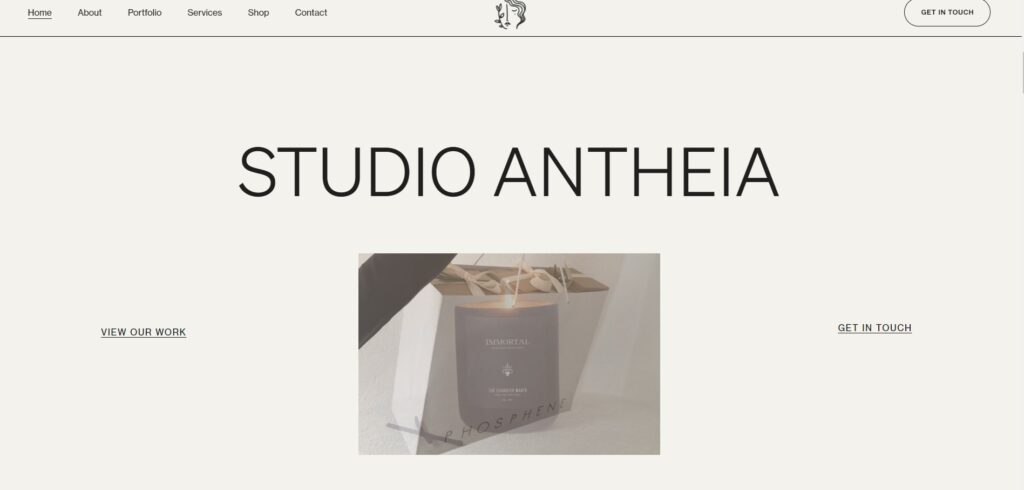 An exemplary use of type and a flair for illustration creates a gorgeously stylish look with a modern feel.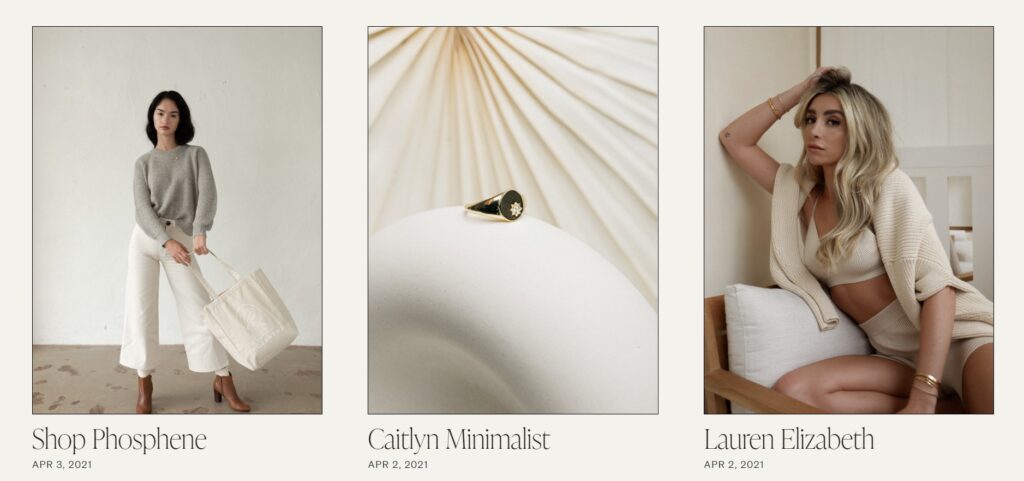 Naming, packaging, brand development, web design, design strategy, collateral design, illustration, graphic design, and art direction.
Their colorful and cheerful designs bring a smile to your face and make you look closer at their work. Love-love-love their designs!
They build out every aspect of your branding design—a custom logo suite paired with primary and secondary color palettes internal communications guidelines, including your mission statement, story, core values, target audience personas, and brand voice, logo concepts, social media aesthetics, and topic buckets, graphic design, photography shot lists, and more.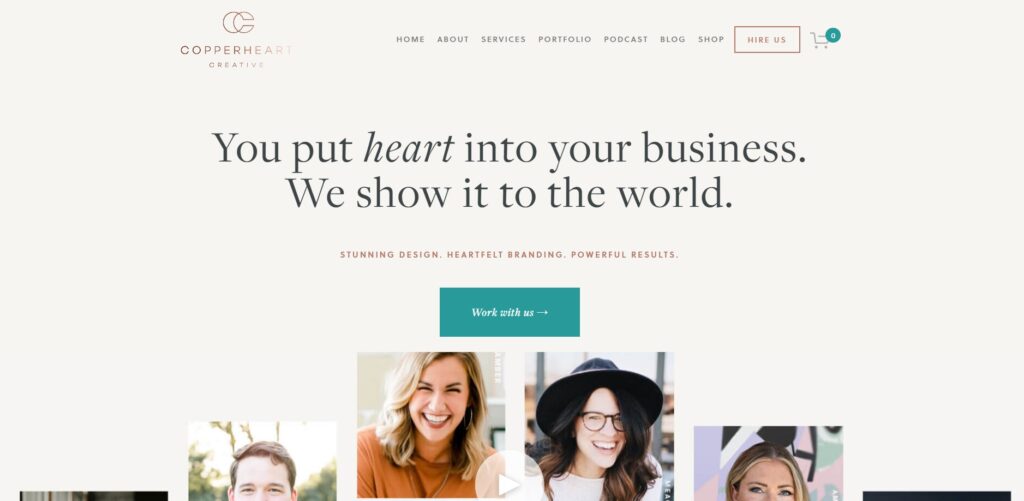 A fantastic branding agency. They are really, really good. Bold and thoughtful, out of the box.
Logo design, color guide, brand guide, mission + vision, user interface design (UI), user experience strategy (UX), website design, art direction, lifestyle photography, product photography, print collateral package, social media graphics, + templates.
Bold and pretty designs.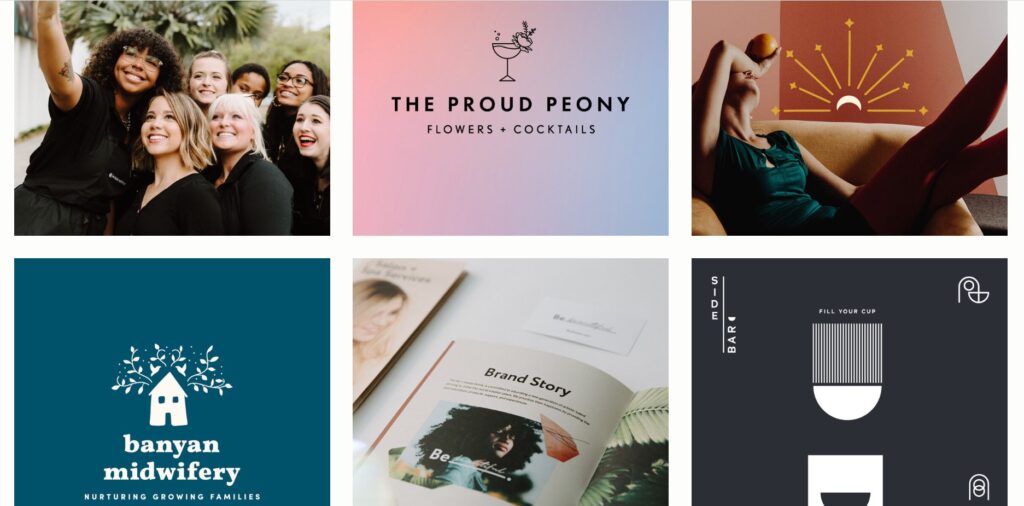 Brand identity design, naming & strategy, brand guidelines & architecture, packaging design, graphic design, printed communications, advertising, interior design, signage & wayfinding, exhibition design, website design & development, creative partnerships & project management.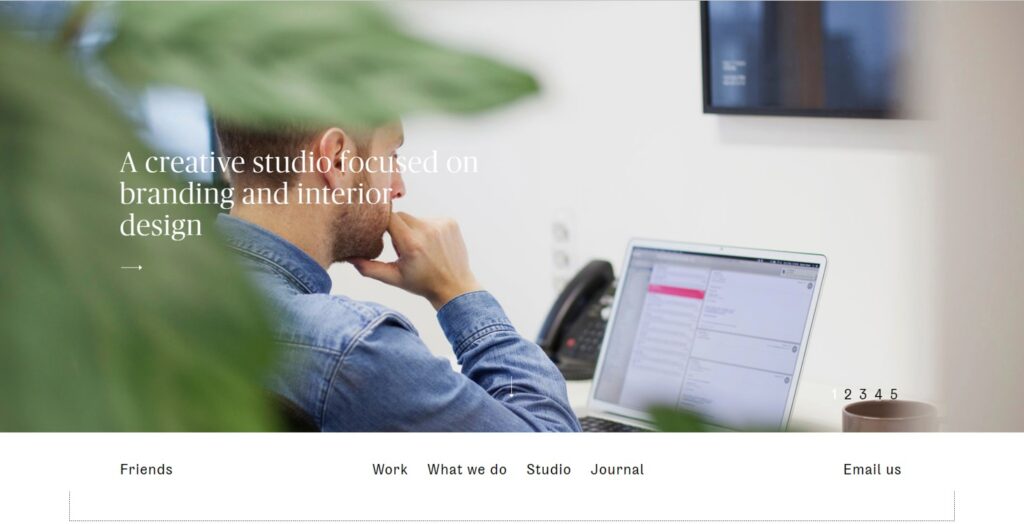 Versatile and creative work. Colorful, impactful design with a focus on the experience.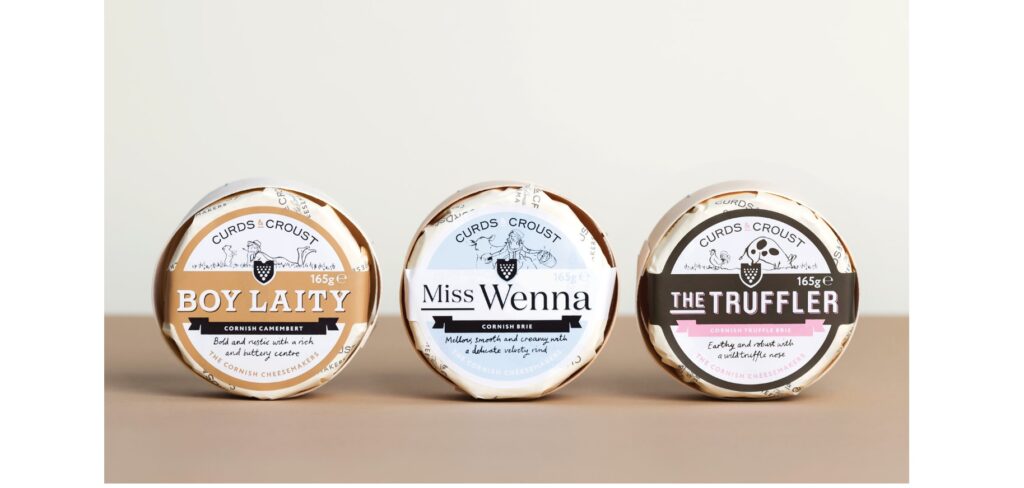 Brand design, packaging, graphic design, and web design with a strong hint of retro.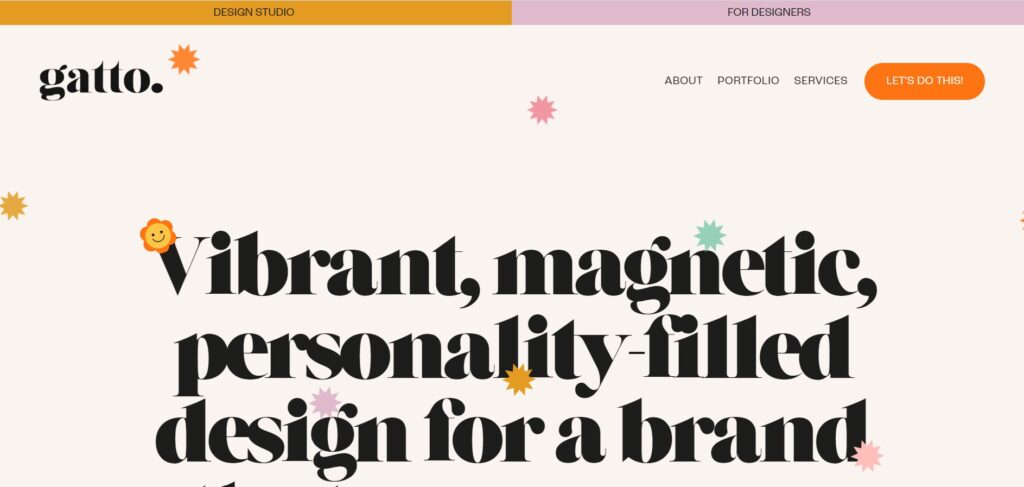 Colorful, playful, and fun brand designs.

Brand styling and web design, custom lettering, and photo styling.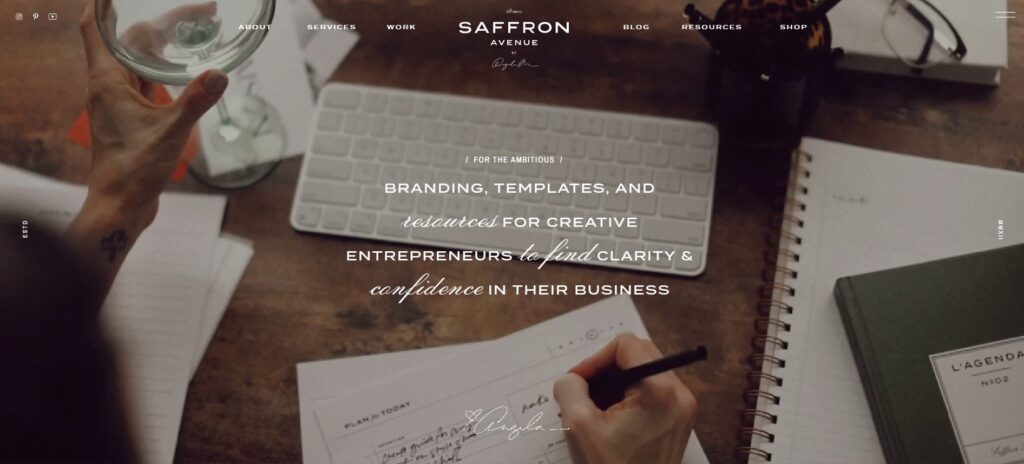 Utterly elegant branding designs. Sophisticated, elegant, and polished designs for luxury brands.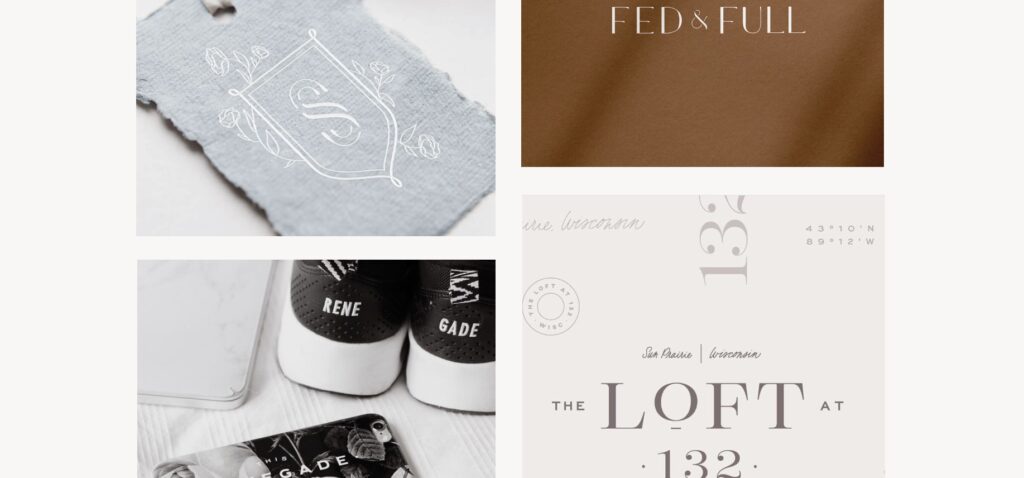 Brand positioning and strategy, brand styling & design, graphic design, web design, and development.
Beautiful portfolio and moderate pricing.
Services offered: A comprehensive strategy, visual identity system (brand platform and your brand visuals), and web design (website – your digital home).
Iconic, modern, and super-super stylish.
An Ultimate Brand Style Guide
Ebook: Branding For Creatives
Everything about color psychology in branding and how to build a successful brand identity for your business.
Format: Ebook (Printable PDF file).
Pages: 100
Colors For Creative Businesses is both a practical guide and an inspirational book that proposes a reflection on the universe of color combinations and the moods and atmospheres they evoke.
This colorful e-book explains the following:
How to create a harmonious color palette that is right for your business: how to create playful branding, elegant branding, down-to-earth and organic branding, or a luxury brand – you will get the answers!
How to make a brand board.
Create an inspiration board.
Which photo style is suitable for your business field and target group?
Which font is best for your website and banners?
And, of course, there are plenty of other practical tips to help you create a fantastic design EVERY DAY, both at work and at home.
Questions to ask before booking a design project
Finding a graphic designer who can guide your company through the elements of a branding design project is essential. To recognize who that brand designer might be, you should know a little about brand design and what to look for in a freelance designer.
The portfolio and design style questions are crucial here. Every design agency has its own style, and the responsibility lies with you to ensure you pick the right person for the job.
Choose someone whose work inspires you. Avoid selecting someone based on the price alone.
Once you have shortlisted your agencies or designers, send a quick email outlining your project and see what comes back.
Notice how quickly they respond, whether they send you anything in the mail, and how interested they seem in your project.
Are the designers of this agency interested in my project?
Do I feel they would do a good job?
Does their portfolio inspire me?
Which direction will they take my brand identity in?
How much do they cost and what will I get for my money?
How many concepts do they deliver?
What happens if I am not happy with their designs?
What sorts of projects will they be able to help you with once your brand identity has been styled?
Working with a designer should be a positive experience; you both have a role to play in ensuring your project runs smoothly. Remember to:
Ask for deadlines
Agreeing on a timetable is a vital part of a good working relationship. If your designer isn't giving any timelines, ask for them yourself. Setting these dates is something any professional will be happy to do.
Trust your designer
Let her or him do the work and avoid being on their neck. Any seasoned designer knows what kind of information needs to be gathered from you before the start of the project and will not hesitate to ask for more if needed. Hold back your temptation to check the process and wait for the release of the first draft.
Don't confuse your designer.
Don't keep sending new and fresh ideas that pop into your head; it causes confusion and slows the process down. Again, wait for the first draft from your designer and discuss your ideas with them then.
Read more about brand design and style your brand
How To Style Your Brand – Brand Photography