Your brand identity—which includes everything from your logo to your typography to your color palette—makes you unique.
Designing your brand identity is super important—and because it's so important, it's not a task you want to tackle on your own. It takes a certain talent to build a brand from the ground up.
Finding the right brand designer to work with is a challenge every small business owner faces.
Here you'll find some of the best brand designers from different parts of and around the world – specifically the ones who produce elegant, understated work. Their style works best for businesses that target feminity and beauty – wedding businesses, photographers, fashion designers, jewelers, beauty businesses, and so much more.
Think of this guide as an introduction to a range of brilliant brand designers who've caught my eye.
Look for the ones whose creative style reflects the needs of your target audience and the brand strategy you already have in mind.
What Does A Brand Designer Do?
A Brand Designer is someone who has a genuine passion for design and creative culture. They produce designs across a variety of formats, platforms and environments including logos, visual identities, apps and websites, out-of-home media, social media, magazines, games, physical environments and more. – The Team.
A great brand designer will enable you to see your brand in a new and exciting light.
They will inspire you, fuel your eagerness to keep going, and have the skill and creativity to create a vision that surpasses all your expectations.
Designers at a brand design agency can offer brand identity, book design, campaigns, data visualization, digital design, editorial design, environmental graphics, exhibition design, film and motion graphics, industrial design industry name/product design, naming, packaging, logo creation, sound design, adaptation and implementation, brand architecture, brand engagement, brand identity, brand innovation, experiences and environments, interactive and new media, insights and analytics, naming and verbal identity, packaging, strategy and positioning, graphic design, and similar services.
They produce designs across various formats, platforms, and environments, including logos, visual identities, apps and websites, out-of-home media, social media, magazines, games, physical environments, and more.
Brand creators work to a brief from the client, conceptualize ideas, and design solutions to satisfy the client's goals and objectives.
They work with the client, graphic designers, web designers, photographers, copywriters, artists, and account managers.
Importance of Brand Identity
The importance of brand identity cannot be overstated.
It forms the foundation of a company's overall branding strategy and serves as the visual expression of the brand. From your logo to your color scheme, typography, and visual elements, every aspect of your brand identity contributes to creating a memorable image of your business in the minds of your target audience.
In the hyper-competitive market space of today, having a strong brand identity is essential.
It helps to distinguish you from your competitors and ensures that you're immediately recognizable to your customers. A well-designed brand identity communicates your brand's values, personality, and core message in a visual manner that resonates with your target audience.
More than just a pretty design, a strong brand identity can inspire trust and loyalty among customers.
It provides consistency across all touchpoints, helping to create a cohesive experience that reinforces your brand's ethos every time a customer interacts with you. In essence, your brand identity is the face of your company and plays a pivotal role in how your brand is perceived. It's a crucial component of your business that shapes your customer's expectations and experiences.
In short, investing in a powerful brand identity is not just important—it's a necessity for businesses aiming to make a lasting impact in their industry.
Brand Designer's Roles and Responsibilities
Brand designers hold a pivotal role in the development and sustainability of a brand's identity.
Their job is multifaceted and entails a combination of strategic thinking, creative design, and a deep understanding of a brand's ethos and target audience.
At the most fundamental level, a brand designer's role involves the conceptualization and design of a brand's visual identity.
This includes creating logos, color schemes, typography, imagery, and other visual elements that will resonate with the target market and accurately represent the brand's identity and values.
Beyond the creation of visual elements, branding specialists are also responsible for maintaining the consistency of these elements across various platforms and mediums, from websites and apps to physical environments and out-of-home media. This ensures that the brand's identity remains cohesive and recognizable, regardless of where or how it's encountered.
In addition, they work closely with clients and other team members, such as copywriters and marketing professionals.
They collaborate to develop and implement brand strategies, devise marketing campaigns, and address any design-related challenges that arise. Their goal is to create a compelling visual identity that not only satisfies the client's objectives but also elicits an emotional response from the target audience, fostering brand recognition and loyalty.
Range of Services Offered By Branding Specialists
Brand creators offer a broad range of services that encompass various facets of design industry brand development and the visual arts and communication. Below are some of the primary services they provide:
1. Logo Design:
A logo is often the first visual element that comes to mind when people think of a brand. Branding designers create unique, memorable logos that capture the essence of the brand.
2. Visual Identity Design:
This involves creating a comprehensive visual language for the brand, including color schemes, typography, and imagery guidelines. The visual identity acts as the cornerstone of the brand's aesthetic across all platforms.
3. Packaging Design:
For product-based businesses, packaging is a crucial part of the branding process. Brand creators create packaging that is not only functional but also aligns with the brand's identity and appeals to the target audience.
4. Digital Design:
In today's digital age, a brand's online presence is paramount. Brand stylists work on a brand's digital assets, including website design, the art director's social media graphics, email templates, and more.
5. Print Design:
This can include business cards, brochures, posters, and other print materials. Despite the digital shift, print media remains a valuable touchpoint for many brands.
6. Environmental Graphics:
For businesses with physical locations, environmental graphics such as signage, wall graphics, and exhibition designs help reinforce the brand identity in a 3D space.
7. Naming and Verbal Identity:
Some brand stylists also offer services in naming businesses and creating a verbal identity, which includes tone of voice and messaging guidelines.
8. Brand Strategy:
This involves defining the brand's positioning, mission, vision, and value proposition. A brand designer can help create a strategic plan to guide all branding efforts.
9. Brand Guidelines:
To ensure consistency, top branding designers and stylists often create brand guidelines. These are comprehensive manuals that detail how all elements of the brand's visual identity should be used.
Remember that not all branding specialists offer the same range of services.
Some specialize in specific areas, while others provide a full suite of branding services. The key is to choose a designer whose skills and services align with your brand's needs and objectives.
Are Brand Designers Also Graphic Designers?
The terms "Brand Designer" and "Graphic Designer" are sometimes used interchangeably.
However, while there is overlap in the skills and tasks associated with these roles, they are not precisely the same.
A graphic designer is a professional in the creative industry who creates visual content to communicate messages.
They use typography, images, color, and other design elements to craft graphics that deliver specific messages. Their work can be applied across various mediums, including print, digital, and social media. They are freelance brand designers who may design a range of items, such as advertisements, brochures, magazines, and corporate reports.
On the other hand, a brand designer is a type of graphic designer who specializes in creating and managing all visual aspects of a brand's identity.
Their work aims to ensure consistency across all touchpoints in the everyday life of a brand, creating a cohesive look and feel that effectively communicates the brand's values and personality to its target audience. This involves creating logos, selecting color palettes, creating designs, developing typography standards, designing packaging, and more.
So, while all brand designers are graphic designers due to their foundational graphic design skills, not all graphic designers are brand designers because they may not specialize in brand identity development.
Brand designers typically have a more strategic role, as they are not only responsible for creating visually appealing designs but also for shaping and maintaining a brand's image and identity in the market.
How To Find The Best Brand Designer For Your Business?
Finding the right brand designer for your business is crucial to creating a brand identity that effectively communicates your brand's ethos to your target audience. Here's a step-by-step guide to help you in your freelance designer search:
1. Define Your Brand and Goals
Before starting your search, take the time to understand your brand and what you want to achieve. Consider your brand's personality, values, target audience, and goals. This will help you identify the kind of designer whose style aligns with your brand.
2. Research
Start by researching potential designers or design agencies first. Look at their portfolios, see what brands they've worked with, and assess if their design style resonates with what you're looking for.
3. Check Testimonials and Reviews
Look at what past clients have said about their experiences with the designer. This can provide valuable insight into their work process, professionalism, and ability to deliver on brief.
4. Reach Out
Contact the best graphic designers who have caught your eye. Discuss your project, and goals, and ask about their design process, timeline, and pricing. This will help you gauge if they're the right fit.
5. Request a Proposal
Once you've narrowed down your options, ask for a proposal. This should outline the scope of work, timelines, costs, and any other important details.
6. Trust Your Gut
While research and process are important, your gut feeling also plays a part. You should feel confident in your designer's ability to understand and translate your brand's identity.
Remember, a great brand designer is not just about talent.
They should also be able to understand your vision, communicate effectively, and work collaboratively with you to create a brand identity that truly resonates with your target audience.
If You Don't Have Any Brand Elements, Go With A Design Contest
If you're just getting started and don't have a logo, color palette, and overall style yet, and/or you're not exactly sure the direction you want to take your brand, a logo, and brand identity design contest is a great way to get input from a variety of skilled graphic designers here.
Create your visual design brief, and designers from all over the world can pitch you their ideas for your brand design.
You narrow down your options to a top few choices, work with each to perfect the looks, then pick whichever brand strategist or designer you feel best brought your brand to life as the winner.
Once the design contest is over, you'll have the framework you need to develop your brand over time and the right designer to help you.
You Have Got The Basics: Work One-On-One With A Freelancer
If you already have the essential assets for your brand and you're just looking to supplement with additional designs—like a brand style guide to pull all your ideas together and get your team on the same page—or you're 100% clear on what you want for your brand design, then working with a freelancer one-on-one is a great option.
When working directly with a freelancer, you have control over the process.
While they provide you with their professional input, you can tell them precisely what you're looking for and the ultimate vision you have for your brand—and then work with them on each element of your brand identity until it meets that vision.
The Best Brand Designers Who Love The Elegance
I have chosen the best designers who stand out for their elegant, somewhat feminine approach.
When it comes to elegance in brand design, there are a handful of designers who truly stand out. These designer agencies have mastered the art of subtlety and sophistication, their work is a testament and visual communication to the beauty of minimalism and grace.
These designers, along with many others, share a love for elegance in design, embodying it within every aspect of their work.
Their designs demonstrate that less can indeed be more and that simplicity and subtlety, when executed with precision and creativity, can result in truly stunning and memorable brand identities.
Your package could include brand marks, illustrations, logo creation, custom color palettes, type guides, social media templates, packaging design, graphic design, website and e-commerce design, and more.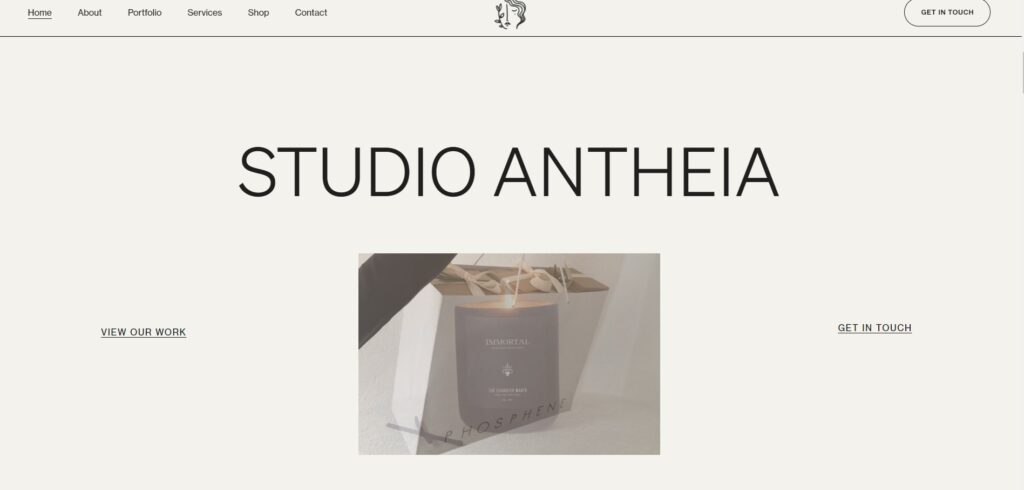 Best brand designers – studio Antheia
An exemplary use of type and a flair for illustration creates a gorgeously stylish look with a modern feel.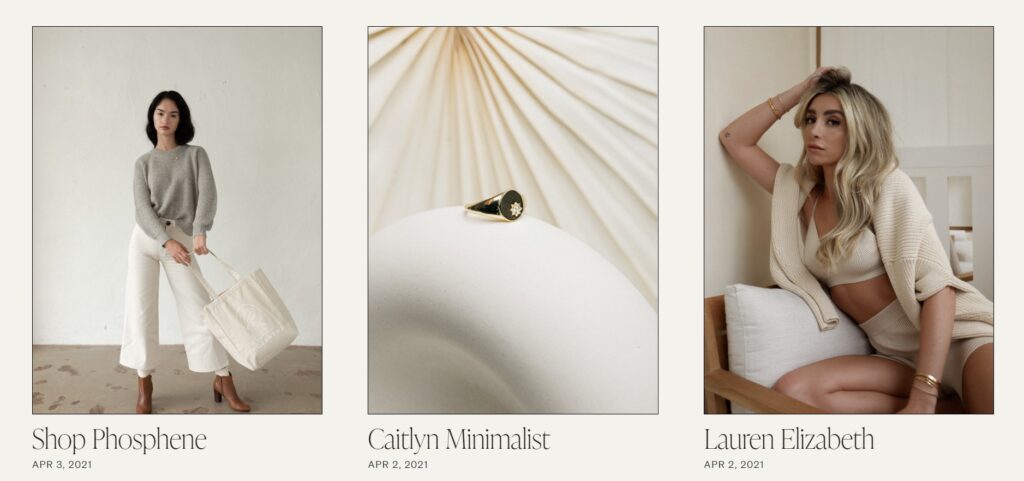 Best elegant brand designers -Studio Antheia
Naming, packaging, brand development, web design, graphic design company strategy, collateral design, and art director, illustration, graphic design, and art direction.
Elegant brand designers – Shoppe Theory
Their colorful and cheerful designs bring a smile to your face and make you look closer at their work. Love-love-love their amazing designs too!
Playful branding – Shoppe Theory
They build out every aspect of your branding design—a custom logo suite paired with primary and secondary color palettes internal communications guidelines, including your mission statement, story, core values, target audience personas, and brand voice, logo concepts, social media aesthetics, and topic buckets, graphic design, photography shot lists, and more.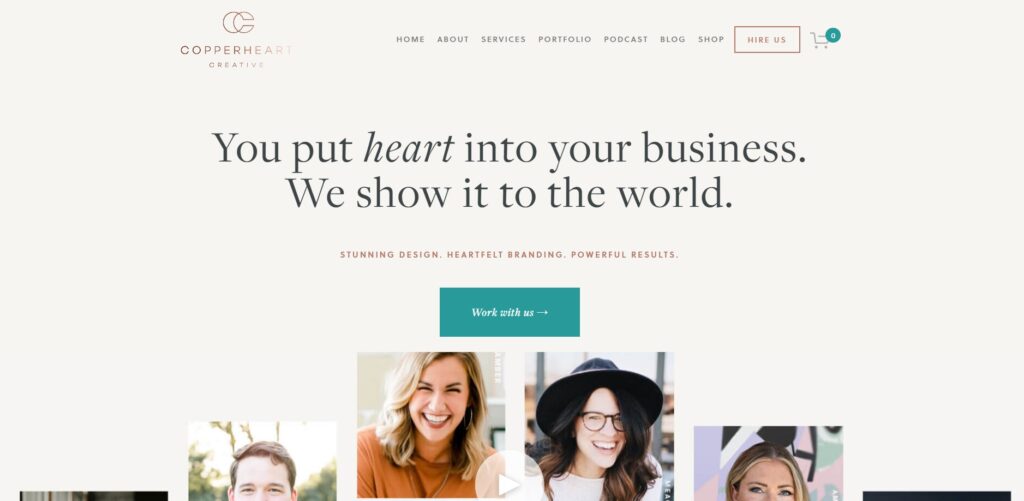 Best brand agencies – Copperheart Creative
A fantastic branding agency. They are really, really good. Bold and thoughtful, out of the box.
Logo design, color guide, brand guide, mission + vision, user interface design (UI), user experience strategy (UX), website design, art direction, lifestyle photography, product photography, print collateral package, social media graphics, + templates.
Elegant and earthy brand design studio – Bridge & Bloom
Bold and pretty designs.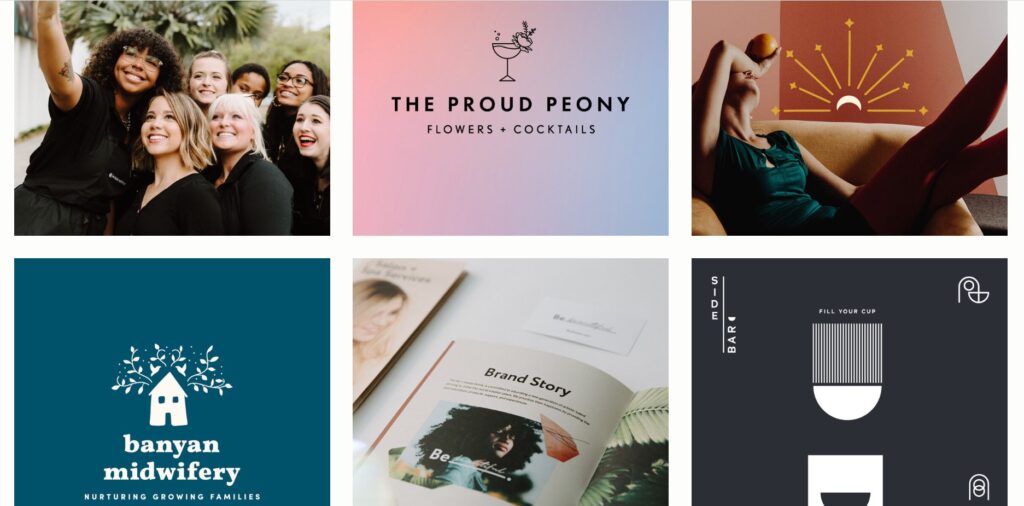 Bridge & Bloom branding projects
Brand identity design, naming & strategy, brand guidelines & architecture, packaging design, graphic design, printed communications, advertising, interior design, signage & wayfinding, exhibition design, website & app design & development, creative partnerships & project management.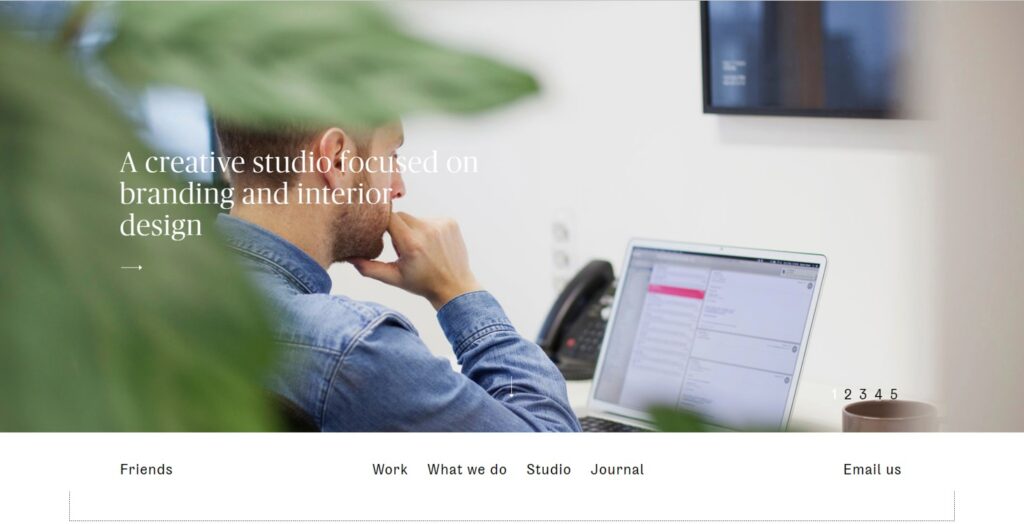 Design By Friends portfolio
Versatile and creative work. Colorful, impactful design with a focus on the experience.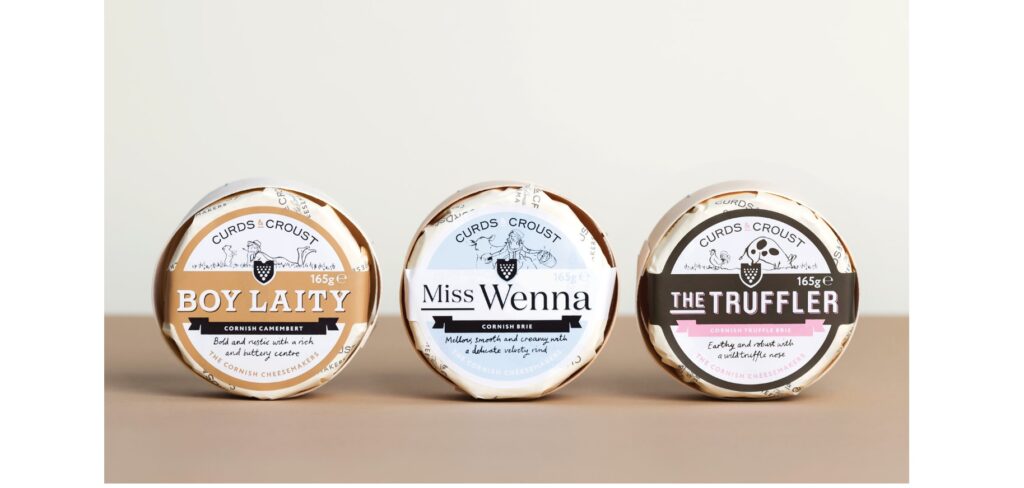 Design By Friends portfolio
Brand design, packaging, graphic design, and web design with a strong hint of retro.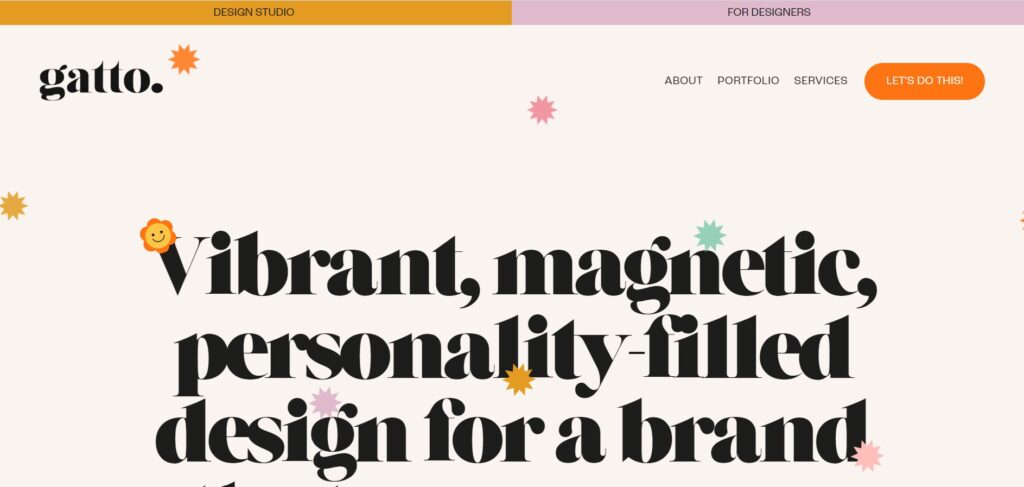 Gatto brand styling studio
Colorful, playful, and fun brand designs.

Gatto brand styling portfolio
Brand styling and web design, custom lettering, and photo styling.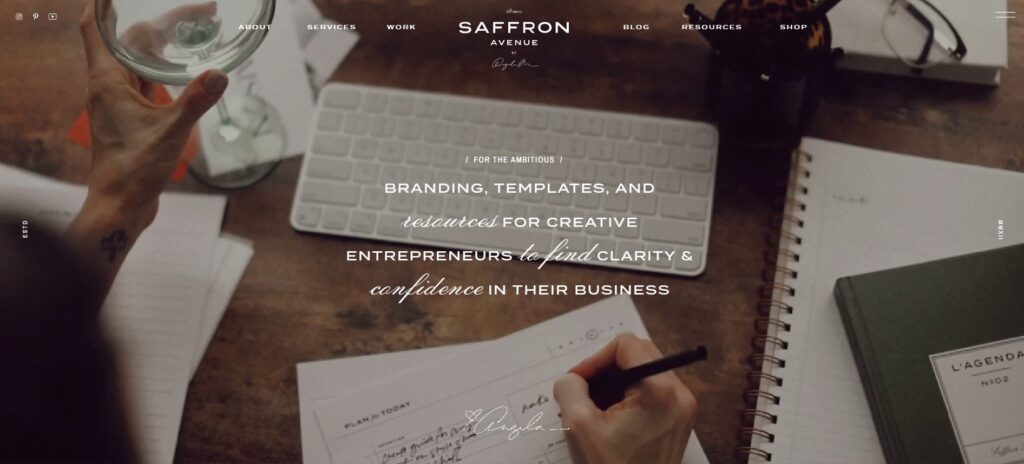 Elegant brand styling by Saffron Avenue
Utterly elegant branding designs. Sophisticated, elegant, and polished designs for luxury brands.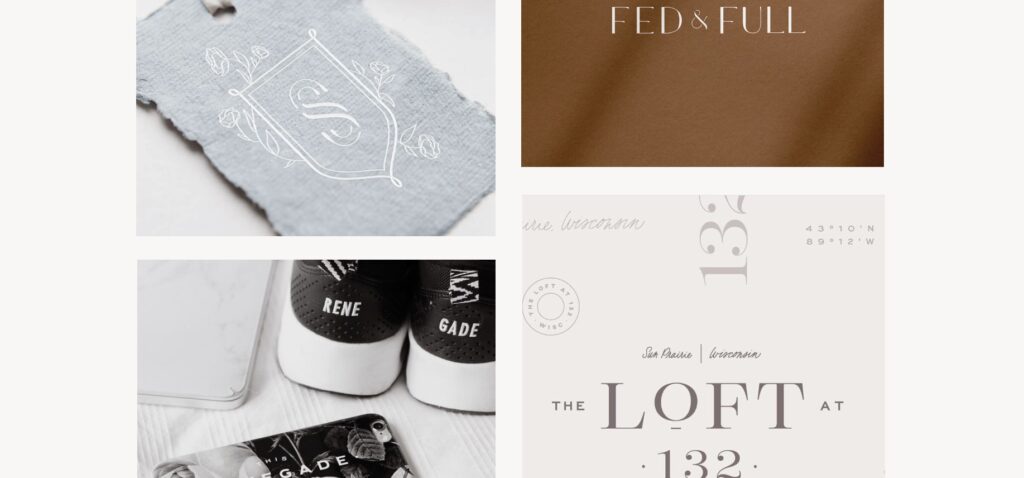 Saffron Avenue elegant brand design portfolio
Brand positioning, brand building, and strategy, brand styling & design, graphic design, web design, and development.
Elegant brand design studio – Wild Side
Beautiful portfolio and moderate pricing.
Elegant brand stylists' Wild Side portfolio
Services offered: A comprehensive brand strategy, visual identity system (brand platform and your brand visuals), and web design (website – your digital home).
Brand styling agency We Are Branch
Iconic, modern, and super-super stylish.
Elegant and bold brand design by We Are Branch
10. Who? Let's Find Them!
What Do Creative Directors Do?
While both Creative Directors and Brand Designers play pivotal roles in shaping a brand's identity and communicating its message, they have distinct responsibilities and operate at different stages of the creative process.
Creative Directors
They often work at a higher strategic level. They set the overall creative vision and direction for a brand or project.
They manage a team of creative professionals—including brand designers—and oversee all creative output to ensure it aligns with the brand's identity and strategic goals. They also often interface with clients or stakeholders, presenting and defending creative strategies and solutions.
While they may come from a design background, their role is more focused on strategy and leadership than hands-on design work.
Brand Designers
These people are typically involved in the hands-on creative work of building a brand's visual identity.
This includes designing logos, selecting color palettes, creating typography standards, designing marketing collateral, and more. They work closely with Creative Directors, taking strategic direction and turning it into tangible visual elements that communicate the brand's identity and message.
They are specialists in their field and focus on detailed design work.
In summary, while both roles involve creativity and a deep understanding of branding, a Creative Director operates at a strategic and managerial level, while a Brand Designer is more focused on the execution of the brand's visual identity. Both roles are critical for creating and maintaining a strong, effective brand.
Here are some key responsibilities of Creative Directors:
1. Vision and Strategy:
Creative Directors set the creative vision and direction for a company or a specific project. They devise creative strategies to achieve the company's marketing and branding goals.
2. Leadership:
They lead and manage a team of creative professionals, which may include graphic designers, copywriters, art directors, and other creative staff. They assign tasks, oversee the creative process, and provide guidance and feedback to the team.
3. Concept Development:
Creative Directors are often responsible for coming up with innovative concepts for campaigns and projects. They use their creative expertise to develop ideas that can effectively communicate the brand's message and engage the target audience.
4. Collaboration:
They work closely with various departments, including marketing, production, and sales, to ensure a cohesive approach to a company's branding and promotional efforts.
5. Quality Control:
They review and approve all creative work before it's released to ensure it meets the highest standards and aligns with the brand's identity and goals.
6. Client Relations:
If working in an agency setting, Creative Directors often present concepts and campaigns to clients, explaining the creative strategy and addressing any feedback or concerns.
In essence, a Creative Director blends creativity with leadership and strategic thinking, driving a company's creative efforts and ensuring they contribute to the overall business objectives.
Questions To Ask Before Booking A Design Project
Finding a graphic designer who can guide your company through the elements of a branding design project is essential.
To recognize who that brand designer might be, you should know a little about brand design and what to look for in a freelance contemporary graphic designer.
The portfolio and design style questions are crucial here. Every design agency has its own style, and the responsibility lies with you to ensure you pick the right person for the job.
Choose someone whose work inspires you. Avoid selecting someone based on the price alone.
Once you have shortlisted your agencies or designers, send a quick email outlining your project and see what comes back.
Notice how quickly they respond, whether they send you anything in the mail, and how interested they seem in your project.
Are the designers of this agency interested in my project?
Do I feel they would do a good job?
Does their portfolio inspire me?
Which direction will they take my brand identity in?
How much do they cost and what will I get for my money?
How many concepts do they deliver?
What happens if I am not happy with their designs?
What sorts of projects will they be able to help you with once your brand identity has been styled?
Working with a designer should be a positive experience; you both have a role to play in ensuring your project runs smoothly. Remember to:
Ask For Deadlines
Agreeing on a timetable is a vital part of a good working relationship.
If your designer isn't giving any timelines, ask for them yourself. Setting these dates is something any professional will be happy to do.
Trust Your Designer
Let her or him do the work and avoid being on their neck.
Any seasoned designer knows what kind of information needs to be gathered from you before the start of the project and will not hesitate to ask for more if needed. Hold back your temptation to check the design process yourself and wait for the release of the first draft.
Don't Confuse Your Designer
Don't keep sending new and fresh ideas that pop into your head; it causes confusion and slows the process down.
Again, wait for the first draft from your designer and discuss your ideas with them then.
Conclusion
As we wrap up our discussion on the art of brand design, we can't underscore enough the importance of finding the right designer for your business.
Whether you have your own studio in New York or San Francisco, or you're a small business partner seeking to establish a solid brand positioning, partnering with the best designers can be a game-changer.
These designers, some operating as independent brand strategists, others as part of a broader team, bring a wealth of design expertise to the table. From modern design to everyday photography, they weave various elements to create designs that truly resonate with your audience.
Consider UX designers and those with a strong footing in art direction.
They are well-versed in digital design, visual design, and even poster design, among other skills. Their job goes beyond creating visual identities; they ensure every element aligns with your ultimate vision, from packaging designs to book covers for publishers like Penguin Random House.
Look for those who've been recognized for their amazing designs, perhaps even garnering design awards.
These are often your top designers, bringing a deep passion and a unique perspective to their design projects. Don't be surprised to find a design wizard among them, known for churning out exceptional work that sets them apart.
However, remember that communication skills are just as vital.
You want a designer who understands your business in your own words, ensuring you're both on the same page. They should interpret exactly what you want, translating it into a visual language that speaks volumes about your brand.
In the world of brand design, the broad range of expertise is astounding.
From service design to offering design tips, designers around the world are making their mark. So, as you embark on your journey to find the right designer, remember that the world is full of potential candidates. Your task is to find the one whose skills and vision align perfectly with your brand's ethos.
Remember, the goal is to create a brand that not only looks good but also embodies your brand's essence in every way.
Read More About Brand Design And Style Your Brand
How To Style Your Brand – Brand Photography