Visualizing and analyzing inspiration
Once you are active with creative projects, you should know how to make a mood board (or vision board), as it is a valuable tool for:
Foundation — It helps to establish a strong foundation of what the end result could ideally look like.
Inspiration — In working out your brand identity, a mood board will help bring things into focus and offer clarification.
Guidance — A mood board that accurately reflects your brand can act as a guide to keep you focused on your brand identity when creating your logo, business cards, website, or other marketing materials.
Easy collaboration — A mood board ensures that your designer, team members, and stakeholders understand your brand and your vision right from the start.
Inspiration boards are another visual analysis technique used to generate ideas and concepts. Using the mood board as the source to define the inspiration, this board then curates graphical elements portraying the brand's persona. Starting with colors, shades, and tones chosen to define the p
What is a mood board?
In the same way that people with strong personalities have a distinctive and recognizable voice, a brand identity needs to be developed to reflect a strong brand personality. A brand personality allows the consumer to engage with the brand, communicating a clear set of values and attributes that are inherent in the brand's promise to offer, differentiating it from the competition.
By developing a unique brand personality and tone of voice, the design team ensures that all the following elements of brand communication are consistent, maintaining the brand's credibility with its market.
A technique often applied by design teams is to consider the brand as if it were a real person, the question posed is, what would be their personality, individual characteristics, and "how would they communicate?" As with a person, what the brand says should be dictated by its principles and aspirations; how it expresses it is informed by personality.
Inspiration boards
Inspiration boards are another visual analysis technique used to generate ideas and concepts. Using the mood board as the source to define the inspiration, this board then curates graphical elements portraying the brand's persona. Starting with colors, shades, and tones chosen to define the personality of the brand, this can then be developed into a brand's color palette.
Fonts are chosen that match the look and feel the brand needs to communicate. Typography is as sensitive as a facial expression in depicting complex emotions. The brand's mood can be defined through existing typefaces, which may be developed further into a logotype – a unique and hopefully instantly recognizable visual rendering of the brand name.
Further inspiration can be found by sourcing other graphic elements, such as illustration and photographic styles, movie posters, CD album designs, book jackets, digital apps, website icons, patterns, and layouts – anything that highlights the personality traits of a brand. If appropriate, even furniture, architecture, fashion, textiles, and accessories can help to define the message that the brand is expressing.
A key factor in the success of these boards, however, is that the design team knows why they have chosen the examples and can articulate the reasons. Brands are based on clear communication and meaning, so each stage of development has to reflect the same focus thinking. A badly conceived brand board can be worse than useless, giving false clues and confusing the creative process.
A clever trick
To understand how to design a successful moodboard, develop one for an existing brand. Examine the brand's values and its personality, and create a mood board that incorporates both images and words that reflect the persona of the brand. Use stock image libraries such as unsplash.com or dreamstime.com to source appropriate images, or take your own.
How to make a mood board for your brand
Here is a great video from brand design agency Do Good Work, which I highly recommend you watch:
How to prepare for a brand identity mood board:
00:51 What is a mood board?
01:56 Technique #1: Review Your Research & Provided Materials
02:48 Technique #2: Be Selective About Your Playing Pieces
04:02 Technique #3: Streamline Your File Organization
Should you make a physical or digital mood board?
Vision boards can be literal and practical (featuring fonts, color schemes, and images that you plan to use in the final project), or they can be more about exploring tone and mood. A vision board is about inspiration and research, so don't get too attached to a particular direction. It's essential to keep an open mind about what the right solution might be.
A mood board (or inspiration board) can be either physical or digital — use the method that suits you best.
Conducting an online image search and collecting a digital mood board is easier with any of these online tools:
You can also choose to purchase mood board templates from Creative Market.
The template below is from William Hansen at Creative Market:
How to create a physical mood board
Use a foam board base and a stash of images and materials from magazines and catalogs.
Use your own photos or materials from a craft/art supply store and fabric store
As for colors, use Pantone chips or paint chips.
You may find glue, pins, washi tape, and scissors helpful.
Create a visual interpretation of all the focus work you have done until now, and be ready to get stricken by massive inspiration. Start by reminding yourself of the three to five power keywords that you chose for your brand. With those words in mind, gather together all types of materials — colors, images, fonts, illustrations, patterns, and any other items you feel like adding. Don't analyze too much as yet.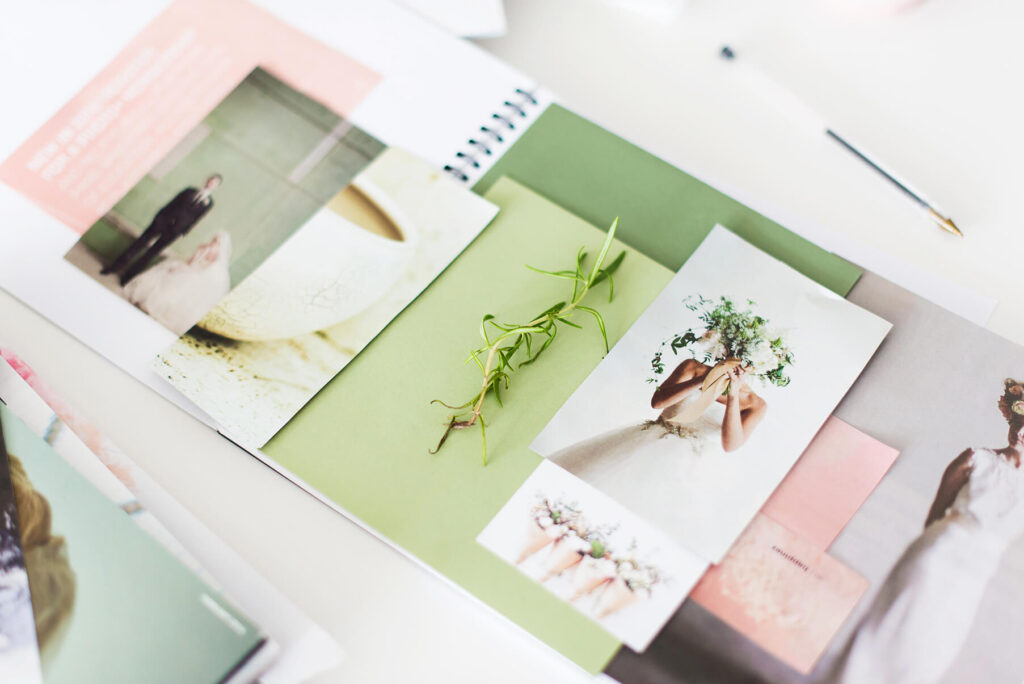 2. Now, take a little break or even a day or two before turning back to your work. This time, you can start eliminating images and elements that don't seem right. Be bold and remove everything that does not speak to your heart.
3. Have a look at the result, and repeat the round of elimination, if needed, until you feel satisfied with the outcome.
Keep your vision board always near you, maybe by hanging it next to your desk. In the case of a digital mood board, you can save it as a screensaver during the whole process of styling your brand.
Feel free to create a guiding board for your website, product development, or any other creative project you are working on.
Where should you put your mood board or vision board?
Bedroom
I like the idea of putting your mood board in your bedroom so that it is the first thing you see in the morning and the last thing you see at night. Seeing it as you wake up to start your day will instantly start you on the right foot. Similarly, when you look at it before falling asleep, it will remind you what all your hard work is for!
Office
I personally love to display my vision board in my office. And I recommend placing your vision board in your direct line of sight to remind you what you are working for! So this means every time you look up from your work, you will see the board and it will encourage you to keep going, keep working, and keep focused on what you really want.
Computer, phone, or tablet
I love to have my vision board on my desktop screen and phone. Think about it: how many times today have you used your computer and looked at your phone? Imagine every time you grab your phone, you are reminded about your amazing vision board. Or, you can make your mood board into a desktop wallpaper for your computer or tablet.
How to make your mood board work for you
You don't need a university degree to use your vision board, you just need to know some specific exercises which bring out the powers of the board and allow you to manifest and implement your goals. Look at your vision board regularly to remember what you are working towards. The more you see it, the better.
Spend some time imagining what it would be like for your visions to come through. Let the feelings wash over you and try to feel the emotions — be it excitement, thrill, or a little nervousness. Let me give you a run down over this simple visualization routine that I use with my vision board daily.
Step one: Sit in front of your vision board in a quiet and comfortable space. After looking at your mood board for a few moments, close your eyes and visualize walking through your perfect day, once all the images have come to life and all the outcomes are achieved.
Step two: Open your eyes, take out your journal, and write down 10 things you're grateful for in your life right now, letting the positive emotions from your board wash over you.
Step three: Next quickly make a list of the goals that you are going to achieve in your life, looking at your vision board for guidance.
Step four: Now, identify your biggest obstacle to achieving one of those goals that you have. While keeping your eyes closed, ask yourself the following question: what would it take for me to reach that goal?
What would it take for me to create my dream business, to live in my dream home, what would it take for me to love and accept myself fully, what would it take for me to speak confidently on stage, what would it take for me to write a best-seller, and what would it take for me to double my income in six months by working less.
Read more about creative brand design here:
Learn all about all four color psychology personalities: