Creating a mood board is an essential part of the design process, whether you're working on a graphic design project, planning an event, or redecorating your home.
A mood board is a visual tool that helps to establish the overall aesthetic and mood for a project, and it can be used as a reference point throughout the creative process. In this post, we'll explore the benefits of creating a mood board and provide some tips and best practices to help you create an effective and visually stunning mood board. Whether you're a seasoned designer or just getting started, this guide will help you unlock the power of mood boards and take your creative projects to the next level.
What is a mood board?
If you're a creative type, chances are you've heard of mood boards. Mood boards are a stylish way to organize your ideas and inspiration visually. They can be used for everything from wedding planning to interior design. A mood board is a collection of images, colors, patterns, textures, and/or fonts that represent a project's overall feel visually. Designers commonly use mood boards as inspiration for a cohesive design direction.
A mood board is a visual representation of your ideas and inspiration for a project. It's a great way to get your thoughts down in one place to see the big picture. And it's not just for professional creatives—mood boards can be a helpful tool for anyone who wants to plan and organize their thoughts visually.
Creating a mood board can help you communicate your vision to your team and ensure everyone is on the same page before beginning a project. It can also help you express your vision to your clients so they can provide feedback early on in the design process. Overall, mood boards are a great tool to have in your design toolkit!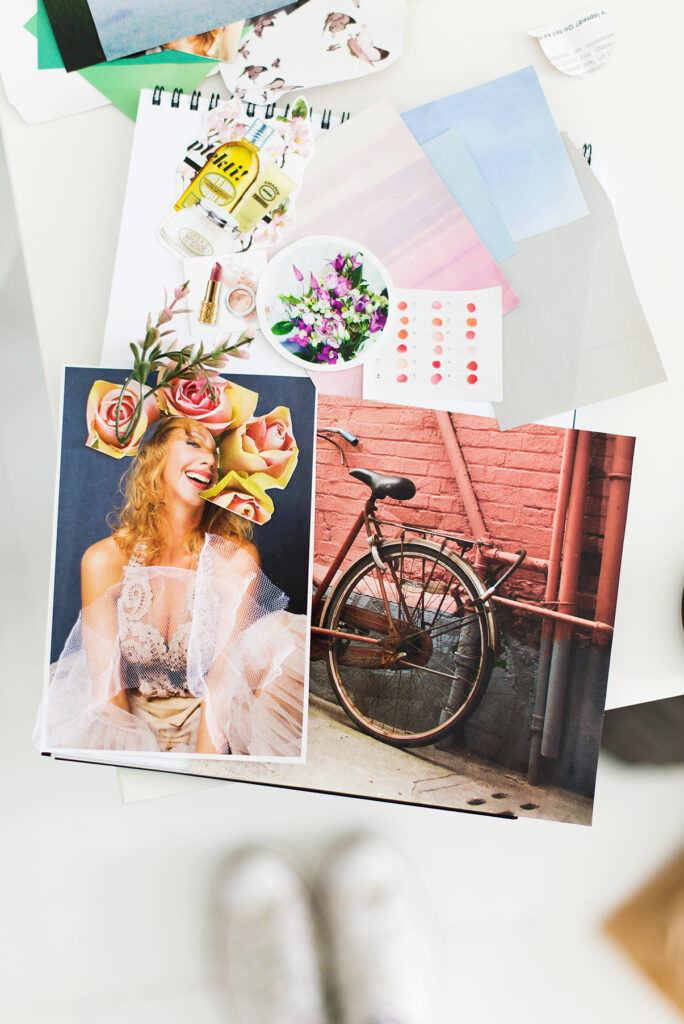 In the same way, people with strong personalities have distinctive and recognizable voices, a brand identity must be developed to reflect a strong brand personality. A brand personality allows the consumer to engage with the brand, communicating a clear set of values and attributes inherent in its promise to offer, differentiating it from the competition.
By developing a unique brand personality and tone of voice, the design team ensures that all the following elements of brand communication are consistent, maintaining the brand's credibility with its market.
A technique often applied by design teams is considering the brand as a real person. The question posed is, what would be their personality and individual characteristics, and "how would they communicate?" As with a person, what the brand says should be dictated by its principles and aspirations; how it expresses itself is informed by personality.
Inspiration boards
Inspiration boards are another visual analysis technique used to generate ideas and concepts. Using the mood board as the source to define the inspiration, this board then curates graphical elements portraying the brand's persona. Starting with colors, shades, and tones chosen to define the brand's personality, this can be developed into a brand's color palette.
Fonts are chosen that match the look and feel the brand needs to communicate. Typography is as sensitive as facial expressions in depicting complex emotions. The brand's mood can be defined through existing typefaces, which may be developed further into a logotype – a unique and hopefully instantly recognizable visual rendering of the brand name.
Further inspiration can be found by sourcing other graphic elements, such as illustration and photographic styles, movie posters, CD album designs, book jackets, digital apps, website icons, patterns, and layouts – anything that highlights the personality traits of a brand. If appropriate, even furniture, architecture, fashion, textiles, and accessories can help define the brand's message.
However, a critical factor in these boards' success is that the design team knows why they have chosen the examples and can articulate the reasons. Brands are based on clear communication and meaning, so each development stage must reflect the same focus. A poorly conceived brand board can be worse than useless, giving false clues and confusing the creative process.
The purpose of a mood board is to visually communicate a specific mood, theme, or style for a project. It is a collection of images, colors, textures, and other design elements that represent the overall aesthetic or vibe that the creator is trying to achieve.
Mood boards can be used for a variety of creative projects, such as graphic design, interior design, fashion design, web design, and more. They help to establish a visual direction and provide a reference point for the creator to ensure that all design elements work together cohesively.
In addition, mood boards can be used to communicate ideas and concepts to clients or collaborators. By presenting a visual representation of the project, the creator can ensure that everyone involved is on the same page and working towards the same vision.
Overall, the purpose of a mood board is to create a clear and cohesive vision for a project, communicate that vision to others, and ensure that all design elements work together harmoniously.
Images you should include on a mood board
The images that you include on a mood board will depend on the specific project or concept that you are trying to convey. However, there are a few general guidelines that can help you choose the right images:
Focus on the mood or feeling: The purpose of a mood board is to communicate a specific mood or feeling. Choose images that evoke the emotion or aesthetic that you are trying to achieve. For example, if you are creating a mood board for a cozy winter theme, you might include images of warm blankets, hot cocoa, and snowy landscapes.
Use a variety of image types: Including a mix of different types of images can help to create visual interest and depth. Consider including photographs, illustrations, textures, patterns, and other design elements.
Stick to a color scheme: Choose images that fit within a specific color scheme to ensure that the mood board is cohesive and visually appealing. For example, if you are creating a mood board for a tropical theme, you might focus on bright, saturated colors like turquoise, coral, and yellow.
Consider the audience: Think about who will be viewing the mood board and choose images that will resonate with them. For example, if you are creating a mood board for a children's clothing line, you might include playful illustrations and bright colors.
Stay true to the brand: If you are creating a mood board for a specific brand or project, be sure to choose images that fit within the brand's overall aesthetic and style.
The images that you choose for a mood board should be carefully selected to convey a specific mood, theme, or concept. By choosing images that work together harmoniously, you can create a cohesive and visually appealing mood board that effectively communicates your vision.
Can you use text on a mood board, or is it just images?
Yes, you can use text on a mood board. While mood boards are typically made up of images, they can also include text to help communicate the specific mood or theme.
Text on a mood board can include descriptive words or phrases that convey the feeling or aesthetic that you are trying to achieve. It can also include quotes or other inspirational words that help to establish the tone of the project.
When using text on a mood board, it's important to choose fonts and styles that fit the overall aesthetic and complement the images that you have chosen. Text should be used sparingly and strategically, as it is meant to enhance the visuals rather than overwhelm them.
In short, text can be a useful addition to a mood board if used thoughtfully and in a way that supports the overall vision and aesthetic of the project.
Visualizing and analyzing inspiration
Once you are active with creative projects, you should know how to make a mood board (or vision board), as it is a valuable tool for:
Foundation — It helps establish a strong foundation of what the end result could look like.
Inspiration — A mood board will help bring things into focus and offer clarification in working out your brand identity.
Guidance — A mood board that accurately reflects your brand can be a guide to keep you focused on your brand identity when creating your logo, business cards, website, or other marketing materials.
Easy collaboration — A mood board ensures that your designer, team members, and stakeholders immediately understand your brand and vision.
Should you make a physical or digital mood board?
The decision to make a physical or digital mood board depends on your personal preference and the purpose of the mood board.
A physical mood board involves gathering and arranging physical materials such as magazine clippings, fabric swatches, and photographs onto a board. It can be a tactile and creative process that allows you to physically interact with the materials and get a better sense of the textures and colors. It can also be a great way to display your ideas in a physical space, making it easy to reference and adjust as needed.
On the other hand, a digital mood board involves using software or online tools to create a visual collage of images, colors, and textures. Digital mood boards are often easier to create and can be shared easily with others. They are also easy to edit and update as needed.
Ultimately, the choice between a physical or digital mood board depends on your personal preference and the purpose of the mood board. If you are looking for a tactile and creative experience, a physical mood board may be best. If you need to easily share and update your mood board, a digital mood board may be more suitable.
Choose your mood board creator or app
When choosing a mood board creator or app, it is crucial to consider the needs of your project. For example, if you are working on a branding project, you will likely want to use a mood board creator that allows you to add and rearrange text elements easily. 
On the other hand, if you are designing a product, you may want an app that lets you create mood boards with multiple layers to experiment easily with different color palettes and patterns. 
Regardless of your project's specific needs, there is a mood board creator or app that is perfect for you.
You can also choose to purchase mood board templates from Creative Market.
Use stock image libraries such as unsplash.com or dreamstime.com to source appropriate images, or take your own.
Create a digital mood board in 5 simple steps
A mood board is a handy tool for designers, event planners, and anyone who needs to visualize a concept or idea. Traditionally, mood boards are created by hand, with images and other bits of inspiration taped or pinned to a corkboard. But these days, there's no need to limit yourself to physical materials—you can create a stunning digital mood board using one of the many online tools available. 
The first step in creating a successful digital mood board is to pick a central theme. This could be a color scheme, a feeling, or a design style. Narrowing your focus will help you choose visuals that fit within your chosen theme and ultimately help bring your project to life.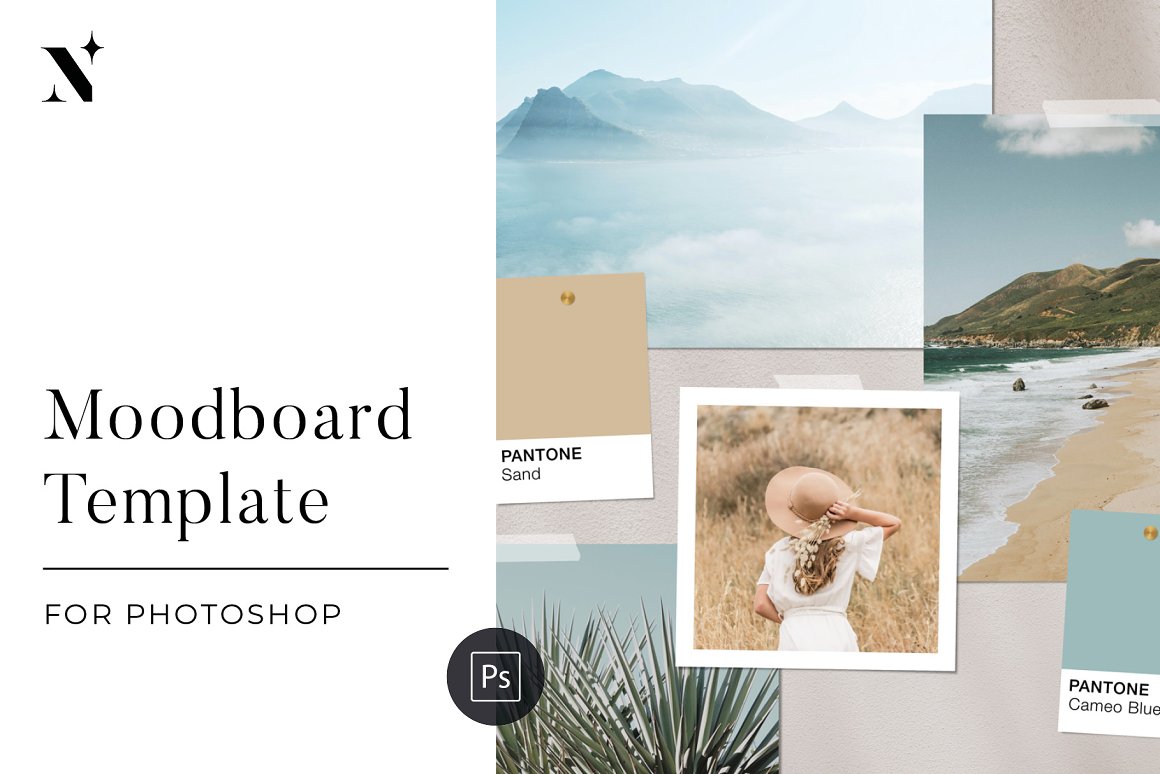 1. Choose your platform
While there are many online tools you can use to create a digital mood board, not all of them are created equal. Some platforms, like Pinterest, are better suited for collecting inspiration from the web. Others, like Canva, offer more flexibility and customization options. Consider your needs and decide which platform is right for you before getting started.
2. Gather your inspiration
Once you've chosen a theme and platform, it's time to start curating your content. If starting from scratch, do general web research on your topic of interest. Pinterest can be an excellent resource for this, as it allows you to save images and links from around the web in one place. That could mean conducting an image search on Google or even walking outdoors for some natural inspiration. Wherever you find it, save all your favorite visuals in one place so you can refer back to them later. You can also look for specific items on sites like Etsy or Adobe Stock.
3. Organize your content 
Once you gather a good selection of content, it's time to start organizing it into a cohesive mood board. Begin by creating distinct sections for different aspects of your project—for example, color scheme, typography, or overall feeling—and then drag and drop your content into those sections. If you're using Pinterest, you can also create boards for each section and pin items accordingly. 
4. Edit your mood board as you go
As you add visuals to your mood board, you may find that some don't fit. Don't be afraid to experiment and delete items as you go—the goal is to create a mood board that reflects your vision, so only keep the images that help you achieve that goal. Also, remember to add explanatory notes next to each image so you can remember why you included it in the first place.  
Take a step back and look at your mood board as a whole. Is there anything that doesn't quite fit? Are there any gaps in your inspiration? Now is the time to make any necessary adjustments before moving on to the next step. 
When you're happy with the results, it's time to save your mood board so you can access it later or share it with others involved in your project (like teammates or clients). Most platforms allow you to download your mood board as an image file or PDF, so choose the format that makes the most sense for your needs and save it accordingly.
Creating a digital mood board is a great way to visually represent the inspiration behind your next project—be it a brand design project, a new product line, or even a personal fashion choice. By following these five tips, you can create a digital mood board that helps you get the results you're looking for—on time and within budget.
The template below is from William Hansen at Creative Market:
How to create a physical mood board
There are many ways to create a mood board, but here is one method to get you started on the right foot. First, decide on the overall feeling or theme that you want to convey with your mood board. Good preparation will be your starting point for collecting images, colors, etc. 
1. Choose a background
Start by laying down your foam core board or butcher paper on a flat surface. If you're using foam core board, feel free to cut it down to size with a box cutter or utility knife before you begin. You want your final product to fit in a standard frame so that it can be hung on a wall or placed on an easel.   
2. Gather your supplies
You'll need a selection of magazines, scissors, glue or tape, and a backing board. If you're feeling fancy, add some markers, paints, or other embellishments. Start flipping through the magazines and tear out any images or words that speak to you. Don't overthink it—go with your gut instinct. The goal here is to create a visual representation of the vibe you're going for, so anything that resonates with you will work.
3. Arrange your images
Once your base is ready, begin placing down your images. Arrange them in any way you like, and don't be afraid to overlap them. This is your chance to get creative! If you're having trouble finding enough images in magazines, try looking online for royalty-free images that you can print out. Ensure the resolution is high enough so they won't appear blurry when printed. 
4. Add additional materials
After you have arranged all your images the way you want them, start adding your fabric swatches, paint samples, and other smaller objects. Feel free to overlap and arrange these items in any way that looks pleasing to you. Secure these items with glue sticks or double-sided tape, so they don't move around too much while you're working. 
5. Review and edit
Once all your items are glued or taped, step back and look at your work. Is there anything else that you want to add? Are there any areas that feel too busy or cluttered? Now is the time to make final changes before securing everything permanently. Once you're happy with the way everything looks, use scissors to trim off any excess butcher paper or foam core board around the edges. 
6. Display your mood board in a suitable place
Hang up your new creation where you can see it daily and enjoy being surrounded by beautiful visual inspiration! Alternatively, consider displaying it on an easel at your next meeting for all to admire.
A physical mood board is a great way to visually represent ideas and inspiration for projects, whether they ebb for personal creative endeavors, branding purposes, or trend forecasting. By gathering together inspiring images, colors, and textures and arranging them aesthetically pleasing, you can create your own collage that is both functional and beautiful.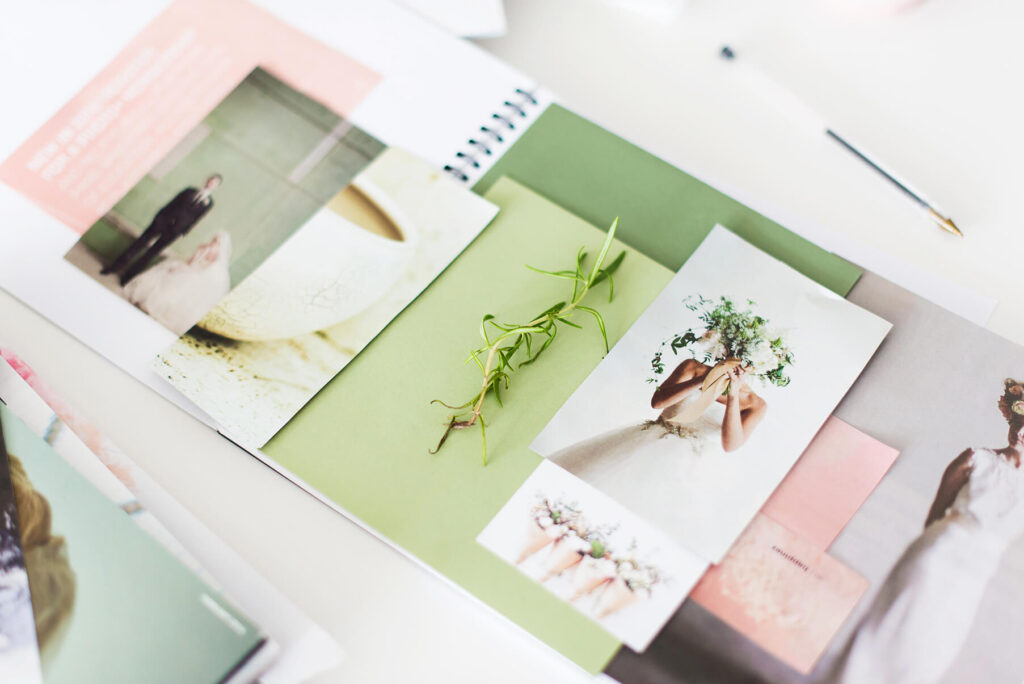 Feel free to create a guiding mood board for your website, product development, or any other creative project you are working on.
Where should you keep your mood board?
Bedroom
I like the idea of putting your mood board in your bedroom so that it is the first thing you see in the morning and the last thing you see at night. Seeing it as you wake up to start your day will instantly begin you on the right foot. Similarly, looking at it before falling asleep will remind you what all your hard work is for!
Office
I love to display my vision board in my office. And I recommend placing your vision board in your direct line of sight to remind you what you are working for! So this means every time you look up from your work, you will see the board, encouraging you to keep going, keep working, and focus on what you want.
Computer, phone, or tablet
I love to have my vision board on my desktop screen and phone. Think about it: how many times today have you used your computer and looked at your phone? Imagine being reminded about your unique vision board whenever you grab your phone. Or, you can make your mood board a desktop wallpaper for your computer or tablet.
How to make your mood board work for you
You don't need a university degree to use your vision board. You need to know some specific exercises that bring out the board's powers and allow you to manifest and implement your goals. Look at your vision board regularly to remember what you are working towards. The more you see it, the better.
Please spend some time imagining what it would be like for your visions to come through. Let the feelings wash over you, and try to feel the emotions — excitement, thrill, or a little nervousness. Let me give you a run down over this simple visualization routine I use daily with my vision board.
Step one:

 Sit in a quiet, comfortable space in front of your vision board. After looking at your mood board for a few moments, close your eyes and visualize walking through your perfect day. See all the images coming to life and all the outcomes achieved.

Step two:

 Open your eyes, take out your journal, and write down ten things you're grateful for in your life right now, letting the positive emotions from your board wash over you.

Step three: 

Next, quickly list the goals you will achieve in your life, looking at your vision board for guidance.

Step four: 

Now, identify your most significant obstacle to achieving one of those goals you have. While keeping your eyes closed, ask yourself the following question: what would it take for me to reach that goal?
What would it take for me to create my dream business, to live in my dream home, what would it take for me to love and accept myself fully, what would it take for me to speak confidently on stage? What would it take to write a best-seller, and what would it take to double my income in six months by working less?
Read more about brand and design here:
Learn all about all four color psychology personalities: