Your brand is more than just your logo. It's the colors you use, the fonts you choose, and the overall aesthetic of your website and marketing materials. It is crucial to have a brand guideline that outlines all the elements of your brand so that everyone who works on your behalf is always on the same page.
This blog post will closely examine brand style guides and their importance. We'll also touch on key elements that should be included in any brand style guide. So without further ado, let's dive in!
Branding guidelines is a document or manual exploring in detail the design elements that constitute the plant identity, specifying type spaces, colors and visual elements. It also includes how to apply the plant appropriately.
What is a brand style guide?
As an entrepreneur, you may have heard the term "brand style guide" thrown around, but what exactly is it? In short, a brand style guide is a document that outlines the dos and don'ts of using a company's logo, color palette, typography, and more. It gives designers rules when creating designs for a particular client or company. And although the concept of a style guide sounds restrictive, sometimes it's nice for a designer to have clear boundaries. To have a neat little sandbox to play in.
A brand style guide can be called in many more ways:
Brand Guidelines
Style Guidelines
Brand Bible
Brand Manual
Style Manual
Brand Standard
Branding Documentation
Corporate Guidelines
Brand Use Guidelines
Company visual Identity Guidelines
Marketing Brand Guidelines
Brand Book
Brand Board – also read: How To Create A Brand Board.
While branding guidelines used to be mammoth PDF documents with hundreds of pages, today, they have evolved into more efficient online systems where navigation is more accessible, and assets are readily available for download.
When creating such a document, make it visually expressive and ensure the brand personality shines through. They should be concise but exciting, never dry or dogmatic. It should be a document people find helpful and actually want to use.
The final version of the guidelines can be formed after the application has been completed.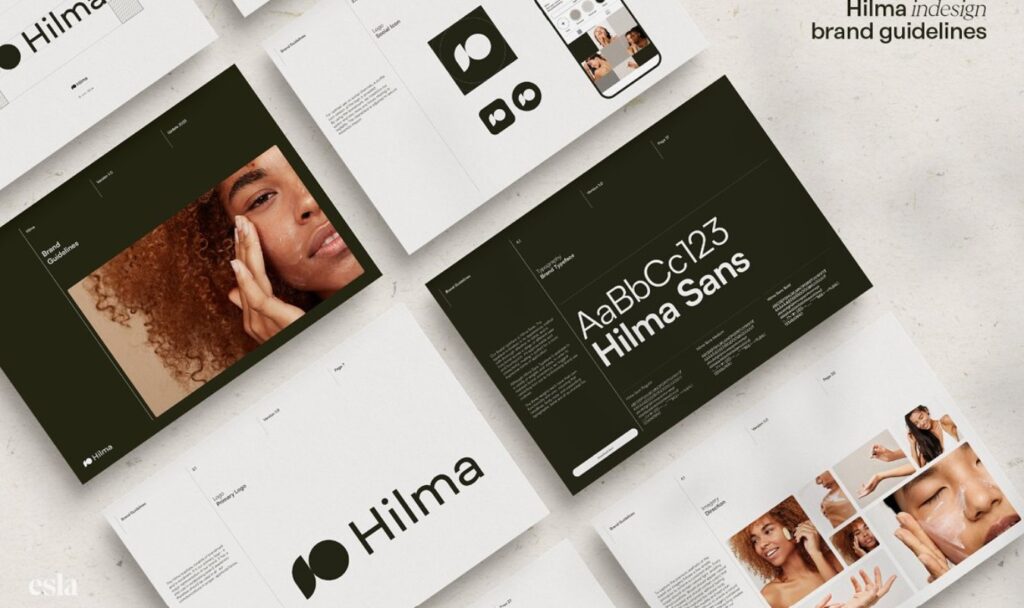 Why are brand style guides important?
Brand style guides are essential for several reasons. First and foremost, they ensure that all of your designs are consistent with one another. Brand consistency is crucial in establishing and maintaining a solid brand identity. After all, if your designs are all over the place, prospects and customers will have a hard time recognizing your brand—and that's not good for business.
Moreover, brand guides help streamline the design process by providing designers with clear direction. This saves time and helps to avoid any costly mistakes down the line. Following the guidelines from a decent brand, the guide allows designers to do their best work while ensuring that it is cohesive with the rest of the company's branding efforts.
The Branding Style Guides website is one of the best places to get such information. Here you find professional style guides from big corporations to smaller businesses.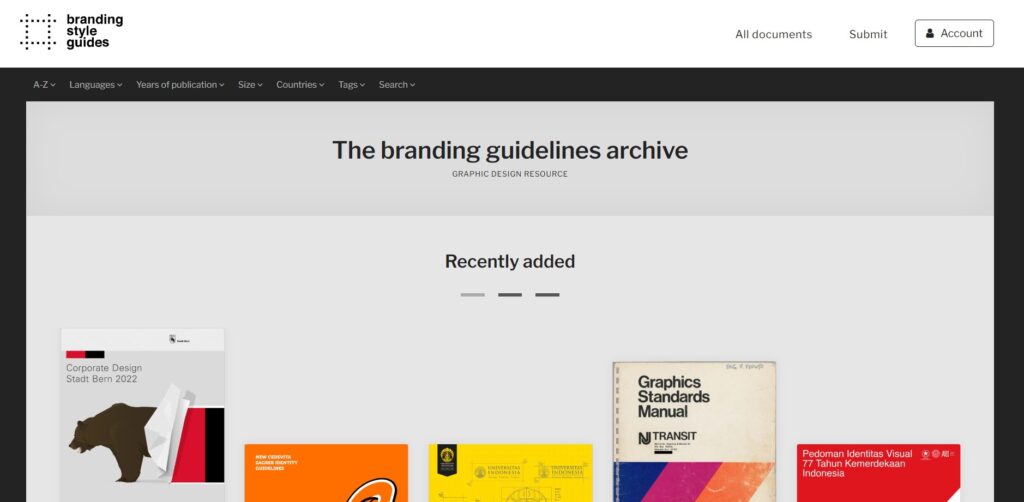 What are the 8 essential elements of a brand style guide?
Now that we've addressed why a brand style guide is so essential, let's take a look at some of the critical elements that every good brand guide should include:
An outline of all the logo versions and available visual assets.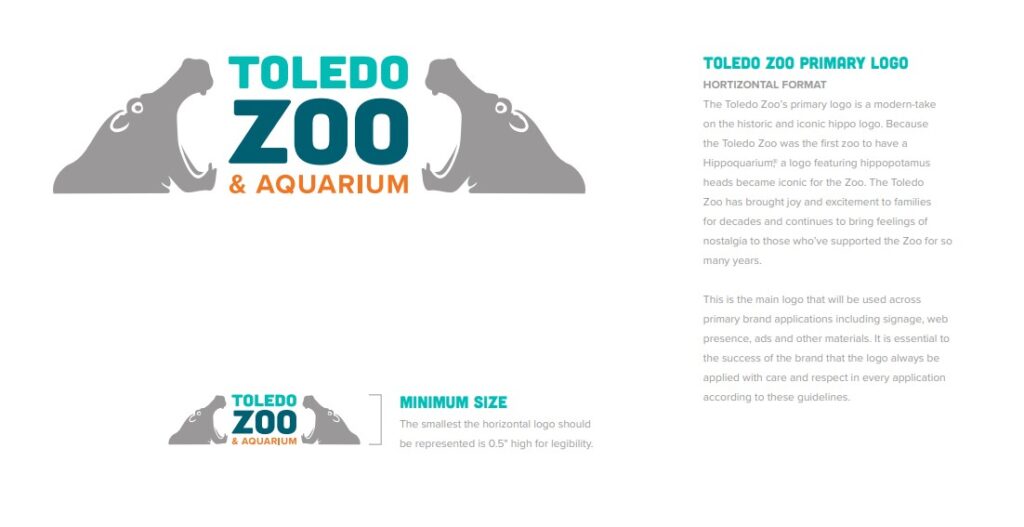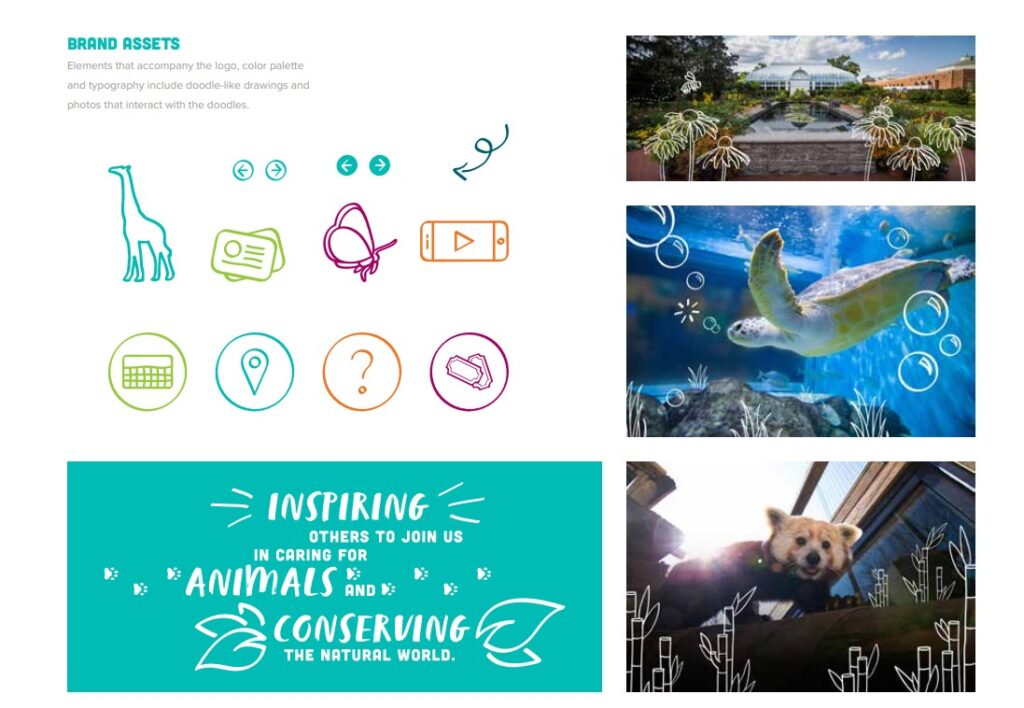 Guidance on when to use each version.
A Primary Color Palette: Your brand color palette should consist of 3-5 colors that can be used across all mediums (digital and print). These colors should be representative of your brand identity and accurately convey the message you're trying to communicate.
A Secondary Color Palette: In addition to your primary colors, you'll also want to include 1-2 secondary colors in your brand style guide. Use these colors sparingly and primarily for accents or call-to-actions.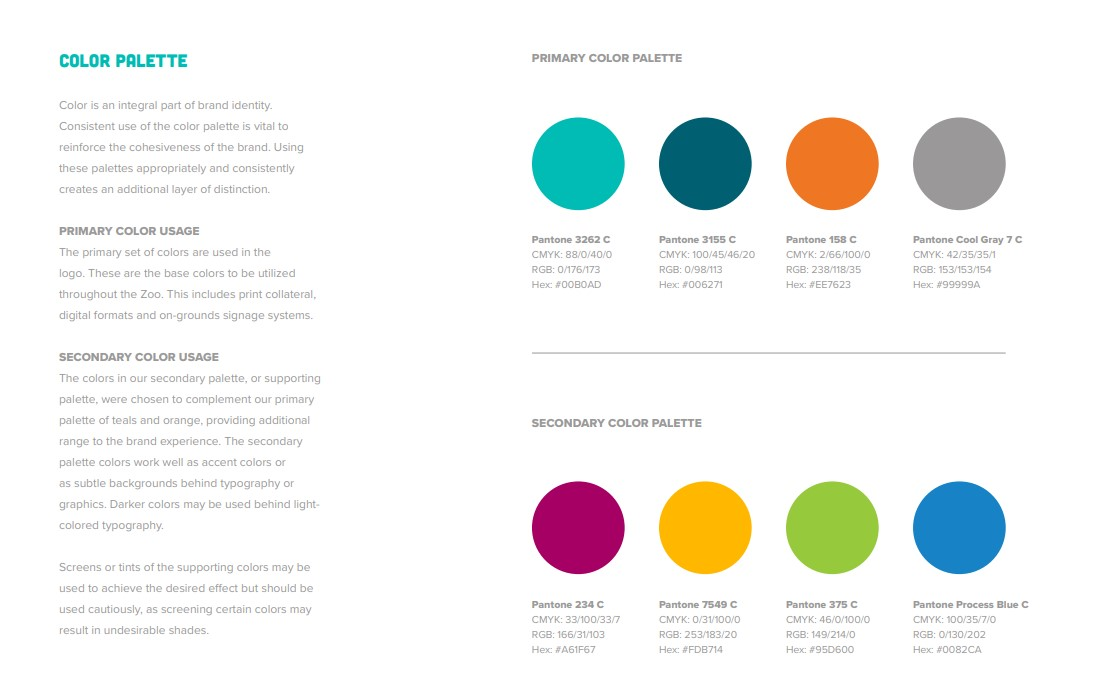 Typography: Typography is an essential element of any branding effort—so you should include it in your brand style guide. Here, you'll want to specify which fonts the business should use for headlines, body copy, etc. It's also a good idea to provide recommendations for how different fonts should be used (for example, when and how often certain fonts should be employed).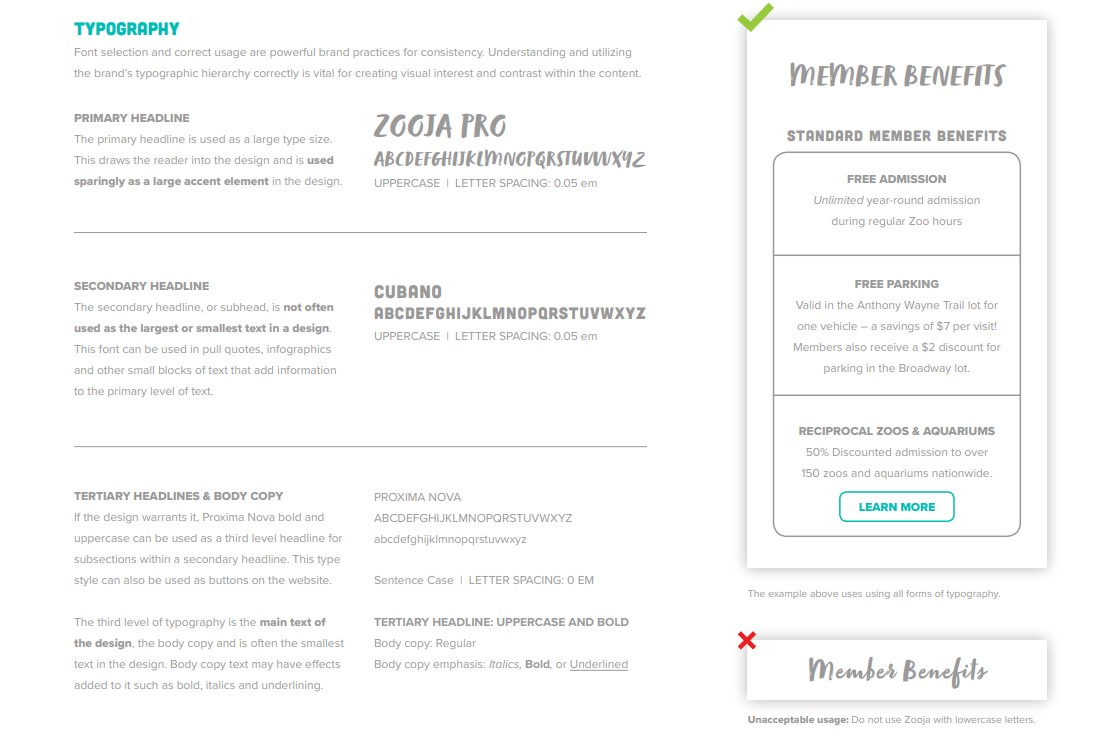 Spacing and layout guidelines.
Logo Use: Your logo is arguably the most crucial aspect of your branding—so it's essential to include strict guidelines for its use in your brand style guide. Your guide specifies what file formats should be used for different purposes (such as print vs. digital).
Maybe the most important – it's a strong "do not:" Thing like squishing and stretching and butchering the logo.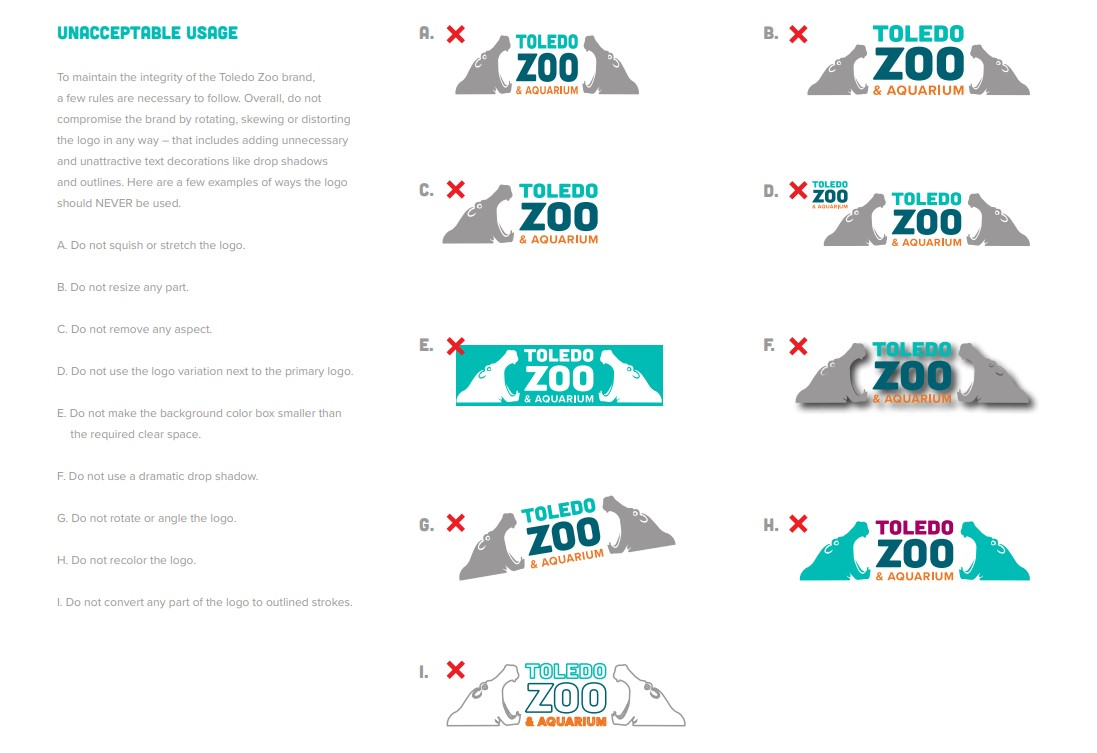 A brand style guide is essential for any designer working on branding projects for clients or companies. This document outlines the dos and don'ts of using a company's logo, color palette, typography, hex codes, and more, providing designers with rules to follow when creating designs.
By ensuring consistency among all designs and streamlining the design process from start to finish, following a brand style guide allows designers to do their best work while ensuring that it is cohesive with the rest of the company's branding efforts. And that's invaluable for building a solid brand identity.
How to create a brand style guide for your brand?
A brand style guide is an essential tool for any designer. It documents the design decisions made about the brand, including logos, colors, typography, and other visual elements. A brand style guide ensures that your brand remains consistent across all touchpoints, from your website to your social media accounts to your marketing collateral.
1. Start with the basics.
Begin by outlining the basics of your brand, including your mission statement, core values, and target audience. This will give you a solid foundation to build the rest of your style guide.
2. Define your brand's tone of voice.
Before you start writing out rules, take some time to define your brand's voice. This will inform all your decisions about your style guide moving forward. Are you formal or informal? Humorous or serious? Different grammar rules, tone, and word choice will apply depending on your answer.
3. Choose your brand colors.
Colors are essential to any branding strategy—they can evoke certain emotions and help customers remember your brand. You should choose them carefully to represent the feeling you want your brand to produce. Consider primary and secondary colors when selecting colors for your style guide.
You'll also want to include color hex codes so everyone uses the same shade. When choosing colors for your brand, consider the psychological effects of colors and how they will work together in different color schemes. Use a tool like Adobe Color to create custom color palettes for your brand.
4. Select your fonts.
Establish a typographic hierarchy. Typography is another crucial element of any branding strategy—it can make or break your visuals' overall look and feel. When establishing a typographic hierarchy for your brand, start by choosing two or three primary typefaces that you'll use across all touchpoints. Then, decide how to use those typefaces in different contexts—headers, body copy, callouts, Etc.—to create visual interest and contrast.
Like with colors, you should use the fonts consistently across all your marketing materials. Again, think about the feeling you want to evoke with your font choice—a playful font might work well for a children's toy company but not for a law firm, for example. When choosing fonts, select both a header and body font, so there's variety in your materials. And don't forget to include font codes!
5. Create a mood board.
Once you've chosen your colors and typefaces, it's time to start putting everything together on a mood board. A mood board is a visual representation of your brand's overall look and feel. It should include photos, typefaces, patterns, illustrations—anything that will help you visually communicate your brand's essence.
Use a tool like Canva or Balsamiq to create a digital mood board; if you're feeling old-school, you can also make one physically by cutting out images from magazines and pasting them onto a piece of poster board.
6. Decide on an overall look and feel.
Now that you've selected colors and typefaces, it's time to decide on a brand personality for your brand — this could be anything from modern and sleek to vintage and rustic. This step is essential because it will help ensure that all your marketing materials look cohesive. If possible, include visual examples in your style guide, so there's no confusion about what you're going for.
7. Write out grammatical rules.
One of the benefits of having a style guide is that it gives you complete control over how people write about your brand—so if there are certain words or phrases you always want (or never want) to see in print, now's the time to specify them! This part of the process is also where you'll decide on whether or not people should use full spellings or abbreviations (like "Co." or "Mr.") when referring to your company name or products.
8. Put it all together in one place.
Once you've gone through all of these steps, it's time to put everything together in one place so everyone on your team can reference it as needed—an online document or shared Google Drive folder works well for this purpose. Make sure to update your style guide regularly to reflect any changes or updates to your brand identity moving forward!
9. Document everything in a brand guide.
The final step in creating your style guide is writing everything in a format that's easy for everyone to understand and use—this is where a style guide template comes in handy (you can find plenty of free ones online).
Create a style guide that includes sections on your logo, colors, typography, icons, imagery, and brand voice and tone; feel free to add additional sections based on your brand identity's unique elements.
Be sure to include examples of each component in use so that people can see how they should be applied in different contexts. And there you have it! By following these steps, you'll have everything you need to create a killer brand style guide for your brand.
Conclusion
A well-written brand style guide is essential for any business—it ensures that everyone involved in representing your brand is always on the same page (literally). By putting one together thoughtfully, you can rest assured knowing that every touchpoint with your customers will be consistent – making a pretty strong impression!
Creating a decent brand style guide may seem like a lot of work upfront, but it's worth it in the long run. Not only will it save you time and energy down the road, but it will also help ensure that your brand remains consistent across all touchpoints. So what are you waiting for? Get started on writing your brand style guide today!
Read more about branding and marketing:
How To Make A Mood Board
Brand Anatomy – What Is It And What Are It's Key Elements?
What is Visual Branding and How It Can Help Your Business