As a business owner, creating a strong brand identity is essential for standing out in a crowded market.
A brand board is a tool that can help you achieve this by providing a visual reference guide for maintaining a consistent brand identity across all marketing and branding efforts. In this beginner's guide to crafting your own brand board, we'll break down the basics of what a brand board is, why it's important, and how to create one step-by-step. Whether you're starting from scratch or looking to refresh your brand, this guide will provide you with the knowledge and tools you need to create a strong and cohesive brand identity that resonates with your target audience.
Learn how to create a color palette and make a mood board.
When building a brand and creating a new brand identity, one of the most critical components of your brand design process is your brand board. First of all, go through this article here, and then jump over to creating your brand board: Style Guide: How to Write One for Your Brand
What is a brand board?
A brand board, or a brand guideline, or a brand vision board, is a visual representation of a brand's identity and key design elements.
Also, check out this post:
Brand Board Essentials: Your Key to Consistent Branding.
It is a tool used by designers and brand managers to ensure consistency and cohesion across all brand communications. It typically includes the brand's logo, typography, color palette, and other visual elements such as patterns or textures. The purpose of a brand guideline is to provide a clear and concise overview of a brand's visual identity, making it easy for anyone involved in the creation of brand communications to understand and follow the brand guidelines.
It serves as a reference point for designers, marketers, and other stakeholders to ensure that all brand communications are visually consistent and aligned with the brand's values and goals.
Brand vision boards can be created for new brands or used to refresh an existing brand's identity. They can be shared with internal teams, external vendors, or anyone involved in creating brand communications. A well-designed branding board can help to strengthen a brand's identity and improve its recognition and recall among its target audience.
Why you need to use brand boards
Brand boards are a crucial tool for businesses that want to establish a strong and consistent brand identity.
It is essentially a visual representation of a brand, including its logo, color palette, typography, and other design elements. It provides a clear and concise overview of the brand's aesthetic and can serve as a reference for anyone working on brand-related projects, from designers to marketing teams.
There are several reasons why using such a board is important for businesses.
Firstly, it helps ensure consistency in design across all touchpoints. By using the same color palette, typography, and other design elements consistently, a brand can establish a strong visual identity that is easily recognizable to customers.
Secondly, a brand vision board helps streamline the design process. When designers have a clear understanding of a brand's visual identity, they can work more efficiently and produce designs that accurately reflect the brand.
Finally, it can help communicate a brand's identity to external partners, such as vendors and contractors. By sharing a brand guideline, businesses can ensure that all partners understand the brand's visual identity and work to maintain consistency in their design work.
A brand board is a valuable tool for any business that wants to establish a strong and consistent brand identity. By using a it, businesses can ensure that their visual identity is consistent across all touchpoints, streamline the design process, and communicate their brand identity to external partners.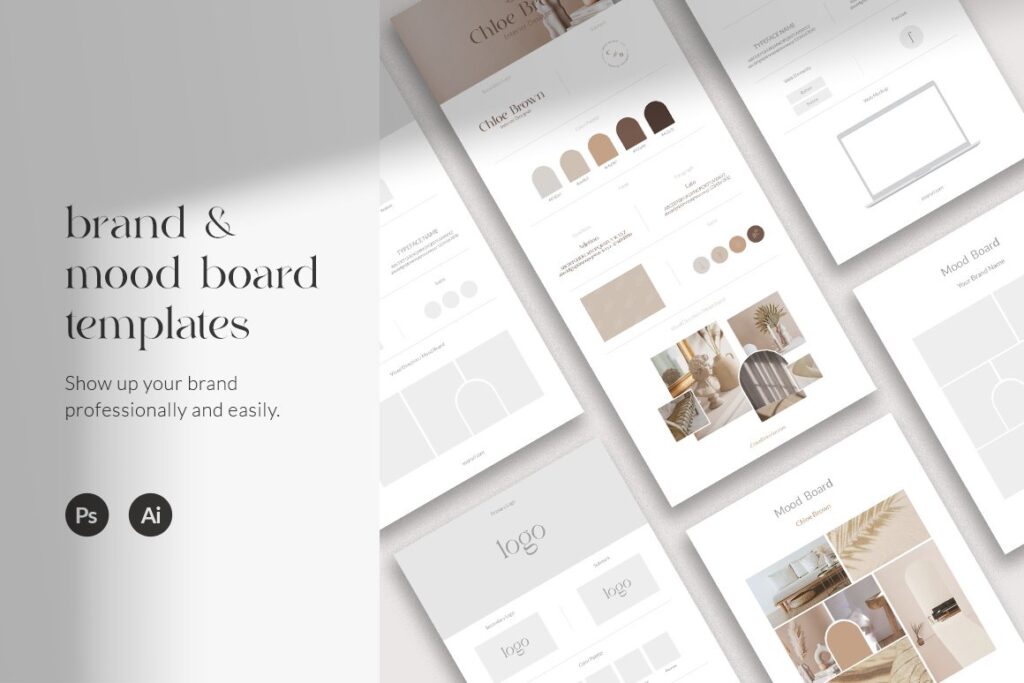 Ensure that your brand vision board reflects your brand's values and personality
What are the elements of a brand board?
Brand boards show the client every element of their visual brand in one neat document.
It is a visual reference to your brand identity. In other words, it provides an at-a-glance summary of the look and feel of your brand. A typical branding board includes the brand's logos, colors, fonts, and imagery, at the brand together.
So, a brand board is a space to provide key style details for the brand at a glance.
In terms of visual media, the brand comprises a few standard assets that need to be considered by most businesses. Here we'll go through a few of them. Learn more about this topic here: Brand Anatomy – What Is It And What Are Its Key Elements?
Logo
The brand's primary logo is the most critical element of a branding board.
It should be displayed in various forms, including full color, black and white, and reversed versions. The business logo is standard for all assets to rally around. Customers will likely identify the logo before they start reading or engaging with any interface.
You'll need to weigh how easily readers can remember the logo, what it stands for, and its uniqueness. You must consider the formats and logo variations required when adding logos to brand vision boards. For example, you may need a rectangle and a square logo for a website and variations with and without the company's name.
In addition, you'll need to consider the readability of the logo and resized formats. Font selection, line thickness, discreet colors, and different background media that will have the logo all need consideration.
Color Palette
A brand's color palette is a key element in establishing and communicating the brand's identity.
It is a carefully curated selection of colors that are used consistently across all brand touchpoints, from the logo to marketing materials, packaging, and more. The colors in a brand's palette are not chosen randomly, but rather are carefully selected to evoke specific emotions and convey the brand's personality and values.
Color psychology plays a significant role in determining a brand's color palette.
Different colors can evoke different emotions, and by choosing the right colors, a brand can create a particular perception in the minds of its customers. For example, a brand that wants to communicate energy and excitement might choose bright, bold colors, while a brand that wants to convey calmness and serenity might choose muted pastels. In addition to the colors themselves, the brand's color palette also includes guidelines for how to use those colors in various contexts.
This includes specifications for color values, such as HEX codes or Pantone numbers, as well as rules around which colors should be used together and how much of each color should be used.
Ebook The Ultimate Guide to Branding Styles (1) (1)

An ultimate guide for brand colors:

Ebook: The Ultimate Guide To Branding Styles

Everything about color psychology in branding and how to build a successful brand identity for your business.
Icons
Ensure the icons you use for any interface are user-friendly and easy to recognize.
A simple design is always better where possible. Iconography refers to the use of symbols or icons that represent the brand. A brand guideline may include examples of the types of icons or symbols that are used to represent the brand.
Typography
A brand's typography reflects its personality and helps convey its message.
A brand board should include the typefaces, font sizes, and styles that are used consistently across all brand communications. All the text you use, such as headings, subheadings, titles, main body, and accents, must be identified. In addition, you'll need to identify the font, size, and possible use case. 
Typography plays an important role in defining a brand's visual identity.
It is the art of arranging typefaces in a way that makes the text legible, readable, and appealing. The choice of typography can communicate a brand's personality and style to the audience. For example, a sans-serif font can represent a modern and minimalistic brand, while a serif font can convey a traditional and elegant brand.
The font size, weight, and spacing can also affect the overall look and feel of a brand's typography.
It is important to choose typography that is easy to read and aligns with the brand's values and message. Using consistent typography across all brand materials can help establish a strong and recognizable visual identity.
Patterns and textures
Patterns and textures are important visual elements that can help convey the personality and character of a brand.
When used consistently, they can become an integral part of a brand's identity and help it stand out in a crowded market. Patterns can be simple or complex, geometric or organic, and can be used in a variety of ways, such as backgrounds, overlays, or accent elements.
Textures, on the other hand, can add depth and dimension to a brand's visuals and create a tactile, sensory experience for the audience.
They can be rough, smooth, or anything in between, and can be used in a variety of ways, such as backgrounds, accents, or as part of product packaging. When choosing patterns and textures for a brand, it's important to consider the brand's overall aesthetic and messaging, as well as its target audience and the emotions and associations the patterns and textures may evoke.
Tone and voice
A brand's tone and voice refer to the style and manner in which the brand communicates with its audience.
It encompasses the language, phrasing, and overall personality conveyed by the brand. A consistent tone and voice help establish a unique brand identity and build trust and credibility with the audience.
The tone and voice should be aligned with the brand's core values and target audience.
For instance, a luxury brand may use formal and sophisticated language, while a brand targeting a younger audience may use more informal and playful language.
Establishing clear guidelines for tone and voice helps ensure consistency across all brand communication channels, including social media, marketing materials, and customer service interactions. Consistency in tone and voice helps build a recognizable brand identity and fosters a connection with the audience, ultimately leading to increased brand loyalty and advocacy.
Brand Photography
Photography is an essential component of branding as it helps to showcase the brand's personality, values, and message through visual storytelling.
A well-executed photograph can elicit emotion, capture attention, and convey a message that words cannot. Therefore, brands need to ensure that their photography aligns with their brand identity and helps to reinforce their visual message. Photography for a brand should include a consistent style, color scheme, and composition that aligns with the brand's overall message and values.
This includes selecting appropriate lighting, backdrops, and props that help to convey the brand's intended message.
Furthermore, the type of photography used should also depend on the brand's target audience and industry. For example, a lifestyle brand may use photographs that showcase its products in everyday settings or in use, whereas a high-end fashion brand may use more stylized and abstract photography to showcase its designs.
Photography is a powerful tool for brands to create a strong visual identity and communicate their message to their target audience effectively.
Here is an example of IKEA. Their website is filled with cozy, inviting interior photos that make us crave the warmth of IKEA's products!
Following the four personality theories, you will gain cohesive, visually solid branding:
How having a brand board helps your business
For one, it works as a reference guide that helps create consistency for your brand.
When you or your team create content for your website, social media channels, and marketing materials, it's essential to use consistent colors, fonts, and styles. Otherwise, your brand will look like a jumbled mess and confuse your audience.
Attract the right audience
Another benefit of a brand style guide is that it helps your brand attract the right audience.
Get clear on who you are, what you do, your style and vibe, and who you serve. Follow a process, and don't skip steps just because it's for yourself. Branding boards are usually created by a graphic designer who helped their client with their logo and web design.
An effective branding board will outline the visual designs necessary to attract your ideal client.
They're essential because they help convey a brand's values, attributes, and personality in one glance.
How to create a brand board
If you're working with a professional designer to create your brand identity, your designer will more likely than not design a board for you.
Some designers also provide in-depth brand guidelines, which are multiple pages long and go into detail on how actually to apply your brand elements. But if you're DIYing your brand, you can easily make a brand board later on as your brand grows and evolves. The foundational elements you must clear about your brand BEFORE you even consider making a mood board.
Organize these elements in a grid, with your logo in a featured spot.
You can add your font names and the hex codes for your brand colors. This way, it is easy to know your selected colors and fonts.
Tools for branding board creation
Several tools you can use to create your branding board, but three of the most popular are Canva, Illustrator, Photoshop, and InDesign.
Each has its own advantages and disadvantages, so choosing the tool that best fits your needs is essential.
Canva is an excellent option if you want something simple and easy to use. It has a drag-and-drop interface that makes creating designs quick and easy, and it has a wide selection of templates. However, it can be difficult to create truly custom designs, and the free version is quite limited.
It is a powerful tool that gives you more control over your designs. It's ideal for creating detailed illustrations or graphics, but it can be tricky to use if you're unfamiliar. It's also relatively expensive, so it may not be the best option if you're on a tight budget.
this one is also one solution, though it requires decent skill and the ability to work with layers. For someone who is used to working with photography, Photoshop is still a valuable tool for brand board creation.
InDesign is another robust option that's often used by professional designers. It's great for laying out complex designs, but it can be challenging to learn if you're not already familiar with it. It's also quite expensive, so it may not be the best option for everyone.
Sketch
Sketch is a digital design tool that is popular among web and app designers. It has a range of features and templates that can be used to create brand boards with a modern, minimalist aesthetic.
Figma
Figma is a cloud-based design tool that enables designers to collaborate on branding board creation in real-time. It offers a range of design assets and templates, making it easy to create a professional-looking vision board with a team.
Branding Compass
Branding Compass is a tool that helps businesses define their brand identity, values, and messaging. It provides a step-by-step process for making a brand board that accurately reflects a brand's identity and values.
Brandmark.io
Brandmark.io is an AI-powered logo maker that can be used to create a logo for your brand. It offers a range of design options and customization features, making it easy to create a unique and memorable logo for a brand.
Ultimately, the best tool to create your board is the one that best fits your needs. If you're looking for something simple and easy to use, Canva is a great option. Illustrator or InDesign might be better choices if you need more power and control over your designs. And if you're on a tight budget, there are several free online tools that can also be used to design brand boards.
Fill in your own brand board from Creative Market.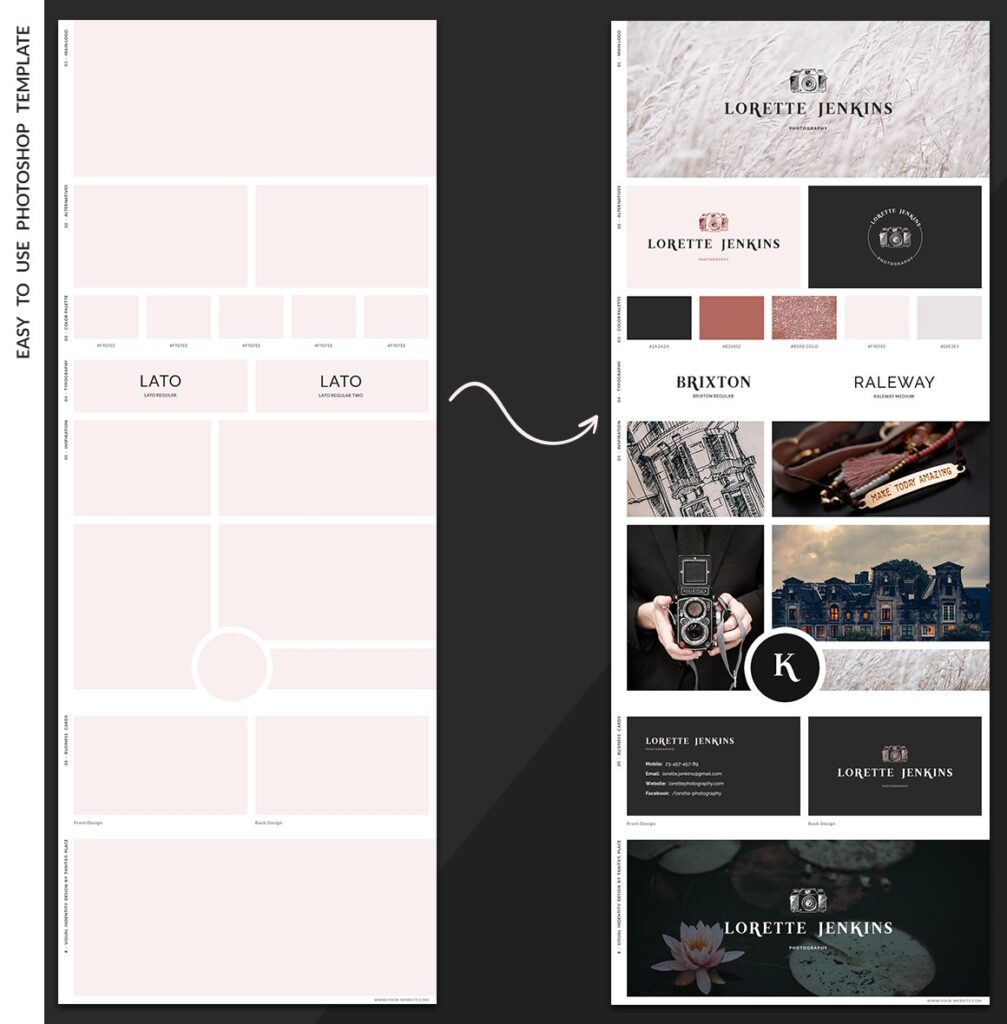 A branding board helps to keep your branding on track
We live and breathe branding and all mediums—your website, social media graphics, printed materials, etc. Consistency is key!
Using a branding board is a great way to keep your branding on track. Think of it as your brand bible—the resource you will always (always!) refer back to when creating any kind of graphics, visuals, or brand collateral.  It's an easy reference for your brand fonts, color codes, patterns, logos, and textures, to ensure that any visual element you create is cohesive with your brand identity.
How to make your brand board using Canva
A brand board template is helpful in creating a brand and can be a helpful tool for any business owner or marketing professional.
It helps you to understand what your brand is about and keeps track of all the necessary information.  A branding board represents its essential elements, including its logo, colors, and fonts. Such templates can be used for various purposes, such as developing marketing materials, designing a new website, or keeping track of brand assets.
By creating a branding board, businesses can keep all of their branding information organized in one place.
This can be especially helpful when working with multiple designers or agencies.  With a branding board template, businesses can ensure that their branding is consistent across all communications. There are many online resources that can help you get started. My favorite is Creative Market, where you find many different templates with affordable pricing to choose from.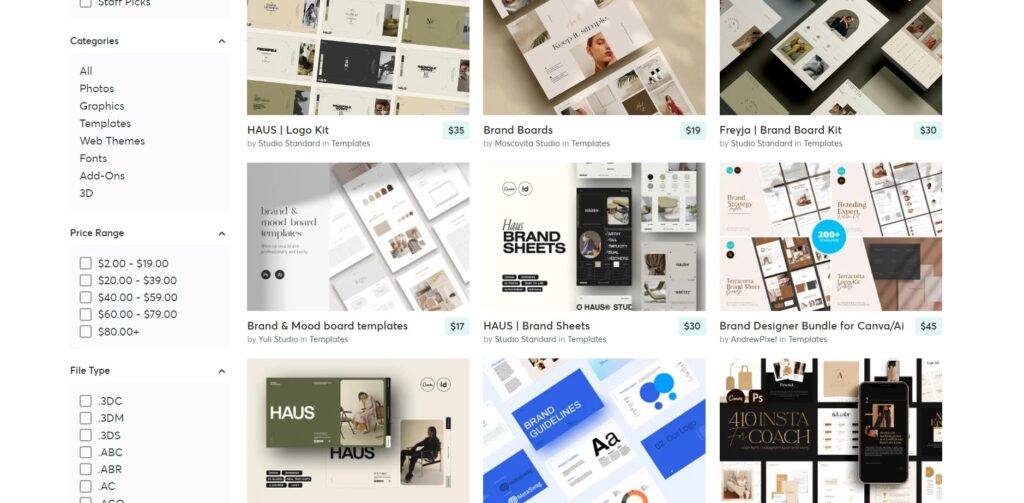 Examples of brand boards
Brand boards can be created for both online and offline applications and should be designed to reflect a business's specific goals and objectives.
To get started, check out some examples below. Consider using colors, fonts, and images that reflect the company's website design. For a brick-and-mortar business, use colors and fonts consistent with the company's physical branding, such as signage and advertising materials.
Such boards can also be created for specific marketing campaigns or product launches.
Use visuals that align with the campaign theme or product messaging in these cases. Remember to keep your audience in mind no matter what branding board you create. Use visuals that appeal to your target customers, and focus on creating a cohesive look and feel for your brand.
1. For youthful, playful businesses
A playful-looking branding board template from Creative Market by Katie Harp Creative.
The sample image matches the spirit of a youthful, friendly business that welcomes everyone – young and old, men and women. Perfect for products like drinking water, ice cream, telecommunication, and toys. Find great examples on this board here: Playful branding boards on Pinterest.  
2. For elegant, feminine businesses
This template is from Creative Market by Pretty Bloom Designs.
The sample image reflects well a brand identity suitable for somewhat formal, elegant, understated, and feminine businesses. Think wedding industry, classical art, flower shop, and babies. Many examples on this board here: Elegant brand boards on Pinterest.
3. For earthy, nature-loving businesses
I chose this template from Creative Market by AndrewPixel for businesses that are either fairtrade, organic, nature-related, community-friendly, or work with coffee, chocolate, veggies & fruits, or similar. Earthy brand boards on Pinterest.