Enter the Brand Board: your brand's visual lighthouse, a beacon illuminating the essence of your brand.
Acting as both a reference guide and an inspiration source, a brand board harmonizes your brand's visual components – colors, typography, imagery, and logos – ensuring a consistent and powerful brand narrative across all platforms.
In this blog post, we unravel the magic and mechanics of brand boards.
We'll explore how this crucial tool weaves together various threads of your brand into a cohesive, visually stunning tapestry that not only stands out in the market's noise but also resonates emotionally with your audience. So, let's dive in and discover the potent power of brand boards in defining, creating, and maintaining a compelling brand identity.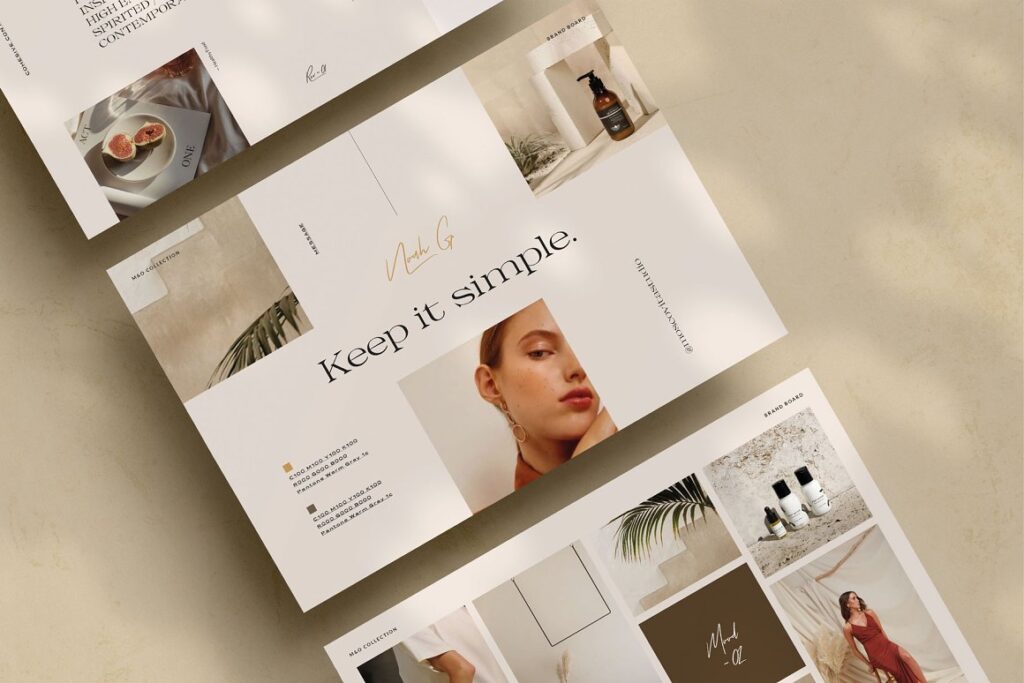 Brand Board template by Moscovita Studio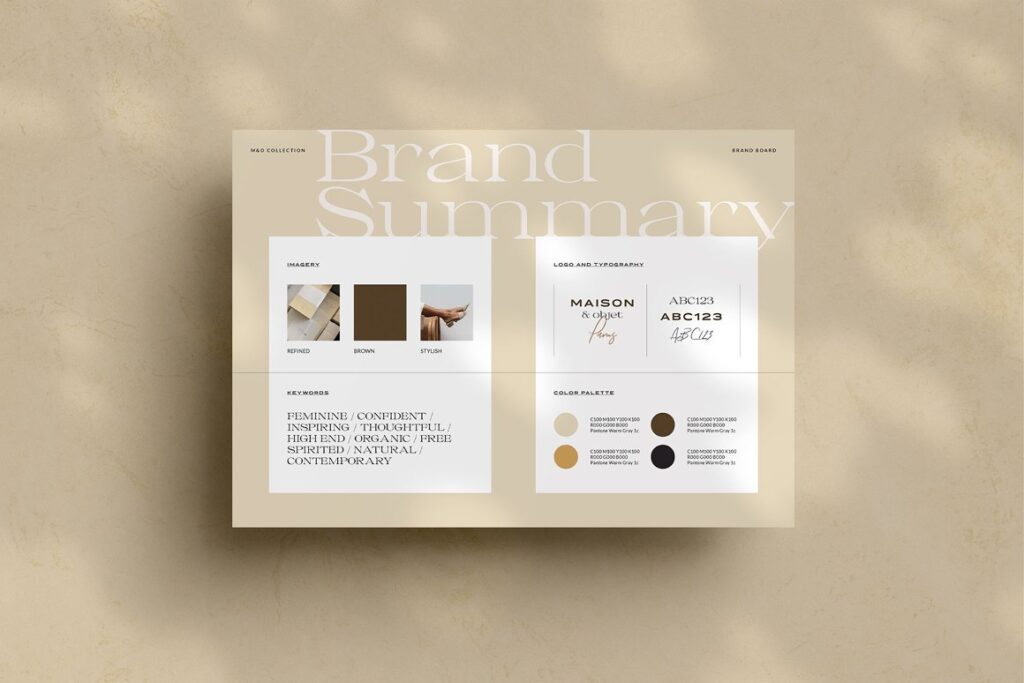 Brand boards by Moscovita Studio
So, What Exactly Are Brand Boards?
Essentially, it's a visually enticing representation of your brand's aesthetic and persona, acting as the heart and soul of your brand's visual identity.
Think of it as a blueprint that breathes life into your entire brand name, guiding every design-related decision to ensure you maintain a consistent, cohesive image.
A well-constructed brand board encompasses key details that, together, provide a holistic snapshot of your brand's essence.
These details often include the main logo itself, alternative logos, typography main fonts, color palette, textures, and patterns. It may also incorporate imagery styles, like photography or illustrations, which help embody the brand's tone.
Imagine the logo as your brand's face—it's the first thing people notice and remember.
An effective brand board will often include a primary logo, for example, along with alternative versions to adapt to different contexts. These variations keep your brand recognizable and consistent across varying platforms, from print to digital.
Next is the color palette.
Colors evoke emotions, influence perceptions, and have the power to affect buying decisions. By defining a specific set of colors in your logo or brand board, you help your business establish an emotional connection with your audience.
Typography, on the other hand, speaks volumes about your brand's personality.
A professional brand will lean towards a clean, serif font, whereas a more casual brand might opt for a playful script.
Textures and patterns add depth and interest, creating a memorable and engaging brand experience.
They can be as simple as a color gradient or as complex as a custom pattern—always aligning with your brand's appearance.
In essence, a great brand board, is a visual synopsis of your brand, a guiding star that ensures consistency across all touchpoints.
It's a tool that can strategically draw on psychological principles to build a brand image that resonates with your target audience.
Herein lies the genius of color psychology, which I've long admired in the work of Angela Wright.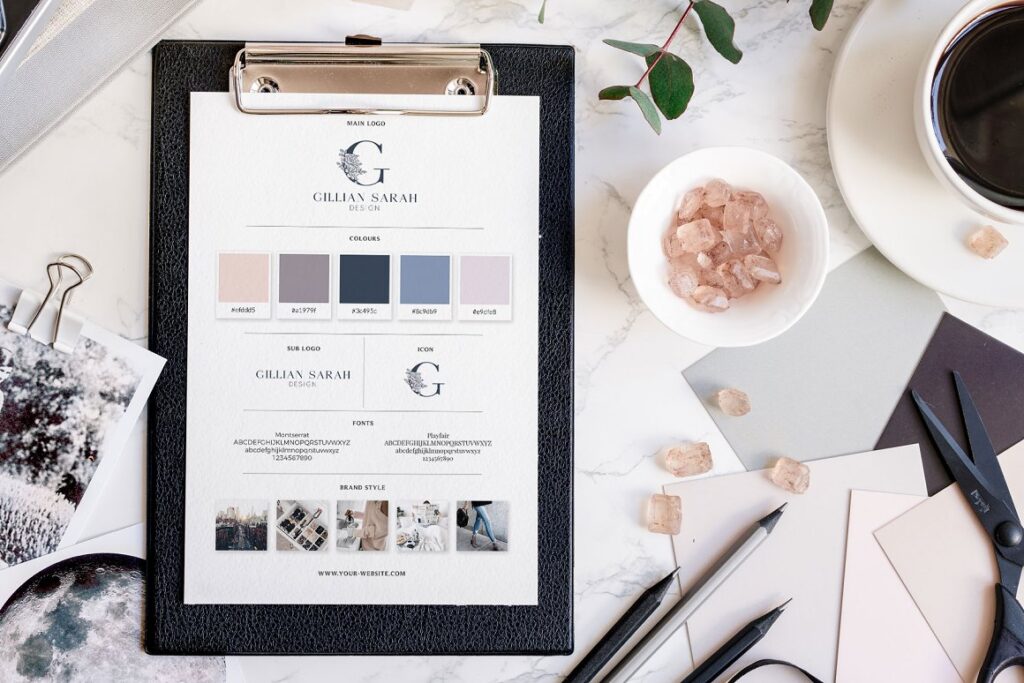 The Power of Colors and Visuals
Angela Wright's color psychology suggests that there are universal reactions to color, but the way they're interpreted can be influenced by personal experiences, culture, and context.
As a branding expert, I recommend exploring Wright's color theory when defining the color palette in your web design and brand board. Choose colors that reflect the emotions and responses you want to elicit from your audience.
Typography, similarly, communicates much more than the words they shape.
Serif fonts, for instance, can convey tradition and reliability to ideal customers, while sans-serif fonts might express modernity and innovation. Imagery and patterns also play critical roles in setting the tone of your brand.
All The Visual Elements You Need On A Brand Board
Each element in a comprehensive brand board plays a crucial role in communicating the brand's persona, values, and tone to the audience. Here are the elements that your brand board should include:
1. Logo: Your primary logo serves as the face of your brand in marketing materials. It should be unique, recognizable, and designed to effectively represent important aspects of your brand's essence.
2. Alternative Logos: These logo variations can include submarks, icons, or abbreviated logos. Having alternative logos ensures flexibility and adaptability across various applications and platforms without compromising your brand identity.
3. Typography: Typography is about more than just readability—it sets the tone for your brand. Your brand board should include primary font and secondary fonts to use in headlines, subheadlines, and body text. Remember, font choices say a lot about your brand's personality, so choose wisely.
4. Color Palette: Colors trigger emotional responses and thus greatly influence brand perception. Include examples of primary and secondary colors, complete with exact color codes (RGB, CMYK, HEX) to ensure consistency.
5. Textures and Patterns: Adding these elements can enhance your brand and easily create a unique style and appearance. They can range from simple gradients to intricate, custom-created, designer-designed patterns.
6. Imagery Styles: A set of images or illustrations that represent the style of photography, graphics or artwork to be used in your branding can be created and included. This could range from product shots social media graphics to lifestyle images, ensuring they align with your brand's tone and message.
7. Iconography: If your brand uses specific fonts or icons for services or products, include these in your brand board. They should align with the overall logo design and aesthetic.
8. Brand Elements: These could be shapes, lines, or any other design or graphic elements that are consistently used in your brand graphics.
9. Mood Board: Although not a requirement, some brand boards also feature a mood board—a collection of images, textures, and colors that evoke the feel and direction of the brand. These mood boards can be particularly useful for setting the tone and providing inspiration.
How To Create a Brand Board?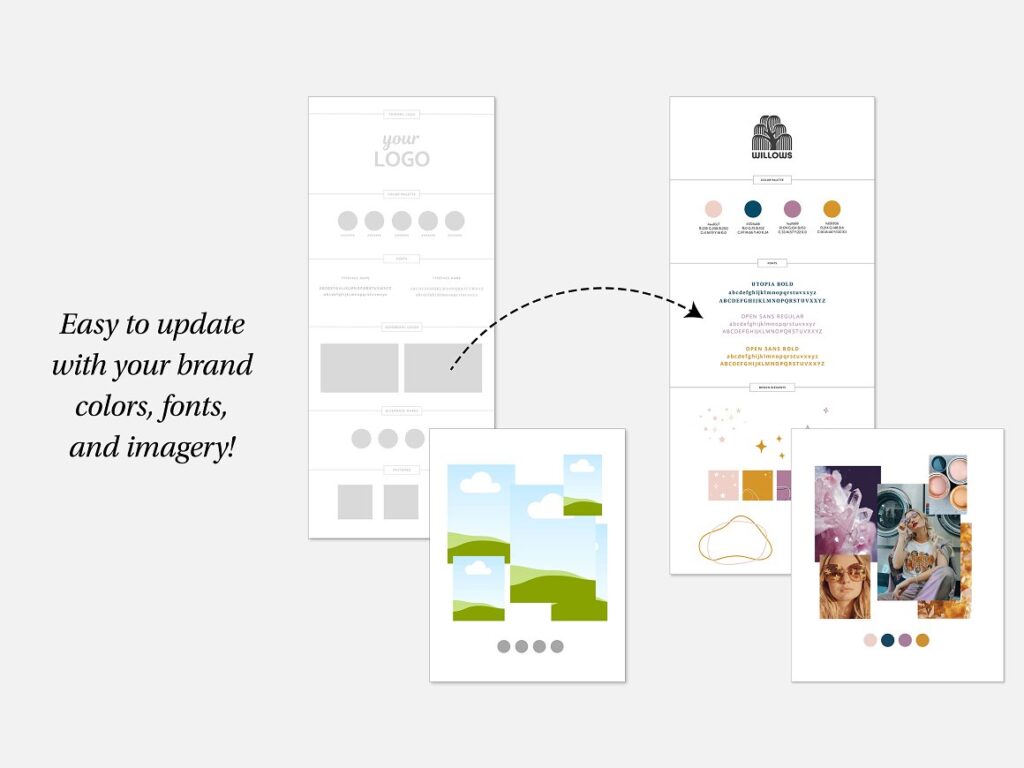 Creating a brand board involves curating various visual elements to create a brand board that helps establish a cohesive brand identity. Follow these steps to design your branding board effectively:
Define Your Brand's Core Elements: The first step in creating a brand board is to understand and define your business's core elements. These include your brand's mission, vision, target audience, personality, and unique selling proposition.
Design Your Logo: Your logo is the most crucial aspect of your brand. It should be a unique, identifiable symbol that communicates your brand's values and objectives. Remember to create a few logo variations for use in different contexts.
Choose Your Color Palette: Your color palette will set the tone for your brand's visual identity. This should align with the emotions you want your brand to evoke. Utilize Angela Wright's color psychology to guide your color choices. Your palette should include primary, secondary, and neutral colors.
Select Typography: Your brand's typography should complement your logo and color palette. It should also reflect your brand's personality. Include primary fonts for headings and secondary fonts for body text.
Curate Imagery: Your imagery, which includes inspirational images, photos, illustrations, icons, and patterns, should have a cohesive look and should visually reinforce your brand personality.
Assemble Your Board: Once you've chosen all the elements, it's time to put them together in a layout. This doesn't have to be fancy. The goal is to see all your elements together in one place to ensure visual coherence and consistency.
Create a Brand Guideline: Once your brand board is complete, you can expand it into a full brand guideline, detailing how each element should be used in different contexts.
Here, I have a whole post about How To Create A Brand Board.
Remember, your brand board isn't set in stone. It can evolve and grow with your business. Always keep it updated, reflecting the current visual identity and voice of your brand.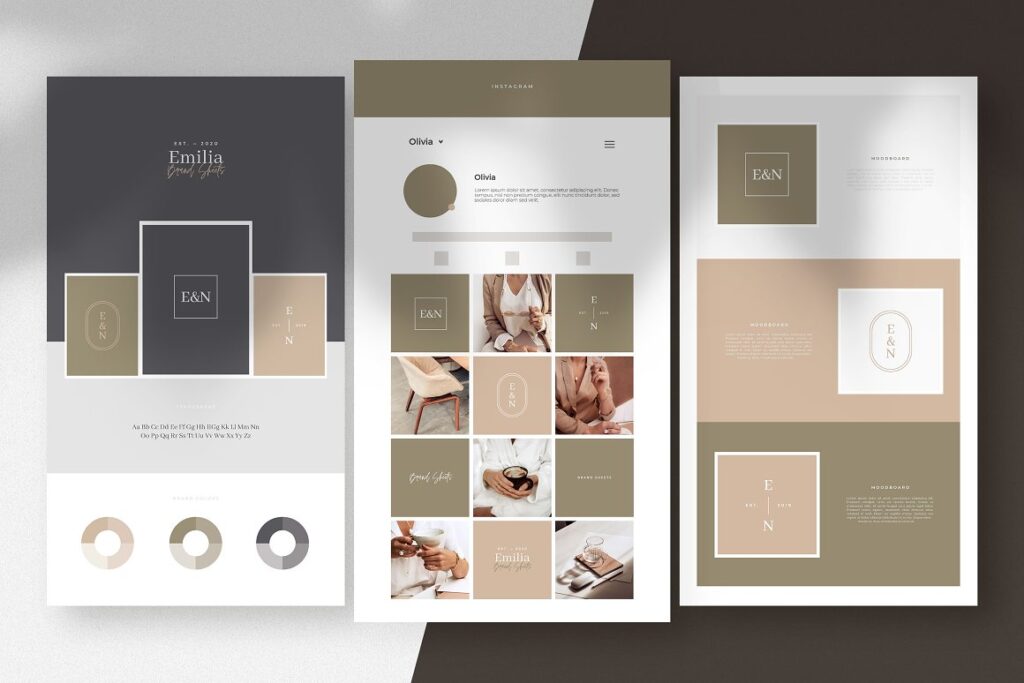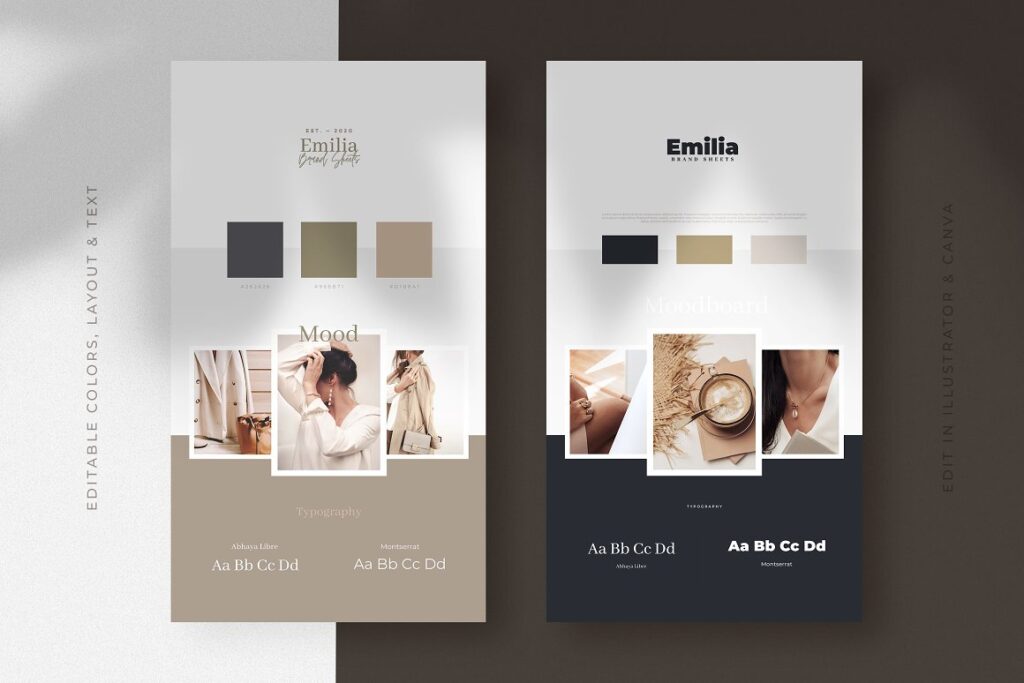 Branding boards by AndrewPixel
Brand Board Templates From Creative Market
Creative Market is a valuable resource for professionals and brands seeking access to high-quality design tools, one of which includes branding board templates.
These pre-designed templates simplify the process of building a brand board and website, making it accessible for both professionals and newcomers to branding.
These templates are expertly designed by a community of independent creators, ensuring a diverse collection that caters to an array of different types of industries and styles.
From minimalist to extravagant, modern to vintage style, there's a template that aligns with virtually any brand personality.
Each template comes equipped with designated spaces for essential business brand elements like logos, brand fonts, color palettes, typography, and more. They're editable, which means designers and you can customize them to your business's specific needs.
Free Brand Board Template
I am excited to offer a free, customizable branding board template designed to kickstart your branding journey.
This template features designated spaces for all essential visual brand elements, from logos to color palettes. It's an intuitive, user-friendly tool designed to help you establish and create a consistent, visually captivating brand identity with ease.
Access your free branding board templates here!
Conclusion
In conclusion, a branding board on a website is more than a mere assortment of pretty colors, custom fonts, and images.
And in the clamor of today's marketplace, having a consistent and resonant brand story can make all the difference between fading into the background or striking a lasting chord with your audience.
So, invest time and effort into creating a vision board that truly reflects your brand's essence. It will serve as your North Star, guiding every marketing and branding effort your business undertakes.
Happy branding!