Learn, how to combine the right visuals to create elegant and rather feminine branding – brand design Group 2 visuals are suitable for attracting people who are looking for high quality and understated elegance. As a rule, with this kind of branding, the products' price level is higher than average.
Learn all about group 1 brand styling here:
Group 2
Calm, efficient, elegant.
Punctual, practical, relaxed. Elegant, romantic, graceful, delicate, soft, mysterious, formal, prominent, natural, flowing.
Style
Understated, soft, timeless, delicate, romantic, graceful, elegant, and traditional.
Shapes and textures
Flowing and elegant lines, delicate flower patterns, watercolors, scattered flowers, vintage style. High-quality fine textured paper or fabric. All sorts of sparkling and shiny textures should be left out.
Typefaces and fonts
Elegant calligraphic scripts and traditional serif fonts with grace. The formality of serif style typefaces and their cursive fonts emphasize the flow and elegance of group 2 personality.
Design style
Detailed illustrations – botanical styles, fine lines. Even the dark and formal tones are calm and confident. Colors are delicate, cool, and reserved, formal in style with a good sense of grace and elegance.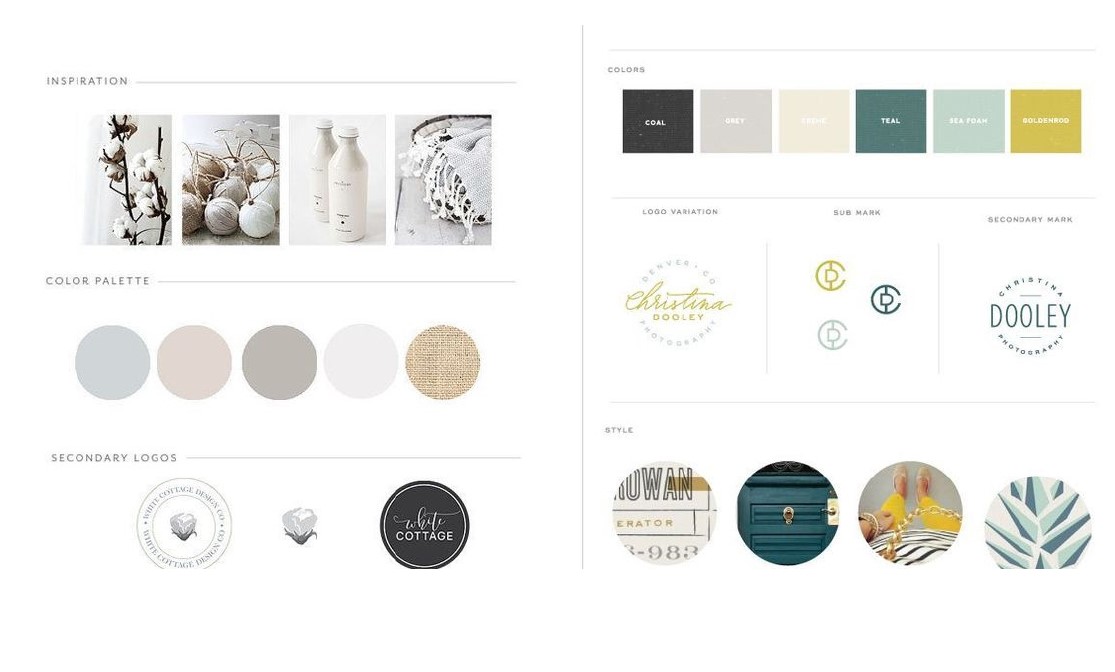 Color theory
Tones. The tone of a color is based on the amount of gray added, creating a more pure or subtle result. Cool and formal.
Color palette
The colors in this palette are cool and pastel.
They have a high percentage of gray in them – and there are no primary colors here. The keyword is muteness. You can find tones such as maroon, old pink, plum, bottle green, powder green, and lavender. Supportive neutrals are, for example, oysters, cool navy, and a medium gray.
There are no extremes in the palette of group 2. The tones are light in their weight. There are also dark tones, but rather delicate and understated.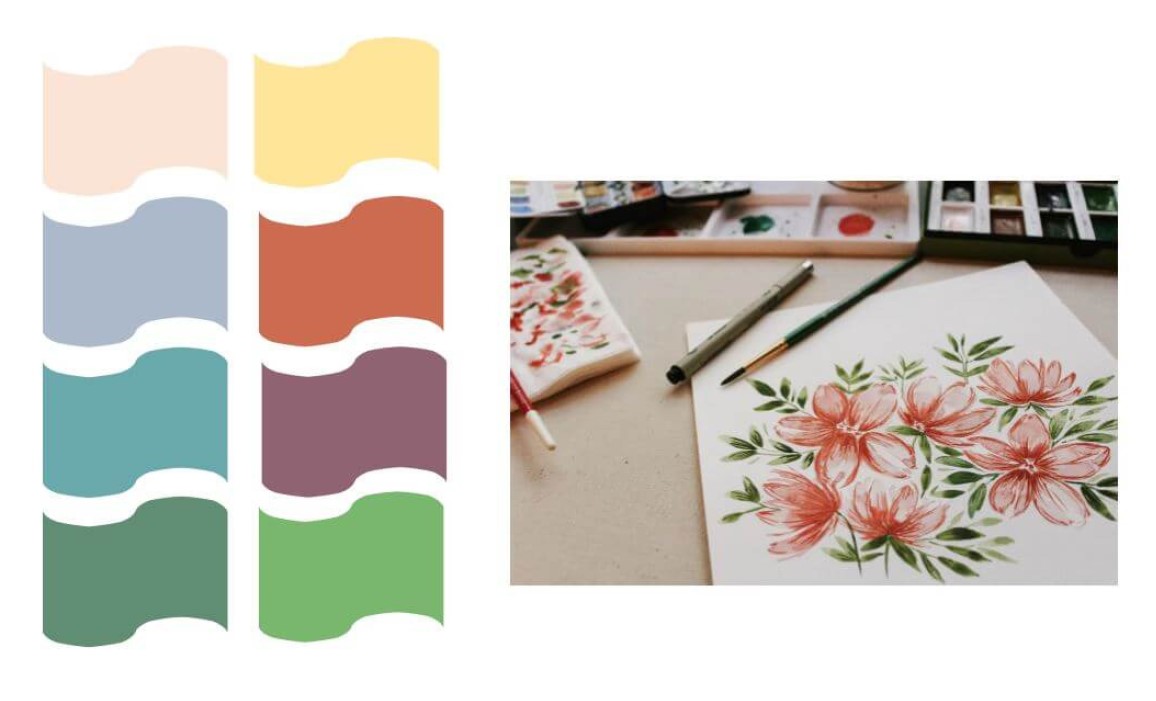 In business
The nature of the group 2 business and its products and the visuals leave an impression of elegance and mildness.
The tones are muted as we see them in the summer nature landscape, the essence is calm, and it is also reflected in marketing.
Group 2 appeals to women in particular and skillfully designed branding provides a subconscious prerequisite for a higher-than-average price category.
Areas of creative professionals: interior styling, graphic design, jewelry design.
The wedding industry, photographers, florists, and classical music providers.
Quality, well-established and credible companies: lawyers, accountants. Fashion for babies, kids, and adults, boho, shabby chic, elegant classics.
Language
This personality uses a rather formal communication method, both on the website, social media, promotional material, and in direct communication with customers.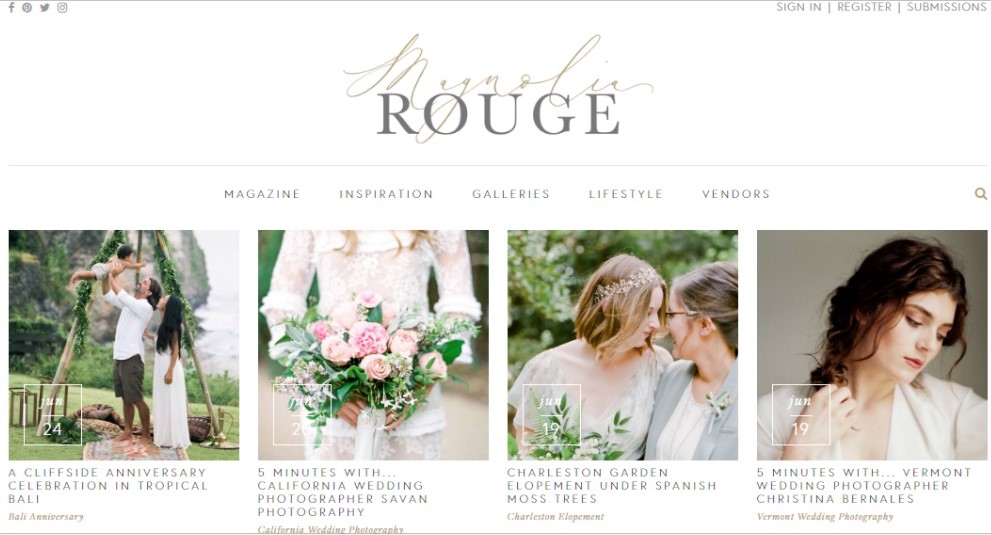 Examples of group 2 personality
Feminine brand color palettes
Season
Summer.
Summer in its muted and understated elegance.
The earth begins to dry, and the atmosphere changes. Everything gets softer, and nature calms down and lets the spring go.
The greenery of trees loses its brightness, and it becomes diminished, along with the colors of the summer flowers. Roses and lupines differ in their gentle tonality from the spring energy bombs, such as daffodils.

Group 1 keywords
Have you written down 3-5 keywords that describe your project or brand best? Can you find them all here? If yes, then Group 2 might be the one that best suits your project and it is time to start collecting ideas for your visuals. The very first step is to create a mood board: How To Make a Mood Board.
beautiful
balanced
detailed
creative
trustworthy
effective
elegant
gracious
flowing
gentle
subconscious
logical
organized
attentive
perfectionist
quality
calm
cool
responsible
romantic
sensible
serious
calming
supporting
timeless
traditional
understated
chic
Ebook Colors For Creative Businesses
Read more
Group 1 – How To Brand a Youthful, Open, and Happy Business
How To Create a Color Palette For Your Brand