Are you an Etsy seller looking to take your shop to the next level?
Do you dream of creating a powerful brand identity that resonates with your target audience and sets you apart from the competition, allowing you to get more sales and make money online?
Look no further! We are thrilled to announce the launch of our comprehensive and insightful eBook, "Brand Your Etsy Shop Like A Pro."
In this blog post, we will introduce you to the ebook, its key features, and how it can help transform your Etsy store into a brand powerhouse.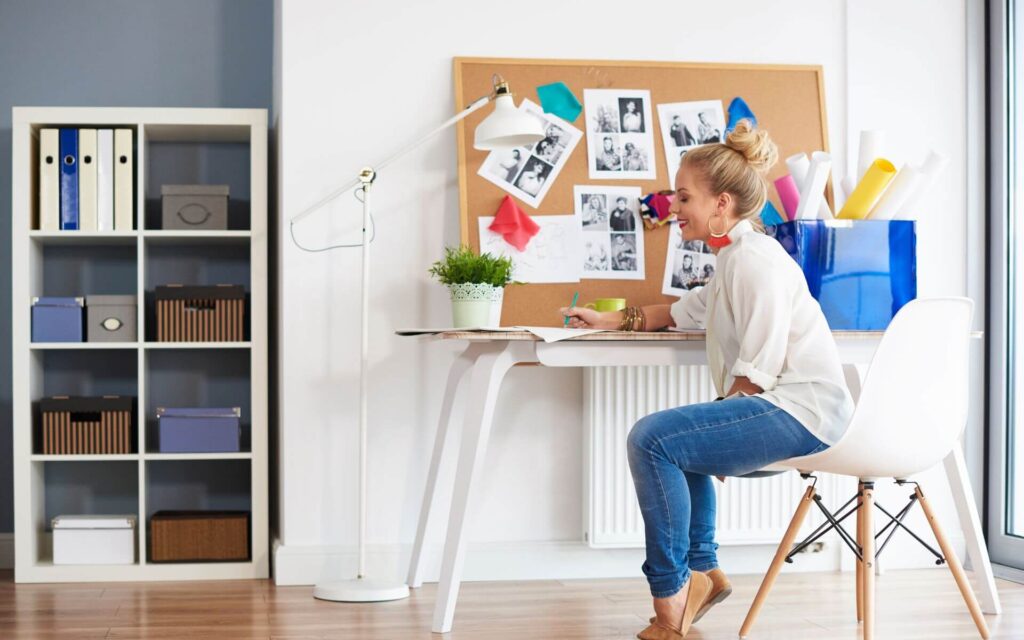 Offer A Memorable Experience For Every Customer
Welcome to the ultimate guide on mastering the art of Etsy shop branding like a pro.
This book is specifically crafted to empower you in creating a cohesive and compelling brand design that truly connects with your Etsy business. No matter, if you specialize in knitwear, furniture making, cosmetics, playful party decorations, or any unique niche within Etsy, my strategic and purposeful approach, will position your brand effectively.
By following the methods outlined in this book, you will gain the confidence, simplicity, and clarity needed to build a strong and distinctive Etsy branding. This, in turn, will enable you to maintain a consistent and captivating social media presence, making your daily visual marketing tasks more streamlined.
One powerful way to highlight the excellence of your products is through captivating visuals. It's important to remember that customers often form their initial impression of your brand at the very first point of contact. Unfortunately, a lackluster visual presentation can cause many Etsy shops to lose potential customers.
On the other hand, a well-designed graphic presentation invites interaction, nurtures loyal customers, and cultivates a dedicated customer base in the competitive Etsy market. This guide serves as your key to achieving exactly that.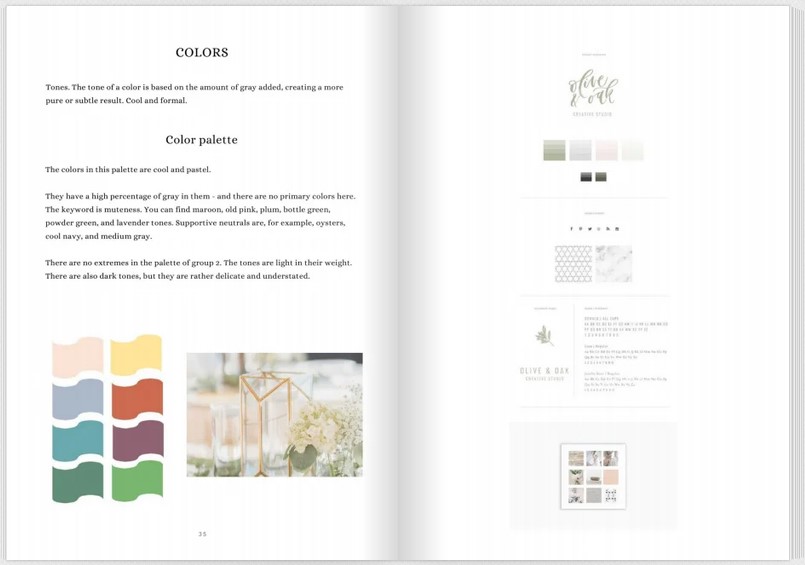 Why Branding Matters on Etsy: The Power of Building a Strong Identity
In a highly competitive marketplace like Etsy, where countless sellers offer similar products, effective branding becomes essential for success.
Attracting Customers and Building Trust: A well-developed brand identity helps Etsy sellers attract customers by standing out from the crowd. When your shop has a distinct and memorable brand, it becomes more appealing to potential buyers. A well-crafted brand communicates professionalism, quality, and reliability, instilling trust in customers.
Increasing Sales and Driving Conversions: When customers recognize and connect with your brand, they are more likely to choose your products over competitors'. A cohesive store evokes emotions, resonates with customers' values, and creates a sense of familiarity and credibility. As a result, it can drive conversions, increase repeat purchases, and ultimately boost sales.
Standing Out in the Marketplace: To succeed amidst the competition, it's crucial to differentiate yourself through branding. A unique visual brand helps you carve a niche, define your positioning, and showcase your unique selling propositions.
Building Recognition and Long-Term Value: Strong branding on Etsy goes beyond individual sales; it focuses on building recognition and long-term value. When customers remember your brand and associate it with positive experiences, they become more likely to recommend you to others. A well-established brand can generate word-of-mouth marketing and attract new customers organically.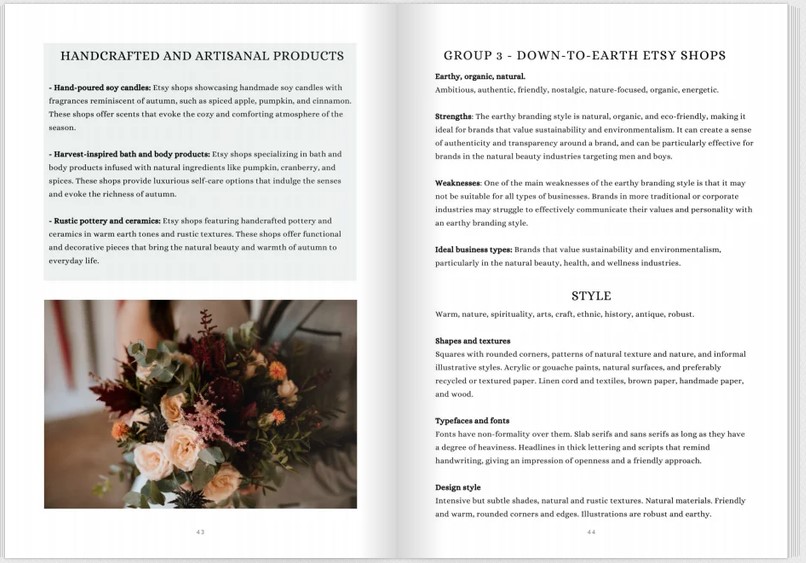 A Practical Book For Etsy Shop Owners
Welcome to the ultimate guide on mastering the art of branding your Etsy shop like a pro.
This comprehensive eBook is specifically crafted to empower Etsy sellers in creating a cohesive and compelling brand identity that truly connects with their Etsy businesses.
Authored by a branding and e-commerce expert, this book brings together years of experience and valuable insights to help you position your Etsy shop effectively.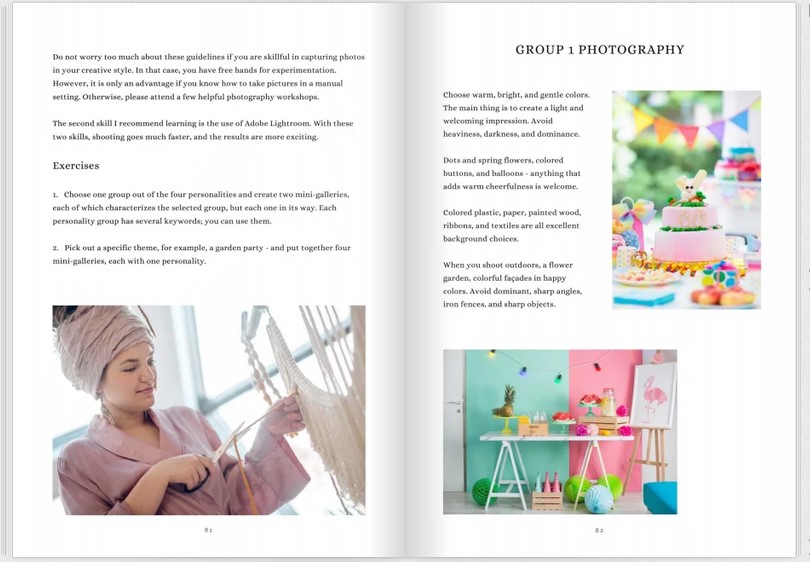 Create a BEAUTIFUL Etsy Store
No matter your specialization, whether it's knitwear, furniture making, feminine cosmetics, playful party decorations, or any unique niche within the Etsy business, this eBook's strategic and purposeful approach will guide you towards building a strong and distinctive brand.
One of the key aspects emphasized in this guide is the power of captivating visuals.
It's crucial to understand that customers often form their initial impression of your brand based on visual presentation. A lackluster visual experience can cause potential customers to look elsewhere. However, a well-designed graphic presentation invites interaction, nurtures brand loyalty, and cultivates a dedicated customer base in the highly competitive Etsy market.
This eBook provides you with the knowledge about the right branding elements to create visually stunning assets that truly represent your brand.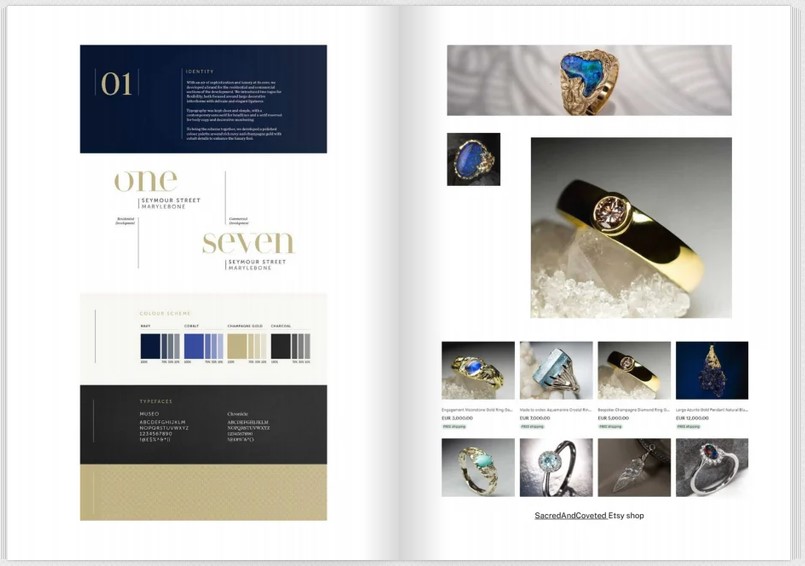 Contents Of The Book:
Clarity
Branding Personalities
Big Message Analysis
Your Goals
Your Ideal Customer
Your Message
The Four Personalities Of Visual Psychology
Youthful, Playful Etsy Shops Elegant, Feminine Etsy Shops Organic, Earthy Etsy Shops High-End, Luxury Etsy Shops
Brand Elements: Shapes, Illustrations, Patterns, Typefaces
How To Choose Typefaces For Your Projects
Brand Photography
Styling Photos
Styling Your Project
How To Make A Mood Board
How To Create A Color Palette
The Right Colors For Your Business
How To Create Your Brand Board
The Meaning Of Colors
Resources, Tools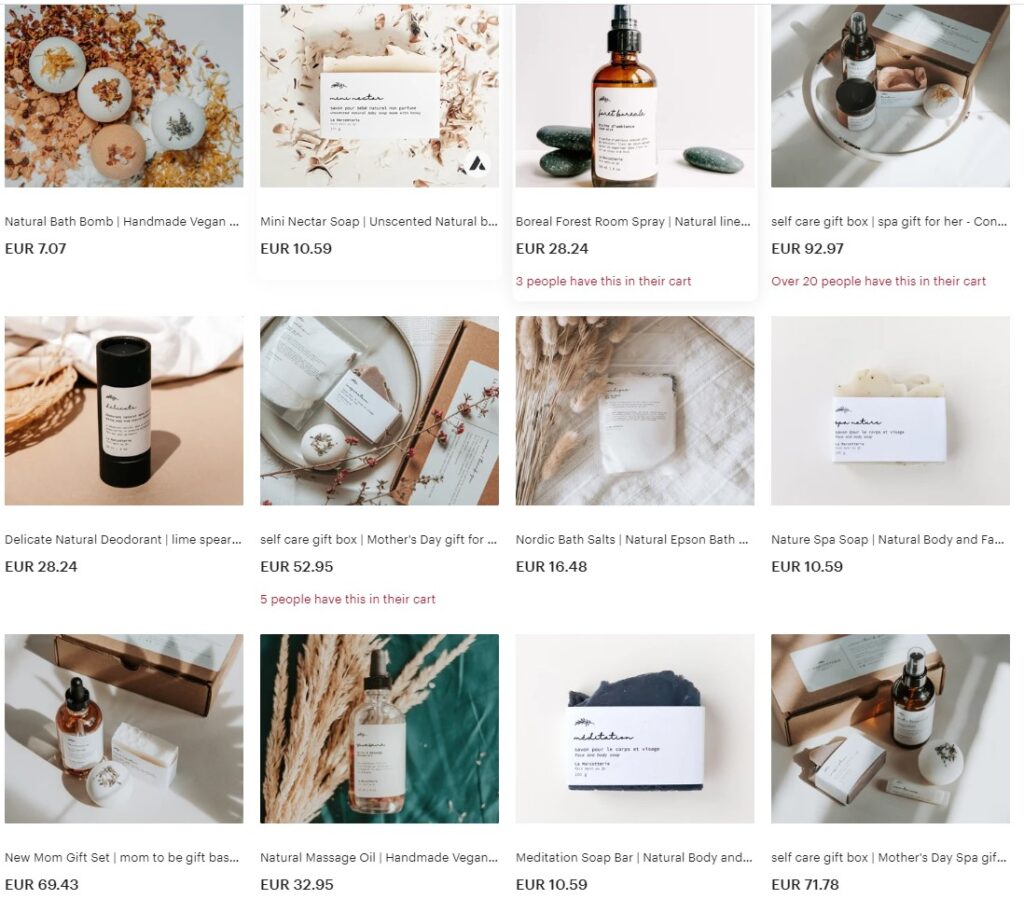 What You'll Learn About Etsy Shop Branding
Defining Target Audience: You will learn how to identify and understand their target audience, allowing them to tailor their brand messaging and design to resonate with their ideal customers.
Creating a Captivating Logo: The eBook provides step-by-step guidance on designing a captivating logo that reflects the essence of their Etsy shop. You will gain insights into logo design principles and best practices to create a visually appealing and memorable brand mark.
Establishing a Cohesive Visual Style: The eBook explores the importance of establishing a cohesive visual style that aligns with the brand's personality. You will gain knowledge about selecting appropriate colors, fonts, and imagery to create a consistent and visually appealing brand presence.
Building Brand Trust and Loyalty: The eBook delves into the significance of building brand trust and loyalty among customers. It provides insights on how to cultivate a positive customer experience, offer exceptional service, and foster strong relationships that lead to repeat purchases and brand advocacy.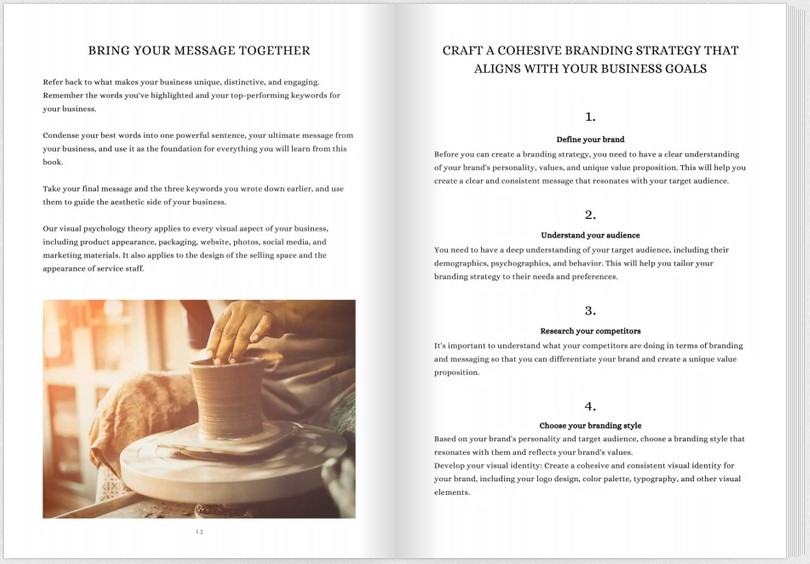 Logos and banner design play a crucial role in the success of any Etsy shop.
Having a shop icon is part of being a professional and reputable Etsy seller. It's a good idea to use your brand logo for them.
They serve as the visual representation of your brand and create a memorable first impression on potential customers. A well-designed logo instantly communicates the essence of your business and helps establish brand recognition. It showcases your professionalism, creativity, and attention to detail.
Similarly, an eye-catching banner design sets the tone for your shop and creates a cohesive visual identity. It provides an opportunity to showcase your unique style and products, enticing visitors to explore further.
Investing in a professionally designed logo and banner can significantly impact your shop's credibility, attract customers, and differentiate you from competitors.
So, ensure your logos and banners are thoughtfully crafted to reflect your brand's personality, values, and offerings, and watch as they become powerful assets in building a strong and successful Etsy shop.

Etsy Shop Owners Win From This Book
Effective branding has the potential to unlock significant growth and success for your Etsy store. Here's how:
Increased Visibility:
A well-defined branding helps your Etsy store stand out.
With a cohesive and compelling brand presence, you'll capture the attention of potential customers browsing through the marketplace. By making a memorable first impression, you increase the likelihood of attracting visitors to your store.
Strong Brand Recognition:
When your Etsy store has a consistent visual look, it becomes more recognizable to customers.
They will easily associate your brand with the products you offer and the unique value you provide. This recognition fosters trust and loyalty, encouraging customers to choose your store over others when making a purchase.
Enhanced Customer Trust:
A strong brand identity builds trust with customers.
By showcasing professionalism, quality, and consistency in your branding, you establish credibility and reliability. Customers feel more confident in their purchasing decisions, knowing that they are buying from a trusted brand with a proven track record.
Differentiation from Competitors:
Effective branding allows you to carve out a distinctive position in the market.
By clearly communicating your brand's unique selling points, values, and story, you differentiate yourself from competitors. This differentiation helps you attract customers who resonate with your brand and its offerings, leading to increased sales and customer loyalty.
Repeat Purchases and Referrals:
A memorable brand experience encourages repeat purchases and referrals.
Satisfied customers who have had a positive interaction with your shop are more likely to come back for future purchases. Moreover, they may recommend your store to their friends, family, and social networks, expanding your customer base organically.
Price Premium:
With a strong brand, you have the potential to command a price premium for your products.
Customers are willing to pay more for brands they perceive as high-quality, trustworthy, and aligned with their values. This allows you to increase your profit margins and generate higher revenue.
Long-Term Growth:
Effective branding is a long-term investment that sets the foundation for sustained growth.
As your store gains recognition and customer loyalty, you create a solid customer base that supports your business's ongoing success. Branding helps you build a lasting relationship with customers, ensuring continued growth and profitability.
By investing in effective branding strategies for your Etsy store, you create a pathway to growth, success, and a thriving online business.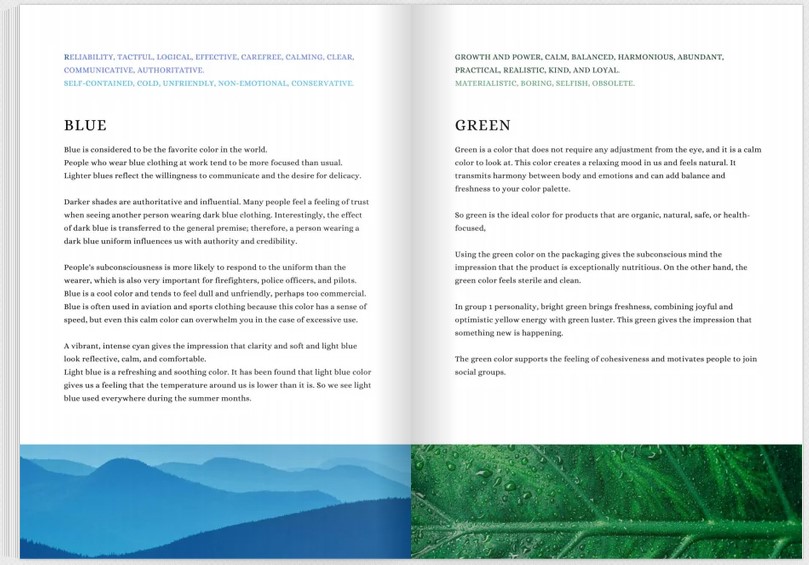 Conclusion
Don't let your Etsy shop blend into the crowd!
Whether you're a new on Etsy or an experienced seller looking to refresh your brand, this eBook covers all aspects of branding for Etsy shops. From creating a captivating logo to optimizing your product listings and developing a consistent visual style, every step is carefully explained and illustrated with real-life examples.
Get ready to transform your shop into a memorable and irresistible brand that stands out from the crowd.
Grab your copy of this ebook and unlock the secrets to branding success on Etsy.